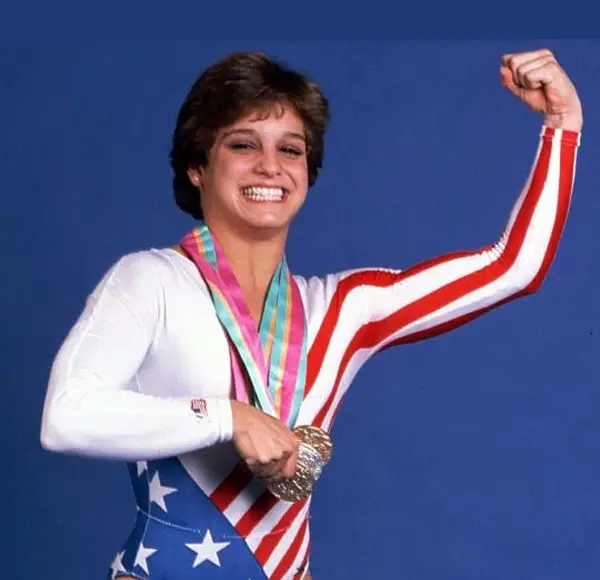 Mary Lou Retton is America's sweetheart gymnast. She earned her champion status in 1984 when she became the first American woman to win all-around Olympic gold medal. 
Her career feat brought her several brand endorsements, including the appearance on the iconic Wheaties cereal box. Shortly, after her record performance, Mary retired from gymnastics in 1986. `
Age, Whereabouts Now
Post leaving the career of an athlete; Mary filled the role of NBC's Olympic commentator at the 1988 Olympics. Keeping her love for sports alive, the star athlete also wrote the USA Today columns for 1992 and 1996 Olympics. Also, she hosted the TV series, Road To Olympic Gold.
In 2014, the 51-year-old starred in the RadioShack Super Bowl XLVII commercial, The '80s Called. She also tried her hands in acting with TV shows, namely Knots Landing, Baywatch, and Guiding Light. 
As of now, Mary works as a motivational speaker and promotes the benefits of exercise and nutrition consumption. 
Married Life, Daughters 
The Olympian got married to a football player named Shannon Kelley on 29 December 1990. After the union, the pair became parents to four daughters: Shayla, McKenna, Skyla, and Emma.
Gymnast Who Tallied Mary's Record:- Simone Biles Age 21: Gymnast & DWTS Star's Boyfriend, Who's She Dating?
But, Mary's marriage to Shannon couldn't stand the test of time forever. In November 2018, the veteran gymnast shocked the world when she announced about her secret divorce via the reality show, Dancing with the Stars.
After the big reveal, things about Mary's marriage began to unravel. The athelete pair were not getting along for a long time. There were constant fights between the husband and wife. 
Finally, Mary put an end to their relationship by filing for divorce on 14 November 2017. She even asked for a temporary restraining order against her husband of 27 years. 
In February 2018, the former pair officially got divorced with joint custody of their daughters and split the fortune into $1.8 million and $1.4 million. Mary took the larger sum, while Shannon chose the latter. Despite the separation, the couple vowed to co-parent their children.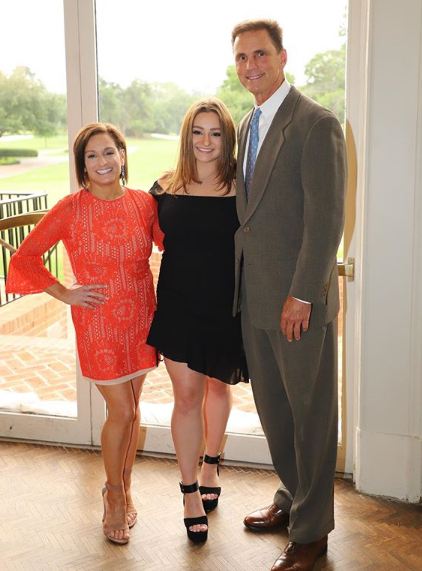 Mary Lou Retton poses with daughter Skyla Kelley (Centre) and ex-husband Shannon Kelley in May 2019 ( Photo: Mary Lou Retton's Instagram)
Amidst, the ups and downs in her life, Mary's daughter became the pillar of strength for the famed Olympian. Along with love and support, Mary's kids continue to make her proud.
Star Olympian:- Michael Phelps Wife, Pregnant, Baby
In April 2019, McKenna Kelley wowed the audience with her near-perfect score of 10 at NCAA Women's Gymnastics Championships. A proud mom, Mary cheered on her little one from the stands. Also, her eldest daughter gave her the biggest joy when she got engaged to Wyatt Schrepfer in 2018. 
Net Worth, Height & Weight 
Mary boasts a net worth of $8 million. Her massive value comes from her record-breaking performance at the 1984 Olympics. 
After her overnight claim to fame in the 80s, Mary - height 4 feet 9 inches (1.45 m) - has been reaping benefits ever since. She boasted home in Houston, Texas and West Virginia in 2018. The Olympian of weight 42 kg also had a luxurious car 2015 Porsche Panamera in her collection.