Aussie actress and model Alyssa Sutherland is someone, who has been able to make a secure place for her in the film industry. People love her work, and she has an enormous amount of admirers as well. That's what she has done professionally.
But, people are equally keen on her personal life and are in awe as to why she didn't have a child with her husband despite being together for eight years (dating and marriage included). Let's see what the Viking star has to say about her decision to not rushing in becoming parents!
Baby Conundrum With Former Husband
People who have had some keen interest in her marital and parental life must have this question in their minds as to why she didn't have a child in her life with ex-husband Laurence Shanet.
Don't Miss:- Jennifer Hawkins & Husband Keeping Wedding Vows Strong! Plastic Surgery Talks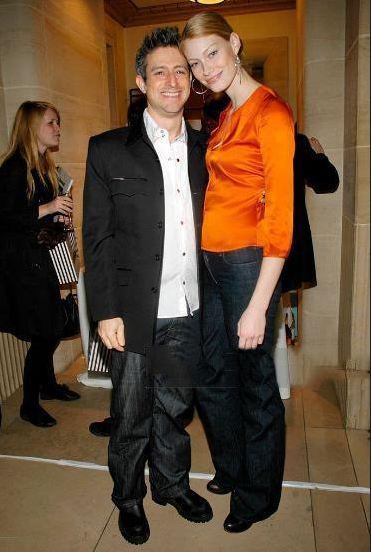 Alyssa with her ex-husband Laurence Shanet at an event (Photo: LiveRampUp.com)
Well, here's a detailed insight into her parental decision. Alyssa has, on numerous occasions, stated that she is in no significant rush as to having any significant steps taken towards being a parent.
According to the Herald Sun, when asked if her biological clock was ticking, she responded in such manner,
 "No, I've never been…..is it bad to say that I hate kids?"
She further added (referencing her then expecting sister),
 I'm excited about my sister's child because it's not my kid but I'm not going to lie, children make me nervous," 
Furthermore, a feed on her Instagram account shows, along with the caption, that she was not allergic to kids. She shared a photo of her embracing a kid who probably is her sister's boy.
Moreover, a video of a baby laughing and her sharing it over on Instagram showed that she did like kids.
You May Find Interesting:- Porschla Coleman Bio: Age, Ethnicity, Wedding To Jason Kidd, Kids & More
To shed some brief light on her ex-husband: Laurence Shanet is an American film director and is famous for his commercials for Pepsi, Volkswagen, etc.
Alyssa and Laurence got together in 2009 before taking their relationship to the next level and getting married on the 5th of February in the year 2012.
Laurence is yet to make any comment; on the whole, no children rule set by his ex-wife. He probably wanted to be a father but was helpless in front of the actress. The puzzle probably led to divorce.
 Although no details about Alyssa's split from ex Laurence is available, the divorce probably transpired before 2018.
Dating Again - Boyfriend Details
By Valentines Day kicked around, Alyssa had begun appearing on her boyfriend Benjamin Wal's Instagram. Five months later, she confirmed the dating rumors by posting him on her Instagram.
Based in Los Angeles, Benjamin is a senior creative director at the Method Studio. Judging by his Instagram, he also dabbles in photography.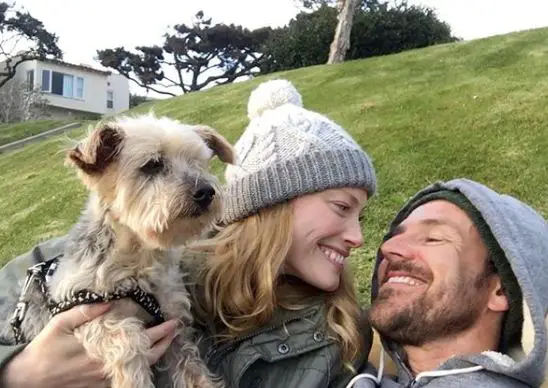 Alyssa Sutherland with boyfriend Benjamin Walsh and their dog circa Jan 2019 (Photo:- Alyssa Sutherland's Instagram)
Alyssa ran into Benjamin at Visual Effects Society awards. At the event, she was the presenter while her boyfriend worked as a valet. One thing led to another, and before the world knew it, they were dating.
Together, the pair looks after a dog named Harry.
Parents, Father & Net Worth
Born on the 23rd of September in the year 1982 in Brisbane, Alyssa is well known to be an actress and a model as well. She is an actress who has been gracing our TV sets for a long run now, and she still has plenty on offer.
Her works have paid her good rewards, and that gets reflected through her net worth, which is estimated to be around $5 million. She is also seen to have cordial relationships with her parents, which her tweets suggest.
Talking about family, Alyssa often gets mistaken as a daughter of Kiefer Sutherland. Kiefer is the father of Veep actress Sarah Sutherland.
Left Twitter And Modelling
After quitting Twitter, the 36-year-old actress revealed in 2017 that she would no longer work as a model. July that year, she opened up about struggling to keep up with the beauty standards set by the modeling industry and had also felt guilty after imposing unrealistic standards on young women.
See Also:- Merrin Dungey, Married Actress With Husband, Why She Left 'The Resident'?
The winner of the 1997Australian magazine Girlfriend's model competition further stated that she was now solely focused on her acting career and would even encourage young women to not emphasize on looks.