Ammika Hariss is an...she, who considers herself to be proud...was seen wishing....earns more than...complexity further rose after...rarely talks about being...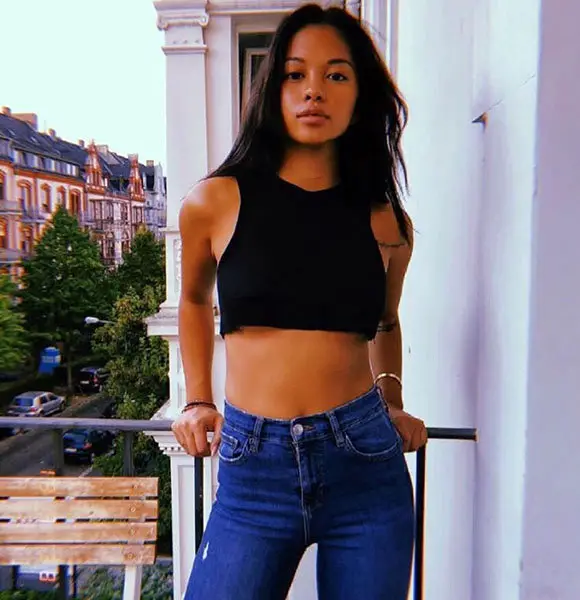 Ammika Hariss is an Instagram model of Afro-American, Native American, and Asian descent. With chocolate-colored skin and black hair, she flaunts her height of 5 feet 5 inches (1.65 m).
She, who considers herself to be a proud Christian of Chereko blood, is indeed a beauty to praise.
At the age of 26, Ammika is already popular on social media for her rocking 32-25-34 measurements. Precisely, she has more than 300K followers on her Instagram.
Other than her physical attributes, what captures the eyes of the people are her beautiful tattoos.
Relationship With Chris Brown
Being a talented singer/performer, Chris Brown was seen with many girls over the years, and Ammika was one of them. In fact, she first came to the limelight due to her dating relationship with Chris.
Read More About Chris:- Chris Brown's Documentary Trailer Is So Problematic I Don't Even Know Where To Begin — VIDEO
The couple was first seen together in the year 2015. Since then, they have been in an on-and-off relationship.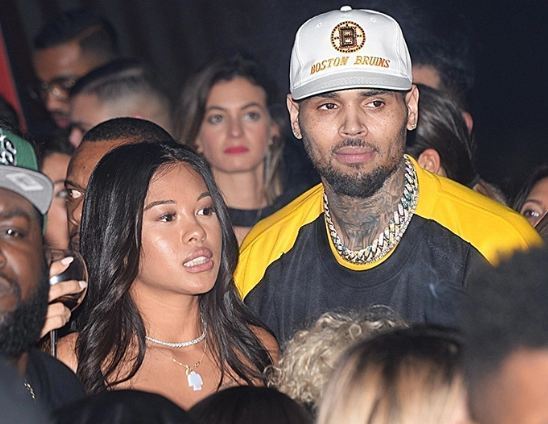 Ammika Harris with Chris Brown during Paris fashion week in January 2015 (Photo: hollywoodlife.com)
In early 2019, Ammika had reportedly broken up with Chris. Meanwhile, Chris was dating his girlfriend, Indyamarie. However, the news of Ammika and Chris rekindling their romance surfaced after Ammika was seen wishing Chris a very Happy Birthday via Instagram in May 2019.
Welcomes Bundle Of Joy
As of late 2019, the relationship between the two has been confirmed. They are just ex-lovers, but what's more interesting is that Ammika and Chris now share a little one with each other.
It's been confirmed that the pregnant lady was carrying the child of Chris Brown. 
The happy father took to Instagram to share the news of the arrival of a little baby boy into his life. Captioning his date of birth 11-20-2019, Chris shared the news with his fans and family. Ammika also did the same, taking to her social media to let everyone know that they welcomed their baby boy.
For the name of the newborn, his name is Aeko (pronounced echo). This is Chris' second child; he also has a daughter named Royalty from a previous relationship. For Ammika, this is her first and only child.
Now with a baby in the mix, what lies ahead for Ammika and Chris, what plans do they have for themselves and their little one only time can tell.
First News Of Pregnancy
Ammika Harris dropped a bombshell on her fans on her 26th birthday, on 15 May 2019. She Instagrammed a birthday picture and via the caption, hinted on being pregnant. Her caption read,
GETTING OLDER AND WISER EVERY YEAR. IM SO BLESSED WITH THE MOST BEAUTIFUL GIFT I COULD EVER ASKED FOR❤️❤️HELLO 26!! 05/16/1993 A SUNDAYS CHILD.
Her words "THE MOST BEAUTIFUL GIFT" made her followers assume that she was pregnant with Chris's second child. The complexity rose further to new heights when Chris posted the same picture on Instagram with the caption, 'Have Fun Momma.'
An Instagram Model You May Wanna Know:- Valerie Cossette Bio, Net Worth, Family
However, there were no signs or confirmed reports of Ammika's pregnancy to date. From what was seen on her Instagram feed, she was flaunting rock hard abs instead of a baby bump.
Everything about Ammika's possible pregnancy remained uncertain and indecisive.
But, new reports came pouring every time without any valid source. In August 2019, there were reports that the two were expecting a baby boy. The rumors seemed to have been fueled by one important online confrontation between the ex-lovers.
On 23rd of August, she posted a picture of herself along with a big green heart emoji citing,
"Sitting still while the world moves so fast around you. | my primary aura color is violet, secondary is crystal color,"
Interestingly, her ex took notice of the post and replied soon with a violet heart emoji. Not sure if this was just a friendly online gesture of a hint at possible love rekindling again between the two. But it definitely had the fans gasping with excitement, and one of them even went on to say that Ammika was the one for Chris.
Whereas some even begged the singer to get back together with her.
Net Worth & Family
Unlike her open dating status and publicized relationship, Ammika's net worth and family information are low-key affairs. Only through the estimation of the average salary of a model, it can be assumed that she receives more than $50,000 per year.
Just like her income, the details on her family members are also confined. She does post pictures of her family; however, their identity and jobs remain a mystery.