Valerie Cossette is an Instagram model...who is currently at the age of...about her personal life on her social media...She also has a sister named...
Valerie Cossette is an Instagram model and influencer with more than 1.5 million followers on Instagram. She has traveled to various countries, including Thailand, Mexico, and the Dominican Republic, throughout her photo shoots sessions.
Moreover, she appeared in the music video of the singer Aïman Beretta in 2018.
Valerie Cossette Bio, Birthday
Valerie was born on 6th July 1993 in Canada. While the details of her parents are confined, it is known that she has a sister named Vanessa Cossette.
The Instagram star, who is at the age of 26, started her career as a social media star in 2014. Valerie soon attracted a lot of attention on the internet through her photographs that featured her attractive and voluptuous physique.
Recommended Article:- Instagram Model Sjana Earp Age 24 Bio Reveals Height & Dating Status Of Yoga Expert
Also, it was her tattoo covered body that became a defining feature of her persona.
Tattoos
Valerie has embedded her body, from her legs to her neck, with beautiful symbols. Although she hasn't yet revealed the significance or the meaning of her tattoos, each of them are beautiful and well designed.
Below her shoulder bone, there are two beautiful tattoes of flying birds. On her left arm, pictures of a girl with her eyes closed are visible along with butterflies around it.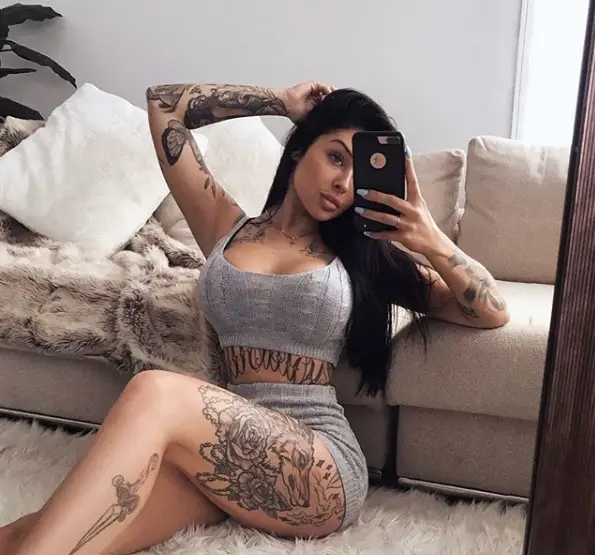 Valerie Cossette takes a mirror selfie of her tattoo covered body in June 2019 (Photo: Valerie Cossette's Instagram)
Similarly, beautiful bird feathers and roses are featured in her thighs. Other notable tattoos in her body are the dagger and a hound. 
Tattoo Artist:- Ryan Ashley Malarkey Wiki: Ink Master Star Tattoos, Parents & Personal Status
It is evident through these tattoos that Valerie has a unique knack for art and artistic impressions. However, only Valerie has the answers to the question; are her tattoos the medium of her self expression or just a trick to make her physique stand out among the netizens?
Net Worth
Apart from wide fame, having a million followers does come with the economic advantage in today's internet era. Ever since achieving followers on Instagram, Valerie has done paid promotion for a few high ranking brands.
Moreover, she is the brand ambassador of global fashion brand FashioNova, which has more than 15 million followers on Instagram alone. She is also paid more than $60,000 a year to advertise the brands apparels through her Instagram posts.
More than all, She has done paid promotions for products like Bang Energy drinks.
Three Body Facts Of Valerie:
Her height is 5 feet and 4 inches(1.6 meters.)
The model weights an impressive 55 kilograms.
Valerie's eye color is uniquely green.