Amy McGrath is the first female to fly an F/A-18 on a combat mission... it doesn't come as a surprise that she found her husband... married U.S. Navy Lieutenant Commander...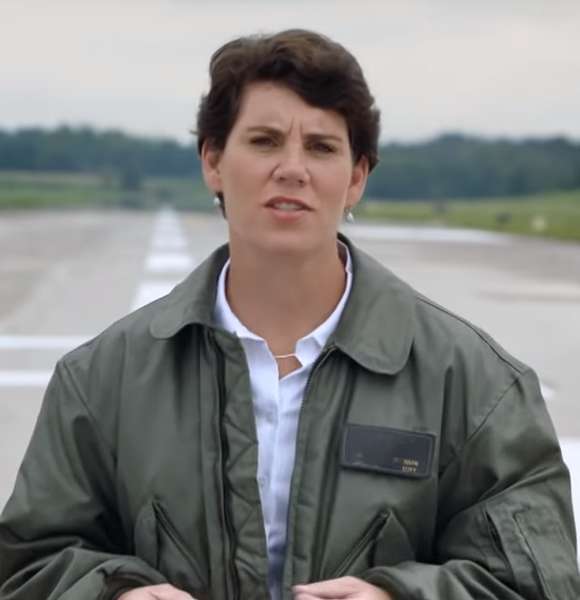 As tough as they come, Amy McGrath is the first female to fly an F/A-18 on a combat mission. She is an all-American, who fought in warzones of Afganistan plus Iraq and worked in the Pentagon. 
Bio, Birthday, Education
Born on 3 June 1975, to Donald and Marianne, Amy is the youngest of three. She was born in Cincinnati, Ohio but, raised with her brother and sister in Edgewood, Kentucky. 
McGrath, age 43, pursued education from her high school at Notre Dame Academy where she played basketball, baseball. Later, she graduated from the US Naval Academy with a Bachelors' degree in Political Science in 1997 and got her M.A. in International/Global Security from The Johns Hopkins University.
Wiki Plus Military Career
Amy was disappointed when she found out females were not allowed to fly fighter jets. She even wrote letters to all the representatives asking for change. Though she never received a reply from her Senator, Mitch McConnell, she followed her dreams. 
More On Senators:- Kamala Harris Education, Nationality & Parents Info
At the age of 21, she got commissioned as a second lieutenant in the Marine Corps. Amy completed Flight School in 1997 and worked as a Weapons Systems Officer in the F/A-18 aircraft. Her duty would be to coordinate onboard weapons for the fighter jets.
After the 9/11 attack, Amy was paired with a senior pilot and put on the flight line list to protect Los Angeles, San Diego, and the west coast against other potential hijacked aircraft.
Shortly after that, McGrath, deployed to Kyrgyzstan where she flew combat missions in Afghanistan. Later in Iraq, she operated with the "Green Knights" for Operation Iraqi Freedom (OIF). In 2003, she got certified as an Air Combat Tactics Instructor.
Amy reached the striking height of her career around 2005-2006 when she transitioned to become an F/A-18 pilot.
From 2012-2014, Amy worked in the Pentagon as a liaison to the Department of State and the US Agency for International Development. Putting her degree to work, McGrath taught as a Senior Political Science instructor at the United States Naval Academy in Maryland.
After completing her 20 years in service, Amy retired. She, then, announced to be running for the house of representatives from Kentucky's 6th district. She won the primaries on 22nd, May 2018, defeating Jim Gray. However, she lost the general election to Andy Barr in November 2018 by a close margin of 51% to 47.8%.
While on service, Amy's salary was an estimated $71,899. Her net worth is not yet public information.
Family, Husband, & Children
Amy spent most of her time with the military, so it doesn't come as a surprise that she found her husband there. She married U.S. Navy Lieutenant Commander Erik Henderson on 19 December 2009. 
Read Also:- Marine, Dakota Files Divorce With Wife After One And Half Year Relationship
The couple decided to have a Christmas themed wedding with red & gold colors to tone with the season and military colors. Soon after tying the knots as husband and wife, they were deployed to Afghanistan. They had to spend the first nine months of their marriage apart.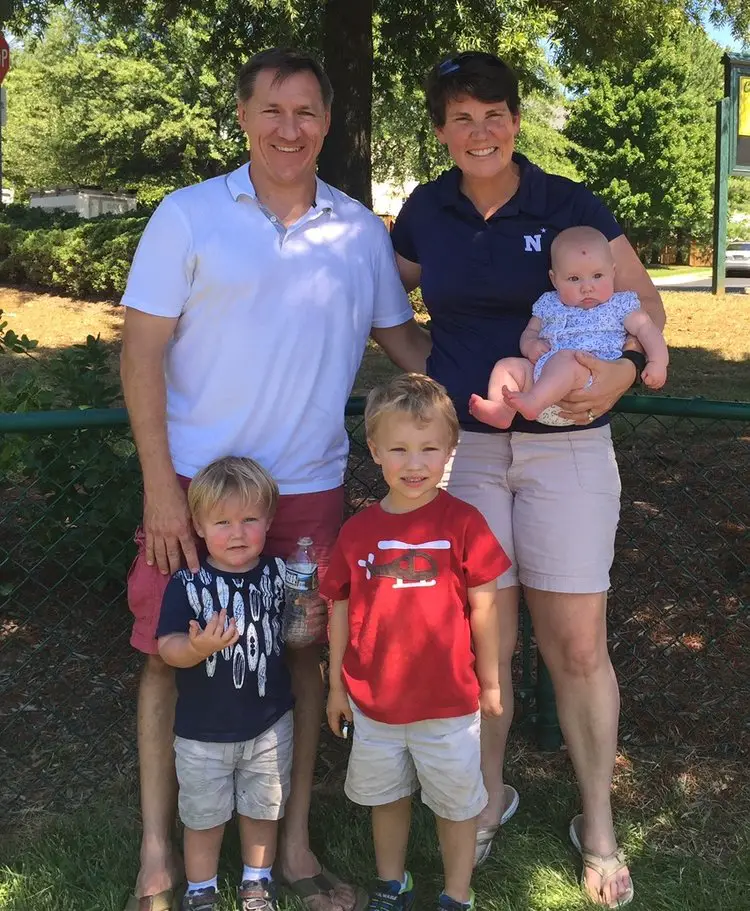 Amy McGrath's and Erik with their children; Theodore, George, and Eleanor (Photo: Amy McGrath's Instagram)
As of now, Amy and Erik have three children, Theodore(8), George(6), and Eleanor(4). They all live in Georgetown, Kentucky.
Fun Facts About Amy McGrath
Amy and fellow Marine pilot, Jaden Kim joined VMFA-121 as the first female aviators to enter the squadron.
She has flown 350 combat flight and flew 89 combat missions in Afghanistan and Iraq. 
Amy received the Women Making a Difference Award in 2007.
Amy's Youtube video for the election got over a million views on youtube and raised over US$300,000
Amy is a life long supporter of the democratic party whereas her husband is a Republican.
In an interview with News-graphic, Amy said: "Some of the best Marines I know are gay and lesbian."
Her call sign in the military was "Krusty" after a joking reference to the way her hair stuck up in her flight helmet.