Entertainment
Amy Okuda's Wiki: Her Height, Ethnicity, Love Life & Shows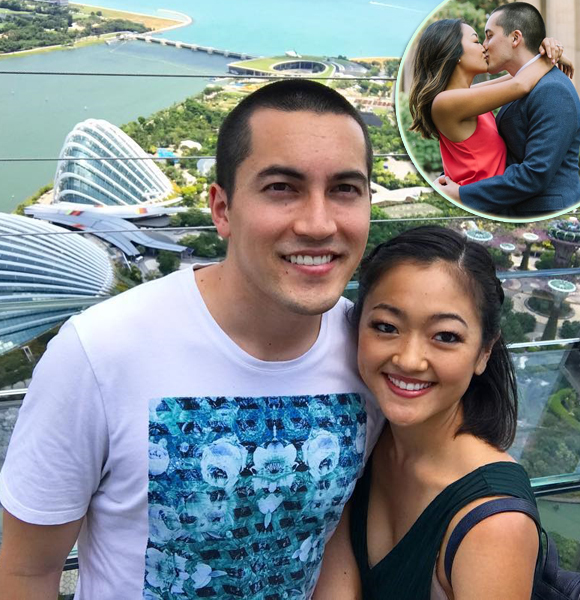 Tinkerballa from 'The Guild' is a loved character, and the one who portrayed the role to perfection is Amy Okuda.
Apart from the love received from her fans, she has been glowing with the love of her long-term partner. And the star is not shy to gush about her happy love life with her husband on social media.
Today, let us address the love life of Amy Okuda, along with her height, ethnicity, and family.
Amy Okuda & Her Husband
Amy Okuda has been with her husband Mitchell Hashimoto, the founder of HashiCorp, for a good period now, even though their love's exact tenure remains confined from the people's knowledge.
Their pictures on social media speak volumes about the strength of their relationship. For instance, Amy's 'gram post of 2014, on the occasion of Christmas, where they posed for a selfie together, shows how happy they are with each other.
Similar adoration between them was observed when Amy shared a snap of them sharing a kiss while wishing her boyfriend-now-husband on his birthday back in August 2017.
It certainly shows how much they love one another, and the love between them just seems to be getting stronger with time!
Adding to the happiness, the then-boyfriend and girlfriend got married on November 3, 2018, in Torrance, Canada.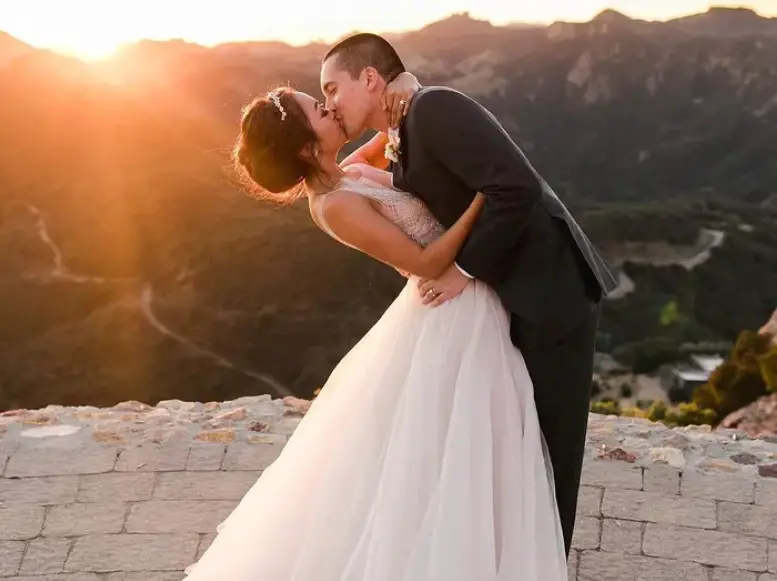 Amy Okuda's Wedding Picture with Her Boyfriend Turned Husband (Source: Instagram)
Recently the star shared her precious moments on her wedding anniversary through an Instagram post on November 3rd, 2021, captioning, "How it started vs. how it's going. Basically got replaced by Lola. 3 years married to the best person I know."
The first photo is of her wedding day, and the second features her adorable dog with her husband.
Get to know - Ben Carson Wife's Undying Support For Her Husband
Currently, the happily married couple is a family of three as they are pet parents.
Besides the star's amazing and happy personal life, she is also a successful actress.
Amy Okuda's Career, Height, Ethnicity, Family
Actress Amy has further made appearances on shows like 'The Middle' and 'Californication,' and the fans love her shows.
Born on March 6, 1989, Torrance, California-born Amy Okuda is 33 in age, and when it comes to her ethnicity, she is of Japanese descent. 
Amy, who is over 5' 2¼" in height, is someone who has always preferred to keep the identity of her parents under the shadows, along with other details of her family.
But what we do know is how she felt when she first landed the role of Catherine Hapstall in ABC's mega-hit "How to Get Away With Murder." 
Recalling the moment, she said, "I was eating noodles with my grandma and I got a call I'd booked it,"
And soon after, she got ready for the shoot with Viola Davis. 
Moreover, she shared that she was clear on what she wanted in her life and that other people's opinions did not matter to her.
She remarked, "I always had a pretty good sense of what I wanted and it didn't matter what anybody else wanted me to do."
Regardless of people's criticism regarding her choices, the actress never strayed away from her dream and kept pursuing her passion. 
That is the start she needed, and she has not looked back ever since!
Stay with us for more updates regarding the star's personal and professional life.