Andi Matichak was a second-grader when she decided that she would be a soccer player. However, life had other plans for the aspiring athlete. During summer, as a high schooler, she had a chance to go to Greece for a modeling assignment. 
While she took that as a chance to travel, the assignment led Andi to her future talent agency owner. Soon enough, she let go of her soccer dreams and took acting classes. 
Now a rising actress, she has been part of a hit movie, Halloween. She is set to star in its 2020 sequel, Halloween Kills.
Is Andi Matichak Dating?
As a rising Hollywood actress, curiosity regarding Andi's dating life is normal. However, the actress hasn't let a prying eye into her personal life. 
However, during an interview in 2018, the actress did let it slip that she was in a relationship. 
On the course of explaining when she found out about her prized role as Allyson in Halloween, Andi mentioned that she had gone hiking with her mysterious boyfriend. 
Explore:- Taylor Schilling Dating, Girlfriend, Lesbian, Partner
However, she didn't elaborate further about her relationship nor gave a hint about her boyfriend. Maybe the actress wants to keep her relationship far away from the public. 
Regarding her secret relationship, it is clear that Andi is very close to her boyfriend. The couple even owns dogs together. 
Although her real-life romance is notoriously private, fans can enjoy her reel romance openly. Her on-screen love interest in the movie is a character named Cameron Elam - played by Dylan Arnold. He will also return in the film's sequel in 2020. 
Family Details, Movies & Net Worth
Andi comes from a family of college athletes. Her father, Terry Matichak, played football for college and then went on to play for Pittsburgh Steelers. 
Sadly, her father's career was shortlived as he got injured and couldn't play further. 
Growing up surrounded by athletic parents, it was natural for Andi to think about a career in sports. She was even offered a full soccer scholarship to the University of South Florida. But, the actress of Croatian-Slovak-Polish-German-English-Swedish ethnicity chose to work in the entertaiment industry. 
According to Andi, although it was a gamble at the time when she started acting, she realized it was the best decision.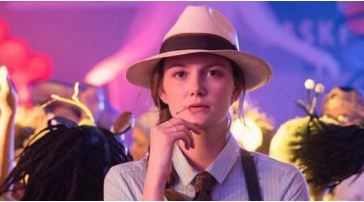 Andi Matichak in a still from 2018 movie Halloween (Photo: collider.com)
Today, the budding actress of height 5 feet 8½ inches (1.74 m) boasts over 15 acting credits. Her filmography includes movies, namely Assimilate and Foxhole. 
Andi's On-Screen Grandmother:- Jamie Lee Curtis Married, Lesbian, Children, Family
Interestingly, she is also tied to the third installment of Halloween, Halloween Ends. The movie is set to release in 2021.
Apart from the movies, Andi has also worked in TV shows like 666 Park Avenue, Orange Is the New Black, and Making It: The Series. Given her rising profile in Hollywood, the actress in her mid-20s earns an average salary of $50,122 per year.