A mean and muscular shooting guard, Andre Ingram is a force to be reckoned with. He marches to the new season for the Los Angeles (South Bay) Lakers with a ton of experience and playing minutes in his favor.
Featuring for more than a decade in the G-League, the 3-pointer king has played over 380 career games, spanned over ten seasons. Andre is also registered as the league's all-time leader in 3-pointers and is second in the list of players with highest playing time, which is more than 9,830 minutes.
Married Status
Andre Ingram is an inside out family person, who got married to a wife named Marilee on 12 October 2013. The couple shares two beautiful daughters; seven-year-old Maliyah and Navi - age 5.
After, grinding for ten long years in the NBA's minor league, the South Bay Lakers veteran had a rough outing, managing time and money for his family. Amidst the constant struggle in basketball, he made use of his physics degree and taught as a part-time math tutor to make a living.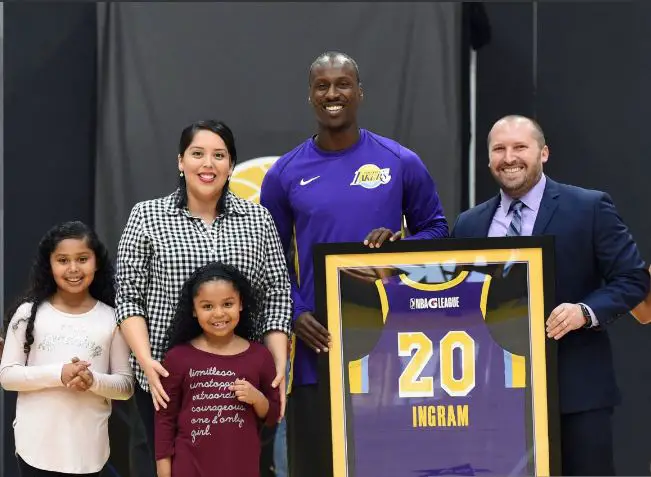 Andre Ingram with wife Marilee, children, and South Bay Lakers' manager Nick Mazzella at an event in January 2019 (Photo: gettyimages.com)
In 2018, after his new contract with the LA Lakers, the whole family gathered at the Staples Center to support the NBA oldest rookie. Now, that the part-time teacher has signed a new contract with the Lakers, his two daughters and wife can live a prosperous lifestyle ahead.
Bio: College, Height
Andre Ingram was born on 19 November 1985 in Richmond, Virginia. His parents raised him alongside an older brother named Lucius.
Growing up, he was a very attentive child. Andre attended Highland Springs High School and graduated with a physics degree from American University. Eventually starting to play basketball in college, he led the Highland to its first title in school history.
Another Game Changer:- Justin Anderson Stats, Contract, Salary, Family
His tall height of 6 feet 3 inches (1.91m) helped him on the rebounds and score pinpoint three-pointers from above his oppositions. As of now, he is the league's oldest rookie and best shooter from mid-range with a conversion rate of 54.2 percent.
Net Worth & Salary
After struggling for ten long years in the NBA's G-leagues, 32-year-old Andre made the most significant transition in his career after moving from the minor league to play for the Los Angeles Lakers in 2018.
The notorious shooting guard made his mark almost instantly as he landed 19 points in his debut match against the Houston Rockets in April 2018. The crowd chanted MVP for his overall performance, which included three rebounds, three blocks, one assist, and one steal.
Free Agent:- Jerryd Bayless Contract, Stats, High School, Girlfriend
Previously, he was on a constant struggle to get by on his paychecks. But after his big move, Andre doubled his regular G-League salary in just three days as he earned $13,824 pay for his three-match service at the end of the season.
As of 2019, the guard bagged a total salary of $76,236 and keeping in minds his other smaller tuitions class; his net worth is on the verge of getting bigger and bigger with every passing day.