Sports
Jerryd Bayless Contract, Stats, High School, Girlfriend
Jerryd Bayless penned contract worth...Registered impressive stats of...Completed college at the age of...Scored career-high as a high school...Dons shoes made by...Father passed away in...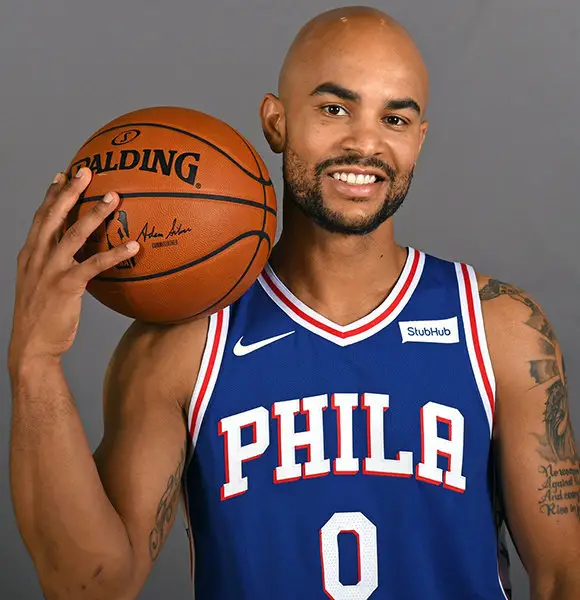 Gifted with six feet three inches (1.90 m) height and 90 kgs weight, Jerryd Bayless is a star NBA point guard/shooting guard. He was Indiana Pacers' 11th overall pick at the 2008 NBA Draft.
On the draft night, Pacers' traded Jerryd to fellow NBA rival Portland Trail Blazers.
In the subsequent years, he went on don jersey of several other franchises including Toronto Raptors, New Orleans Hornets, Memphis Grizzlies, Boston Celtics, Milwaukee Bucks, Philidelphia Sixers, and Minnesota Timberwolves.
After enjoying a decade-long NBA run, Jerryd entered free agency. Ahead of the 2019/20 campaign, he faced difficulties finding a team to call home.
Contract, Stats & Shoes
In 2008, Jerryd penned a multi-year, multi-million contract with Portland Trail Blazers. Playing two seasons with the team before getting traded to New Orleans Hornets, he registered mediocre stats. He averaged 4.3 points/game & 8.5 points/game in successive NBA campaigns.
After 11 games with Hornets, he then got traded to Toronto Raptors on 20 November 2010.
In total, the star shooting guard played two seasons with the Canada-based NBA outfit. Averaging 10 points/game in the first year and 11.4 points/game in his second, he entered his prime.
Memphis Grizzlies was the next destination for Jerryd. After completion of the two-year contract, he triggered a player option with the Grizzles in Summer of 2013. Then in early-2014, Grizzles shipped Jerryd to Boston Celtics.
During his single campaign with the Celtics, Jerryd recorded impressive stats. In 41 games, he averaged 3.1 assists/per game and 10.1 points/game.
Fellow NBA Athlete:- NBA Kevin Huerter Stats, Jersey, Shoes, Contract, Net Worth, High School, Salary
Between 2014 and 2016, Jerryd played for Milwaukee Bucks. While his performances didn't garner top recognition, he was instrumental in the team's success. When his contract with Bucks expired, he signed with Philadelphia 76ers.
Per the three-year deal, the former Blazers player would earn an average of $9 million in salary.
His first year with 76ers, Jerryd suffered several career-threatening injuries. Meanwhile, his stats suffered as well. Returning to form in 2017/18 campaign, he ended the year with an average of 7.9 points/game and 1.4 assists/game.

Jerryd Bayless' NBA career stats from 2008 to 2019 (Photo:- basketball-reference.com)
Ahead of the 2018/19 NBA season, reports cited that 76ers were looking to buyout Jerryd's contract. Contrary to the suggestions, he got traded to fellow NBA side Minnesota Timberwolves on 12 November 2018.
An Addidas-sponsored athlete, Jerryd donned the Pro Bounce 2018 Low shoes while playing for the Timberwolves.
College & High School
Before his stint in NBA, Jerryd attracted attention as a high school athlete. Playing for St. Mary's High School, he netted a career-high 52 points in the state championship game against Mesa Mount View.
Made Waves As High School Student:- Jordaayn Bell Girlfriend, College, Age, Parents, Net Worth
Building on his growing repertoire, the Phoenix, Arizona-native joined Arizona Wildcats' mens basketball team in 2007. As a freshman, Jerryd averaged 19.7 points, 2.7 rebounds and 4.0 assists per game.
But after a season with Wildcats, Jerryd left college and made himself available for the NBA Draft. However, he would return to the University of Arizona years later to complete his studies. In May 2018, he graduated with a degree in Africana Studies.
His Age, Father & Girlfriend
Finishing college was Jerryd's way of paying home to his father Dr. Michael Bayless, the founder of the prestigious Bayless Healthcare. An esteemed psychology expert, Michael passed away in 2015 at the age of 67 after suffering from a heart attack.
Grew Up Without Father Figure:- Deshaun Watson Stats, Age, Contract, Net Worth, Girlfriend
The former Boston Celtics player turned 30 years of age on 20th August 2018. Despite entering his 30s, his dating status is still in its infancy. Unsurprisingly though, he once likened basketball as his only girlfriend.