Entertainment
Liverpool Star Andrew Robertson Dating Life, Meet His High School Girlfriend
Andrew Robertson is a Scottish football player who has played for Liverpool Football Club since July 2017. He has played in consecutive Champions' League and become a key component for his team.
Andrew's football jouney began when he started playing as an amateur for Queen's Park while still working a full-time job of answering the phones at Hampden Park.
Andrew's Career Summary
The Liverpool defender's career began while he was playing as an underdog in Queen's Park since July 2012. Training twice a week at night as he was working a full-time job, he used to play games on Saturdays.
In 2013, he was taken up by another club named Dundee United. By the end of the 2013 season, he made his senior debut for Scotland. And in 2014, Hull City took him up with a contract of $4 million.
You Might Be Interested In:- Even With A Shower Of Injuries Adam Lallana Managed To Extend His Contract For Years With Liverpool
Eventually, in 2017, he was taken by the football club Liverpool, and since then, Andrew has lived up to his dreams of becoming a professional footballer.
Is Andrew Dating?
The Scottish defender is in a relationship with Rachel Roberts. The two started dating when they met at St. Ninian's High School as students.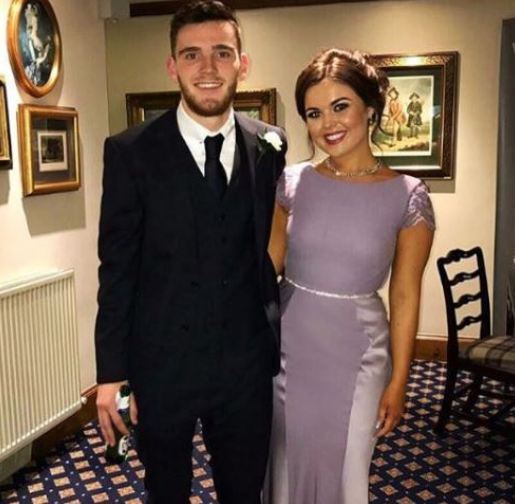 Andrew Robertson with his partner Rachel Roberts (Photo: playerswiki.com)
The couple is rather low-key about their relationship; hence, rarely makes an appearance on the internet.
However, Andrew once shared with the Guardian in May 2018 about the duo's early days which gave a glimpse inside their relationship,
"Rachel was the year below me in school [near Glasgow], but we hung about with the same friends. We got together when I was 19. She always winds me up."
The couple also has two children together. Andrew and Rachel's first child, a son, was born in August 2017 and was named Rocco Robertson. They became parents to their second child, a daughter, Aria Robertson, in January 2019.
More About Rachel Roberts
Apart from being known as the footballer Andrew Robertson's partner, Rachel has made a name for herself. She has her UK based gymnastics clothing brand that started in 2015 called Oro Sport. Her company also diversifies in dancewear and leotards.
Explore:- Chelsea Star Tammy Abraham Stats, Salary, Parents, Dating Status Now
Furthermore, she also mentions in her LinkedIn profile that she is Dreamlight USA gymnastic products' exclusive distributor in the United Kingdom and Ireland.
Interesting Facts About Andrew Robertson