Entertainment
Chelsea Star Tammy Abraham Stats, Salary, Parents, Dating Status Now
Tammy Abraham is an English football player playing for Chelsea FC of the English Premier League...has managed to achieve incredible stats in a short period of time...recently had an injury scare, but there was nonthing serious...has impressive ratings in FIFA 20...earns a decent salary at Chelsea...parents have two children and he has a brother...has been dating his girlfriend for four years...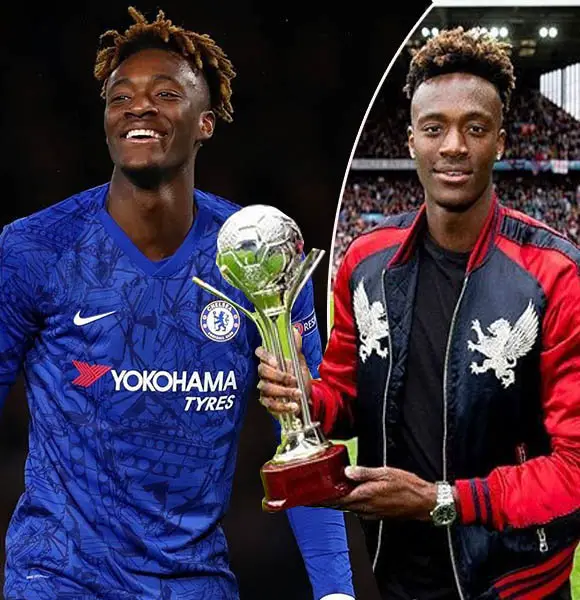 Tammy Abraham has been on the top of the world in 2019, after having started his 2019-20 season with Chelsea FC in spectacular style under the managerial reign of former Chelsea legend Frank Lampard. He is finally getting the attention and the playing time he deserves at Chelsea, after a few loan stints away from his parent club at Bristol City and Swansea City FC.
However, Tammy has been playing football for a long time. He began playing the game at a young age and joined Chelsea at the under-8 level in 2004. Since then, he steadily progressed up the ranks at the club's academy in the next 12 years. Tammy won the UEFA Youth League and FA Youth Cup in 2015 and 2016 with Chelsea's youth team.
Along with his club career, he also enjoys an excellent international career for England, having played for his country on various levels. Tammy has represented England at the Under-18, Under-19, and Under-21 level, and was a part of the 2017 UEFA European Under-21 Championships in Poland. He had his international debut for England on 10th May 2017 against Germany at the Wembley Stadium.
Club Career And Stats
After having spent a decent time at Chelsea's youth level, specifically from 2004 to 2016, Tammy was sent out on various loan spells. His first loan stint was at Bristol City as he signed with Bristol on 5th August 2016.
At Bristol, he had a spectacular season, scoring 26 goals in 48 appearances and helping his loan club avoid relegation. He also picked up the Bristol City Player of the Year and Young Player of the Year awards.
Tammy returned from Bristol with a contract waiting for him at Chelsea. He signed a five-year contract with Chelsea on 4th July 2017, but he still wasn't to stay there. Tammy went on a loan to Swansea City FC.
Another English Player:- Detail On Dele Alli's Dating Status, Girlfriend, Family, Religion
After another year on loan, he was, for the third time, sent away to Aston Villa for the 2018-19 season. However, it was a good move as Tammy managed to become the first Villa player to score 20 goals since their last league-winning season of 1980-81. He scored 26 goals in 40 games playing for Aston Villa, helping Villa get back to the Premier League.
Finally, after a great season in the Championship, Frank Lampard showed trust in him in the 2019-20 season. Tammy has been paying off the trust so far, netting 13 goals in 24 appearances in all competitions as of 15th December 2019.
Contract And Salary
Tammy Abraham is fully appreciated at Chelsea FC, and that's shown in his current contract. Tammy is under a five year/$17,322,487 contract at Chelsea, which pays him an annual salary of $3,464,497. The agreement will last till the end of the 2021-22 season in case he is not transferred between now and the end of this paperwork.
Interesting Read:- Alex Morgan Husband, Net Worth, Height, Facts
Before this, he had signed a four years/$1,662,958 contract (2015-18), which paid him $415,739 per year.
Tammy's Personal Life
Tammy has been taking his personal life along with his professional career, and both of them are going pretty well for him. He has been with his girlfriend since his teenage years.
Tammy and Leah Monroe have been together for four years as of December 2019, which means that their dating life started when Tammy was 18 years of age.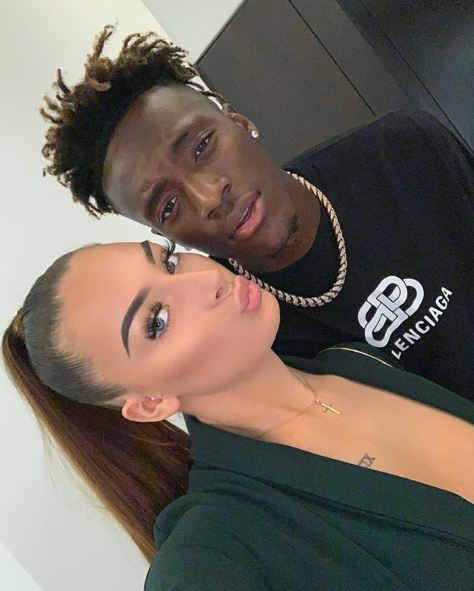 Tammy Abraham with Leah Monroe wishing him on his birthday on 3rd October 2019 (Photo: Leah Monroe's Instagram)
Leah, a fashion and lifestyle blogger, owns a YouTube channel. The London native is frequently seen cheering her boyfriend during Chelsea's matches. 
Interesting Facts: Age, FIFA 20, Injury
Tammy was born on 2nd October 1997 in London, England, UK.
Tammy's full name is Kevin Oghenetega Tamaraebi Bakumo-Abraham.
His parents are Anthony (father) and Marian (mother). He has a brother named Timmy Abraham, who is also a football player, and plays for the Fulham FC U23 side.
The Chelsea forward has dual citizenship: English and Nigerian, and he is eligible to represent Nigeria in international competitions through his father.
He primarily plays as a Centre Forward; however, he can play in the right and the left wings.
Tammy stands at a height of 6 feet 3 inches (1.91 meters).
He has not had any significant injuries in his career so far. His last injury scare was on 4th December 2019 when he took a knock while playing against Aston Villa. However, that knock wasn't severe, and he did not miss a match because of it.
In FIFA 20, Tammy has an overall rating of 77, while his potential rating is 85.