Entertainment
Annet Mahendru Secretly Married to Boyfriend? Tweets Say She Has A Husband
Annet Mahendru Secretly Married to Boyfriend? Tweets Say She Has A Husband The identical scenario can be related to the life of an American actress, Annet Mahendru as she has also been sharing her romantic life with her fans. The actress, who didn't prefer to show off her romantic connection on social media, started sharing her love life which raised plenty of questions among her fans.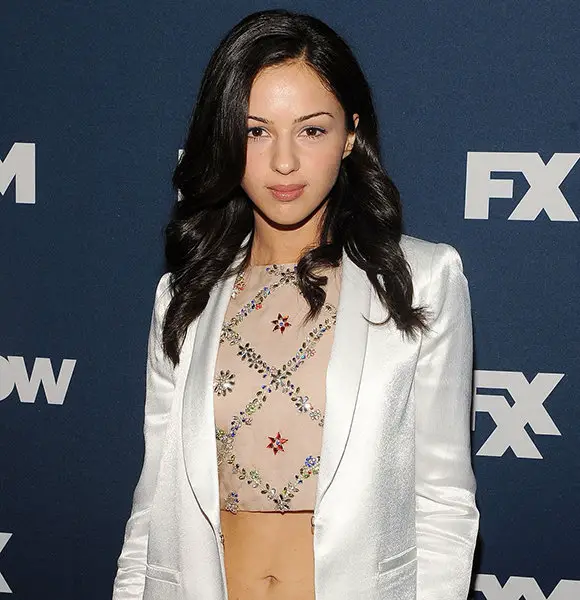 American actress Annet Mahendru did not prefer flaunting her personal life on social media, but when she started sharing her love life on Instagram, that raised plenty of questions among her fanbase regarding her boyfriend's identity as well as their relationship.
So today, let's take a stroll around the love life of Annet to get all curiosities cleared out!
Annet Mahendru's Love Life
Annet, who was previously rumored to be dating a filmmaker, Louie Gibson back in 2014, was always miles away when it came to revealing about her love life. However, on 14 February 2017, Annet shared a picture on Instagram, where she was spotted approaching Louie to be her Valentine's date.
When all the fans of Annet were thinking that the actress was dating Louie, her tweets pointed towards the other direction. Her posts conveyed that the actress is already married and has been sharing a beautiful life with her husband.
In one of her tweets posted back in March 2017, Annet shared a movie trailer of 'Happy Hunting,' where she stated that it was her husband's movie.
Born Entertainer:- Maryse Ouellet Husband, Children, Family
Again in September 2017, Annet shared a post regarding the same movie, further adding that her husband's film will be released soon.
The movie Happy Hunting that Annet mentioned in her tweets was the same movie that her boyfriend, Louie Gibson, directed. 
Annet's posts raised a lot of confusion among her fans; some wondered if Annet had already tied the knot with her boyfriend secretly while some thought that the duo was still dating.
Meanwhile, on 25 October 2017, Annet shared a picture of her hugging a mysterious guy, who was believed to be her rumored boyfriend, Louie Gibson.
Annet did not just mention Louie on her tweets, but Louie also kept replying to them. Soon, the curtains of her relationship were taken down, and the speculation of her dating Louie was correct after all.
After keeping the word away from public attention for so long, Annet and Louie finally came out as husband and wife in late 2017; Though the couple married on 6 August 2016, they officially became public with the news after one year.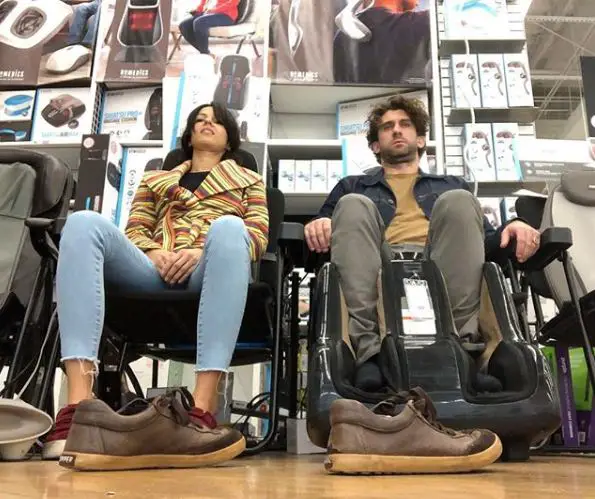 Annet Mahendru and husband Louie Gibson at Bed Bath & Beyond in February 2019 (Photo: Annet Mahendru's Instagram)
The loving duo also has a son together and live together in Los Angeles. As responsible parents, they look after their son with great care but also support the needy through the local charity BreastfeedLA. With the resources they have, Annet and Louie believe they can change the lives of many babies who lose their lives from improper breastfeeding.
Besides all that, Annet enjoys spending time with her family in general. She regularly posts pictures of her parents, son, and hubby on her Instagram.
Annet Mahendru's Short Bio
Born on 21 August 1989, in Kabul, Afganistan, Annet Mahendru holds Russian- Indian ethnicity, as she was born to a Russian businesswoman mother and an Indian educator and journalist father. While growing up, Annet spent most of her years in Afganistan, Russia, and Europe due to her parents' professional obligations.
Netflix Superstar:- Brandon Flynn Gay, Dating, Parents, Family
Since a very young age, the actress was keen to improve herself and sought adventure in her life. After school, she was drawn towards acting and decided to join classes at HB studio, which was a step nearer to her dream. She then performed in different plays, Indie films, and comedy projects.
As for her acting credits, Annet has appeared in movies like Escape from tomorrow, Bridge and Tunnel, Penguins of Madagascar, and many more. She can also be seen in the series like 2 Broke Girls, Mike & Molly, Big Time Rush, The Blacklist, including the popular TV series The Americans. Her character of Nina in the series The Americans got quite a lot of acclaims where she portrayed a spy alongside Noah Emmerich.
The actress has shown great performances which have helped her earn popularity, and her fans are looking forward to seeing even more of her works in the coming days as well!