Maryse Ouellet is a wrestler, businesswoman, and celebrity...is married to WWE star The Miz...has been with her husband for 11 years...engaged back in 2013...has 2 children from her relationship...her father and mother's name are...got a tattoo in memory of her late father...grew up in a family of five...has American nationality... has amazing hair, and has a height of...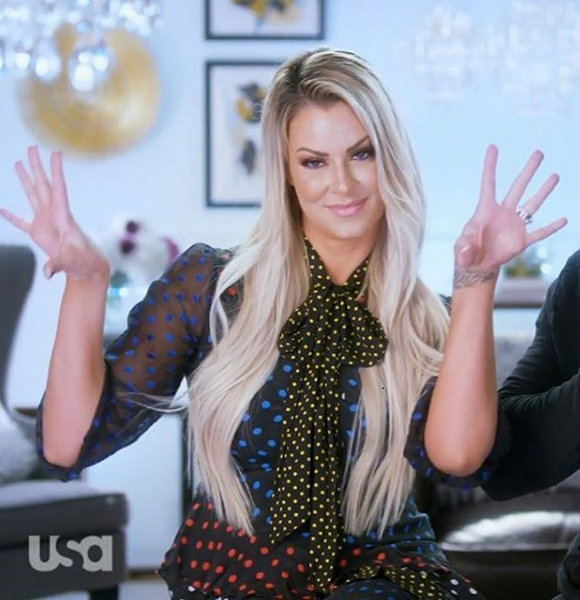 Maryse Ouellet is a Canadian-American wrestler and businesswoman. Wife of WWE star The Miz, Maryse has a successful professional life and also boasts a happily married life with two lovely kids.
The celebrity wrestler became a mother for the second time in September 2019. But how did she end up where she is right now? How did she meet her husband?
Maryse's Married Life
Maryse's love story with her husband Mike Mizanin began back in 2006. The couple met each other for the first time on WWE's 2006 Diva Search.
Mike, more commonly known as The Miz, was hosting the Diva Search competition. And as fate willed it, Maryse entered the contest. That was their first meeting.
But their initial encounters were not very friendly. According to Maryse, Mike was quite mean to her when they were in the Diva Search. She said, 
"He was so mean to me, Oh my God. I couldn't speak English, and he was rubbing it in my face. He was just like, 'You can't speak English. What are you doing here? You can't work with the biggest sports entertainment company in the world if you don't speak a word of English."
However, it would take a whole another year before they would start talking one-on-one. Finally, they started dating after one of the RAW events in 2007. And so their journey together began.
Maryse and Mike dated for approximately three years before The Miz finally proposed her in February 2013.
And, they got engaged in the same room that the couple first met back in 2006 during the Diva Search. Maryse was surprised by the proposal because Mike managed to keep it a secret.
Read More:- Shayna Baszler Husband, Lesbian, Family
The love birds stayed like that for a while before finally getting married. They got hitched in the Bahamas on 21st February 2014.
The lavish wedding ceremony and the bachelor and bachelorette party held the night before the wedding was attended by many VIP guests such as Zack Ryder, Kelly Kelly, Eve Torres, Dolph Ziggler, Justin Roberts, Alex Riley, and John Morrison. In addition to the list of VIPs, singer and songwriter Ryan Cabrera performed at the wedding.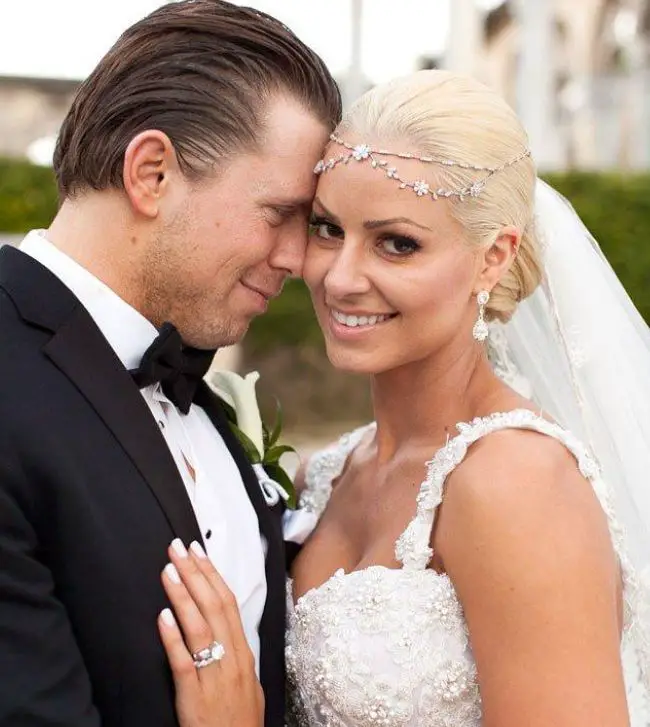 Maryse Ouellet with husband Mike Mizanin during their wedding on 21st February 2014 (Photo: wwe.com)
After a three-year wait following their marriage, Maryse and The Miz finally announced that they were going to have their first child. They did so on an episode of RAW on 11th September 2017.
On 27th March 2018, Maryse gave birth to Monroe Sky Mizanin, her first daughter.
But Maryse and Mike were not content with having only one child. So, on 17th February 2019, the professional wrestler announced that they had a second child on-the-way.
Madison Jade Mizanin, their second daughter, was born on 20th September 2019.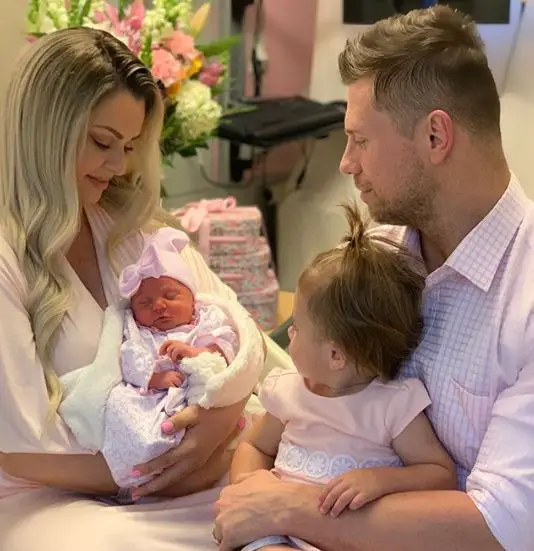 Maryse Ouellet with her husband and kids on September 2019 (Photo: Maryse Ouellet's Instagram)
The blessed couple is now leading a happy life with their two children. They might have plans for bringing a third one into the world, but only time will tell that. For now, we can only enjoy the family's lovely pictures and watch as their kids grow up.
Maryse: Family And Nationality
Born on 21st January 1983, Canadian beauty Maryse is one of the three children of her parents; father Guy Ouellet and mother, Marjolaine Martin. She has a brother named Daniel, and her sister's name is Michelle. Unfortunately, her father died, and in his memory, Maryse got a tattoo of his name on her left wrist.
Talking about her nationality, she became an American citizen officially from 27th June 2018. However, her birthplace is Montreal, Quebec, Canada. Maryse's native language is French, but she is also fluent in English. In addition to that, she can read Spanish, but cannot speak the language.
Another WWE Star:- Charlotte Flair Husband, Family, Net Worth
A black belt in Kyokushin, Maryse, stands at a height of 5 feet 7-and-a-half inches (1.71 meters).
As for her education, she attended Montmorency de Laval and majored in Business Administration. Utilizing her education, she opened a clothing and jewelry line named House of Maryse