Entertainment
Annette Roque Married Life with Husband! A Bio with All The Scoop
Annette Roque Married Life with Husband! A Bio with All The Scoop Similarly, Annette Roque is a former model who is known for her 'exotic beauty', but her married life hasn't been full of ups and downs. So, let's dig in to get acquainted with how the married life journey of Annette Roque has been like till now, along with her short bio!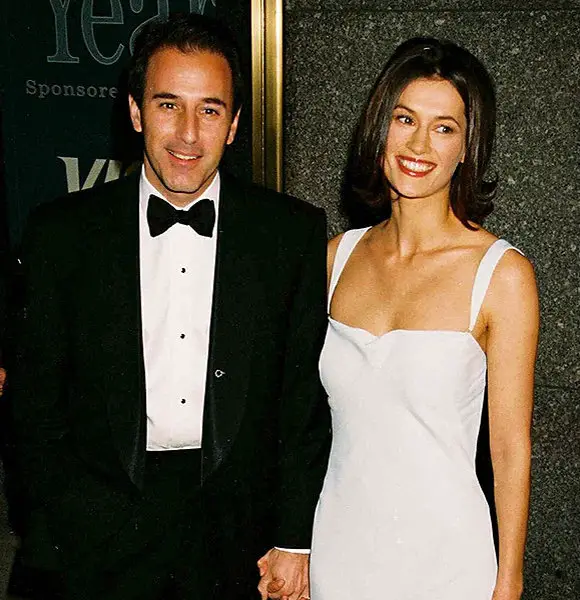 Quick Information
Relationship Status

Single

Lesbian

No

Eye Color

Light Brown

Hair Color

Black

Hair

Long

Feet (Shoe) Size

11 (US)

Weight

N/A

Height/ How Tall? N\A
Net Worth

Not Disclosed

Ex-Husband

Matt Lauer (m. 1998-2018)

Divorce/Split

Yes (Once)

Birth Year 1966
Daughter/s

Romy Lauer

Son/s

Jack Matthew Lauer, Thijs Lauer

Mother

Johanna Struijk

Father

Henri Roque

Ethnicity/Race

Dutch-Indonesian

Profession

Model

Birth Place

Amsterdam, Netherlands

Nationality

Dutch

Birthday

December
While getting married, people naturally tend to wish for beautiful married life, but sometimes things can take an unfortunate turn! 
Similarly, Annette Roque is a former model who is known for her 'exotic beauty', but her married life hasn't been full of ups and downs. So, let's dig in to get acquainted with how the married life journey of Annette Roque has been like till now, along with her short bio! 
Annette Roque And Husband Matt Lauer: From A Blind Date To Married Life:
Annette and her husband Matt Lauer met on a blind date set up by their mutual friend, Maria Santoro in July 1997. The blind date turned out to be successful as they got engaged within five months and got married in October 1998.
Their beautiful wedding ceremony was an intimate one with only hundred guests and was held at Presbyterian Church located in Bridgehampton, New York. The couple's reception took place at a 'paparazzi-proof' bayside home of real estate mogul Linda and Ben Lambert.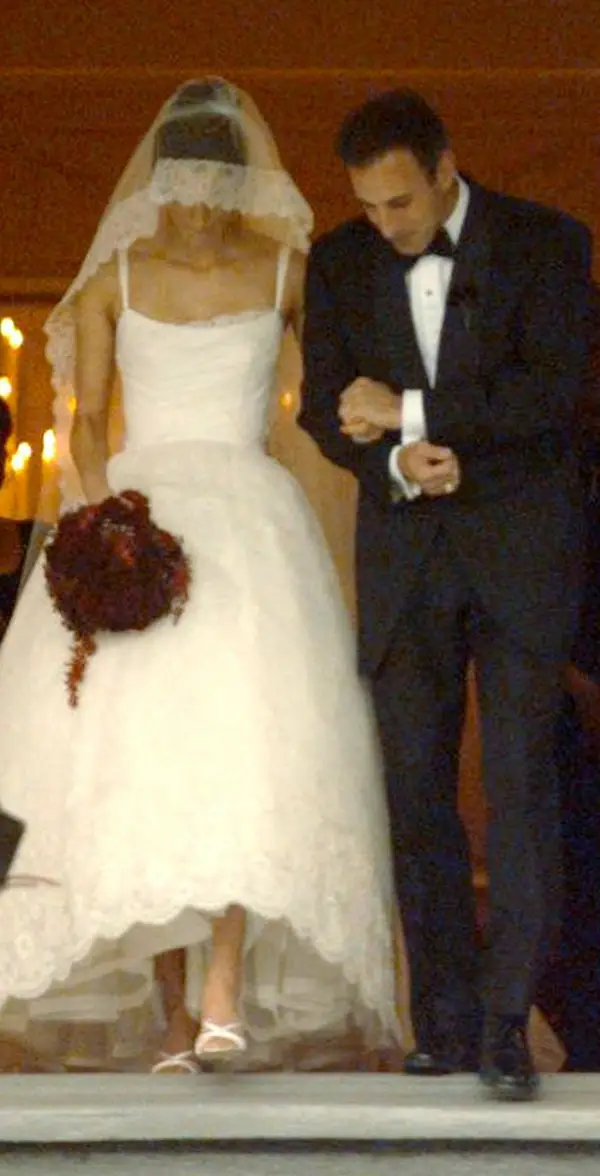 Caption: Annette Roque and husband Matt Lauer on their wedding day 
Photo credit: Yahoo 
However, after eight years of their marriage, things took a different turn and Annette filed for divorce in September of the year 2006. In the divorce papers, she accused her husband of "cruel and inhumane acts" along with claims that he was also controlling about "even the smallest decisions" and that he depicted "extreme anger and hostility" towards her. 
The divorce papers further stated that Matt's behavior had triggered Annette's all round well being; further, he gave priority to his work instead of his family, 
''The conduct of [Matt] so endangers the physical and mental well-being of [Annette] so as to render it unsafe and improper for plaintiff to cohabit with defendant. Defendant has continuously and repeatedly given higher priority to … personal interests than to his family obligations to plaintiff, causing plaintiff to feel abandoned, isolated and alone in raising the parties' children.''
Meanwhile, an insider close with the couple gave an opinion on the matter and stated, 
''These divorce papers were filed more than eight years ago and revoked three weeks later. In New York at that time, irreconcilable differences could not be considered grounds for divorce. A spouse had to prove cruel and in-humane or unsafe treatment, which meant that lawyers had to use those exact terms to establish grounds.''
During the time of divorce filing, Annette was pregnant with their third child, Thijs, 11. Prior to the arrival of their third baby, they had already welcomed two children- a son, Jack Matthew Lauer, 16 and a daughter, Romy Lauer, 14.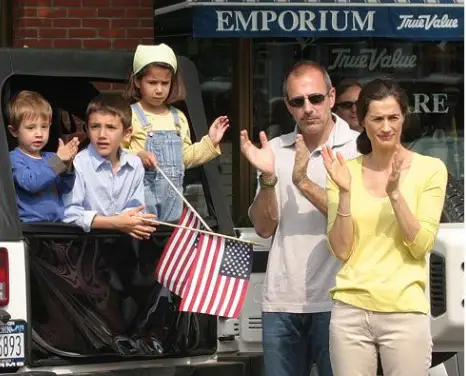 Caption: Annette Roque with husband, Matt Lauer, and children 
Photo Credit: Liverampup.com 
Further, Annette withdrew divorce papers just three weeks after filing the papers. The couple also celebrated their 16th wedding anniversary together along with their children around October 2014. 
Although the couple had sorted out their differences, the problems in the relationship evoked again.
Recently, Annette's husband, Matt, who has garnered an impressive net worth of $80 million, made headlines following sexual harassment allegations, which even led him to be fired from his job at NBC. 
As the reports of Matt's inappropriate behavior in the workplace flooded; it was also revealed that the couple had indeed been living apart from each other for years. Additionally, Matt was caught by the paparazzi without his wedding ring in New York in December 2017. Annette's father, Henri also disclosed that she wouldn't be staying with him,
"She is not going to stay with him and work it out. They are not together trying to work it out."
Additionally, some sources stated that Annette took off her ring as well considering that her husband doesn't deserve her. An insider close to the pair shared that their married life is over, 
"Its basically over between the two, so much pain has happened and turning back now for any reconciliation is not an option. Annette removed her wedding ring because she whole heartedly believes Matt doesn't deserve her wearing it. The marriage is over and its just the time and paperwork that remain to get it all done."
Further reports also claimed that Matt fathered two children secretly with other women. An insider commented on the matter stating,
"all of Matt's secrets are coming back to haunt him, and the most damaging one is the one he's terrified of facing: that he has children out there with other women."
Meanwhile, on December 2017, Annette was spotted with her husband watching their daughter, Romy's horse riding lessons. But, the pair were spotted without wedding rings.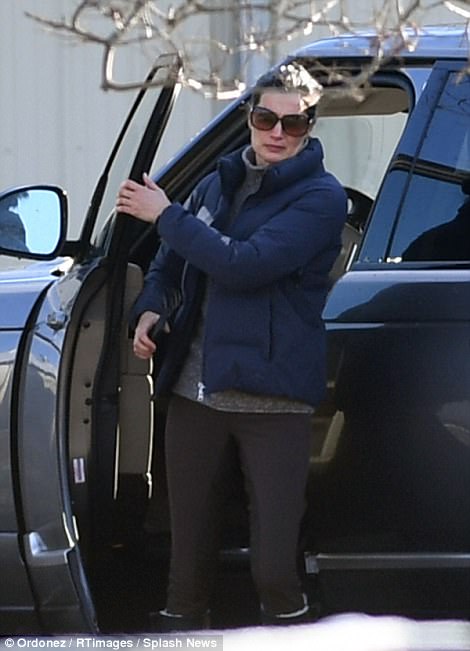 Caption: Annette Roque spotted without her wedding ring
Photo Credit: DailyMail 
However, according to PEOPLE, Matt was fighting to save their marriage, and a source even disclosed that he doesn't want a divorce, 
" [Matt] is fighting to save the marriage. He doesn't want a divorce. Both of them, their first thought is their children."
But recently, in December 2017, reports stated that Anette is having a difficult time ever since the scandals of her husband started spreading. A source shared that she has been struggling with 'anger and embarrassment.' 
Recently, the news of Matt being 'kicked out' by furious Annette from their home in Hamptons following "inappropriate sexual behavior" surfaced on January 21. Further, the source added that Matt is staying at a nearby house which enables him to spend time with his children. Additionally, insiders also claim that Annette is close to filing divorce again. 
A Short Bio on Annette Roque:
Born in December 1966, Annette Roque is a former Dutch model. She grew up near Amsterdam and she flew off to Paris to chase her dreams in her 20s. Eventually, she got a much-awaited break in modeling by agent, Patrick Lemire, and he even said she had 'perfect exotic looks."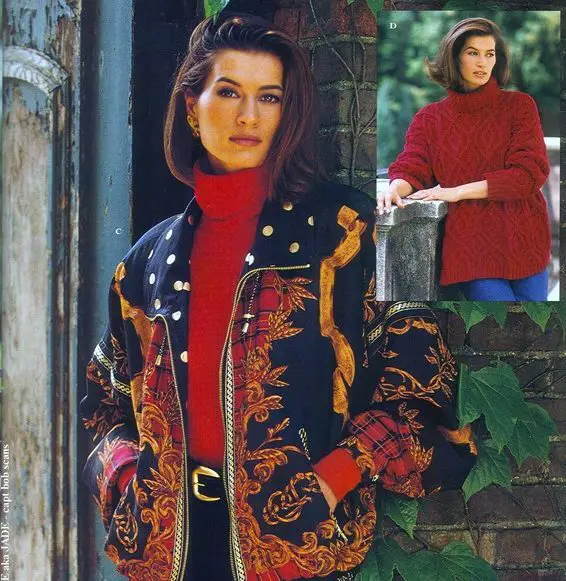 Caption: Annette Roque in her young years as a model
Photo Credit: EcelebGossip.com
Since then, she grabbed many opportunities including modeling contracts and features in cosmetics advertisements including Victoria's Secret catalogs. Annette, who was also known as Jade, currently co-owns and also manages a horse farm, Bright Side Farm in Hamptons.