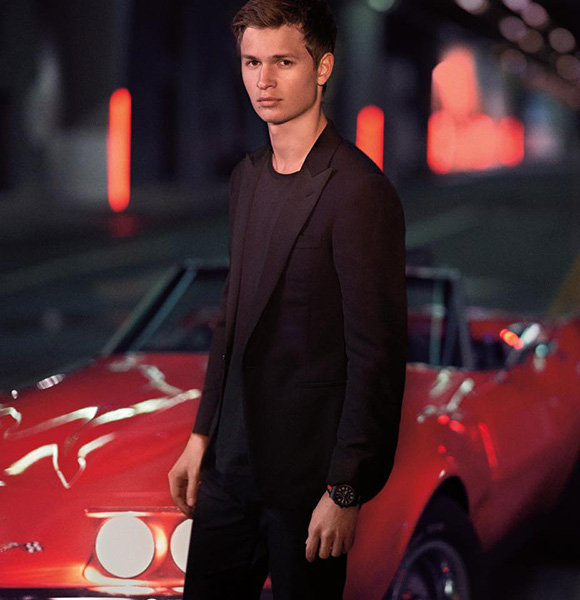 Ever since Ansel Elgort's breakout role in The Fault In Our Stars of 2014, he has been ruling heart worldwide. Such is his popularity that his legion of fans even has a name, Anselites. 
Well, Anselites hold your heart tight because your dashing crush is already taken. Yes, he is in a blissful relationship with his adorable girlfriend of years. 
Who Is His Girlfriend?
Hollywood's upcoming leading man, Ansel of height 6 feet and 2¾ inches(1.9 m) didn't meet his girlfriend in a movie set like in most Hollywood romances. He met his ballerina girlfriend, Violetta Komyshan while attending LaGuardia High School of Music & Art and Performing Arts back in 2012.
Yes! It is true; he is dating his high school sweetheart. The cute high school romance is as endearing as one would expect. 
Violetta had caught his eyes first, but she didn't know Ansel went to her school. While passing down the hallway one day, she noticed Ansel. It was not a coincidence, Ansel had been eyeing her for a time as they had a lunch break at the same time. 
One day, he finally made the first move: he waited for her after school in hopes of introducing himself. But, the pair didn't start dating right away. First, the school mates exchanged numbers and became friends. 
As the spark lighted, they started dating in 2013. 
Everything was going well for Ansel. On the one hand, he had a rocking love life with his girlfriend & on the other, he had been booked for the lead role in The Fault In Our Stars.
Inside Ansel's Co-star's Dating Life:- Shailene Woodley Flawless Ride Or Die Relationship With Athlete Boyfriend; "Adrift" In Love
But, the right time didn't last long as he split with his girlfriend in August 2014 due to an insanely busy schedule. After the movie released the newly single actor became an overnight star and naturally became a favorite among both girls and gay guys. 
Typically, young boys go wild with such recognition, but even with colossal success, something was missing in his life. The missing thing in his life was love, thus after five months of separation Ansel reunited with his high school sweetheart, Violetta and their romance became stronger than ever.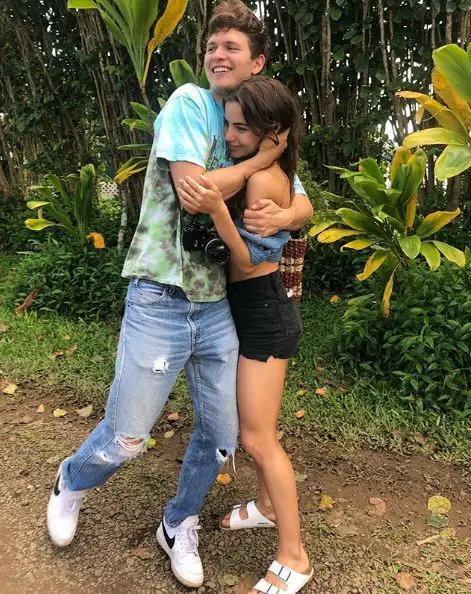 Ansel Elgort embraces his girlfriend, Violetta Komyshan on 2019's Valentine's Day (Photo: Violetta Komyshan's Instagram)
Although he is still busier than ever, the couple has figured out how to prioritize their time for each other. Turns out the high school where Ansel found the love of his life is quite magical. Its famous alumni include Jennifer Aniston and Sarah Michelle Gellar.
 Besides, Ansel went to school with another Hollywood Young star, Timothee Chalamet.
Famous Father And Net Worth
Ansel's creativity is not new in his family. He was born to famous fashion photographer father, Arthur Elgort and opera director mother, Grethe Barrett Holby.
His father has worked with big names in the fashion industry like Christy Turlington and Cindy Crawford. Well, he continues to work with famous people in the industry and is loved by all. Arthur's other children Sophie and Warren are also photographers. 
For You:- Kimora Lee Simmons All About Multi-Racial! From Kids, Husband, Ethnicity & Parents
Blessed genes from a talented family, Ansel is becoming one of the top leading men of Hollywood. His net worth is also caught up to his emerging status. 
Boasting a net worth of $5 million: courtesy of his acting credits Insurgent, November Criminals, Allegiant: Part 1, Allegiant: Part 2 and Baby Driver, he has just started his illustrious career. 
And, already a star at 24 years of age, he holds the potential to achieve greater height in Hollywood.