Entertainment
Anthony Anderson Achieved Two Things; His Weight Loss And Married Life With Wife as The Couple Avoided Divorce
Being a successful actor is the ultimate success and why wouldn't the people think so?. A successful actor has all the perks in life like fame, money, attention and every other thing that a normal person thinks of. However, Anthony Anderson is one exception. This actor proves that being a renowned is not everything that is there to achieve.
Anthony Anderson, an actor, known for his work in ABC sitcom Black-ish shows us that they have a personal life as well that gets complicated and out of control and that they have to pull their pants up to make it all right.
In the case of Anthony, he managed to shred some pounds and also saved his married life on the verge of divorce.
The actor as we know has always been all chubby and jolly, and that was something viewers always admired. However, it wasn't the same for Anderson; at least for the chubby part.
In early years, the 44 years old actor came out with a staggering transformation of his body - losing 47lbs; claiming that was how he was supposed to look. The actor, in his interview with People in 2014, said,
"I've always been confident. Being overweight was never an issue for me."
A Wake Up To Weight Loss:
Things did not remain the same for him when he had the most awakening wake of his life.
"One morning when I woke up I was like, 'Okay, today's the day to start,' and I never looked back."
However, the road to a much-maintained body wasn't swift, as the actor reveals that his weight loss was the result of 13 years of determination that he started and maintained after being diagnosed with type 2 diabetes.
While explaining his over-the-time small lifestyle changes, Anderson revealed,
"I started eating healthier and in moderation, but I was still sort of eating the same stuff that I'd been eating all my life. "When I was cast in Law & Order, I decided to make a drastic change. I got more serious about my health and appearance – not from a vanity standpoint. I just started making healthier choices."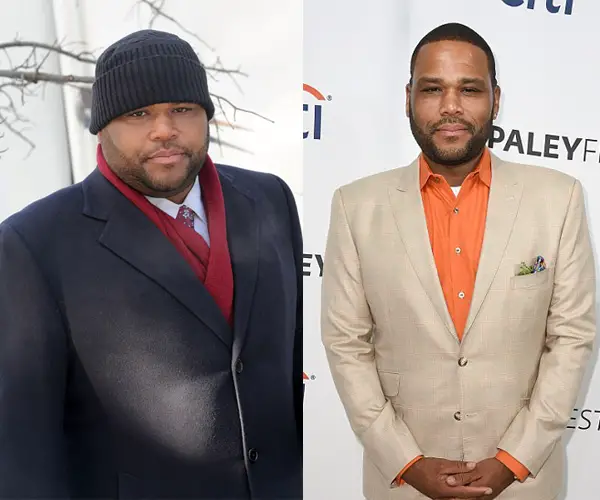 Caption: Anthony Anderson before (L) and after (R) weight loss.
Photo credit: Liverampup.com
But Anderson might just couldn't have pulled off his weight loss if it wasn't the contribution of his family, especially his daughter.
He approached different types of healthy diets that included a Vegan-ish diet, but his daughter is the one who helped or better say, controlled him. He revealed,
"My daughter hates going out to eat with me because I'll find the most obscure places that cater to what I need."
The actor shares two children, daughter Kira, 20, and son Nathan, 16, with wife Alvida Stewart, with whom his married life of over one and half decade almost came to an end. But thanks to their connection, it did not happen.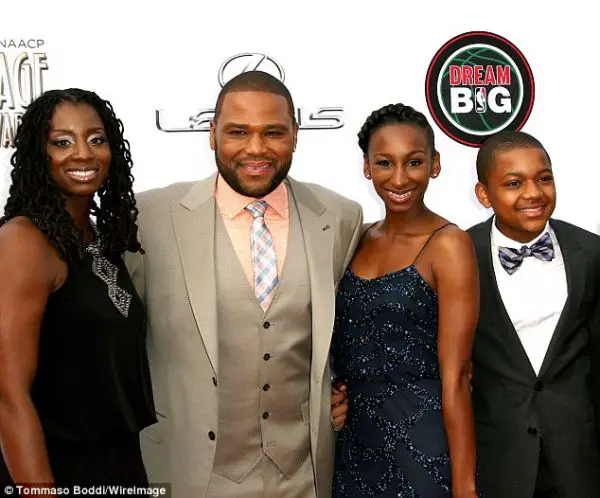 Caption: Anthony Anderson with Wife Alvida Stewart and Children Kira and Nathan at an NBA Dream Big event.
Photo Credit: Tommaso Boddi/WireImage
A Married Life that Almost Fell Apart!
First and foremost, Anderson is a married man, and that is enough to fend off any gay rumors that ever circulated. However, what matters more is that their long-term married life almost came to an end, when wife Alvida filed for a divorce in 2015 against Anderson.
There were no rumors of Anderson having a dating affair with other women or any physical abuse like Robin Givens, who faced from her married life with boxer Mike Tyson.
Alvida simply filed divorce citing irreconcilable differences; news that revealed that the couple separated on April 1, 2014. As much as we hoped it to be an April prank, it wasn't.
While Alvida was demanding spousal support and legal joint custody of their two children, Anderson was bonding with the children in the most fun way. In 2016, Anthony said that he was acting as chauffeur and cameraman for his two kids. He said,
"We make memes and Snapchats, Instagram posts and all that on the 101. But we were doing that responsibly! I was the cameraman, and my son's hands were on the 10 and 2."
Fortunately, the siblings didn't have to face their parents split or get confused in choosing with whom to stay.
After about a year staying under the radar regarding their personal life, the happy news of their reconciliation aired on January 4, as mama Stewart requested the judge to dismiss her divorce petition.
Later that month, the college-sweethearts-turned-couple made their first public appearance, looking all smitten; confirming their reunion.
We're glad that Anderson managed to work out on his married life and we did not have to hear their relationship fell apart like Summer Pheonix's with Casey Affleck, as the couple also took some time off but could not sort out their differences.
As the personal life issues seem to have solved, the actor now seems to be focusing more on his career. Apart from Black-ish, Anthony is involved as a voice actor in The Star and Ferdinand, which is scheduled for 2017. 
Think we missed something? Do let us know in the comment section below!