Entertainment
Robin Givens Reveals Dark Side of Her Marriage with Boxer Husband
Relationships can be a tricky thing to deal with sometimes. Something similar has happened with 'Head of the Class' star Robin Givens.
She has previously been in a few relationships with famous people like Brad Pitt and Eddie Murphy and has struggled with an abusive relationship.
Givens, who has previously married boxer Mike Tyson, revealed the dark side of her relationship with her former husband.
Robin Givens & Her Former Husband 
Robin Givens married her former husband, Mike Tyson, on February 7, 1988, after eleven months of dating.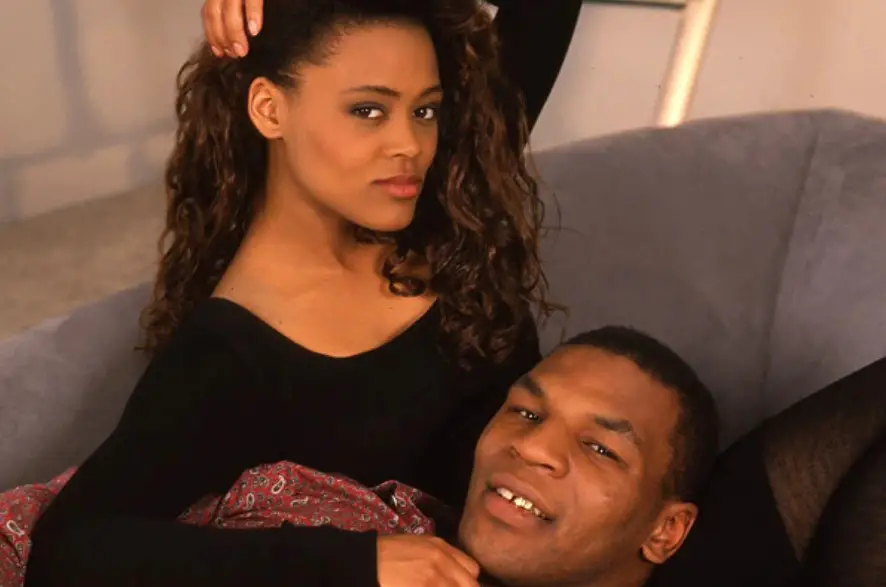 Robin Givens with Former Husband, Mike Tyson (source: newsfeed.time)
Givens was twenty-four-years-old whereas her former husband Mike was Twenty-two-years-old. Nevertheless, both of them were young and successful.
Their wedding was arranged in a hurry as Givens got pregnant. According to Mike, Givens was three months pregnant when their wedding took place.
Read Also: Record Holder Saul Alvarez With Badass Net Worth! Training Reflects Career Success
However, their marriage deteriorated, and they got separated after seven months of getting married. It was Givens who filed a divorce, alleging spousal abuse after she talked about her tumultuous relationship with her former husband, Mike, in an interview with Barbara Walters in June 1988. By that time, Givens had already miscarried their baby.
During the interview, Robin listed Tyson's qualities and soon changed the topic to his deficits. She described him as a person with an "extremely volatile temper."
She further described him as:
"He's got a side to him that's scary. Michael is intimidating, to say the least. I think there's a time when he cannot control his temper. And that's frightening to me. To my mother. To anyone around."
Walter then took no time and asked Robin whether her husband hit her or not. Robin replied:
"He shakes, he pushes, he swings. Just recently I have become afraid. I mean very, very much afraid."
Their divorce was finalized in 1989 on Valentine's Day. Mike has revealed that Givens has received a reported settlement of more than $10 million though they have never signed any prenuptial agreement.
During that time, Mike had a net worth of $50 million. However, Givens has claimed that she hasn't taken "one dime" from her previous husband. 
Discover: Crispin Glover Is Not Gay but Isn't Married Either! Has The Actor Talked About Relationships In Any Of His Interviews?
After their divorce, Mike spotted his ex-wife in the arms of Brad Pitt. He admitted that he turned into a wet noodle when he saw his ex-wife with Pitt.
He revealed that he used to visit his ex-wife even after they were separated. He explained the situation as follows:
"As I go to my car she drives up with the handsome Brad Pitt, It just totally overwhelmed me. I had no energy to fight."
Call it weakness or a fact of life, but even someone as great of a fighter as Mike Tyson will eventually bow down to the power of love.
However, later in 2013, Mike mentioned in his memoir that marrying Givens was a big mistake. In his book, he has explained how he found Given's miscarriage. 
"She was supposedly three months pregnant when we got married. Now it was June and she hadn't gained a pound, so the next thing I knew she was in bed and claimed she had miscarried our baby."
Also, in 2015, Givens wrote an article in Time talking about the abusive relationship with former world heavyweight boxing champion Mike. In her article, she admitted that Mike was physically abusive even before getting married. 
Mike first raised his hands on Givens when they were engaged. She confessed that she was embarrassed to share it with anyone and even go to her mother's house. She went to her friend's hotel room but couldn't reveal what he had done to her.
Three days after the incident, Givens asked Mike not to call her and not to see her again, but later she went to see him in person as she couldn't deny his proposal for a meeting. Because of their abusive relationship, their marriage came to an end eventually. But she found love again.
More On Her Relationship & Children
After separating from Mike, Robin married tennis instructor Svetozar Marinkovic in 1997. Her marital relationship with Marinkovic lasted only for a year.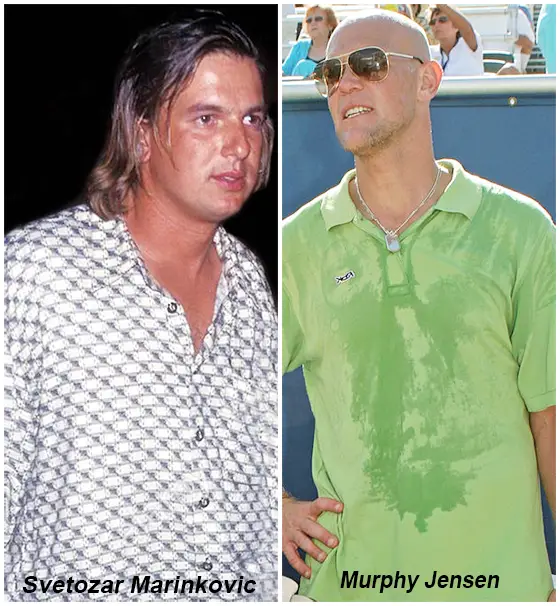 Robin's former husband, Svetozar Marinkovic, and her ex-boyfriend Murphy Jensen (source: liverampup.com)
Following her divorce from the tennis ace, she began dating radio & TV personality, Howard Stern. Previously, she was rumored to have dated actor Terrance Howard.
Between 2005 to 2006, she was romantically linked with Swedish model Marcus Schenkenberg. After her fallout with Marcus, she and actor Hosea Chavez dated for a year.
You May Also Like: Openly Gay Scott Evans Didn't Come Out Willingly; Dating Status Unveiled
Other celebrities who managed to woo Robin - with a reported net worth of $1 million according to Celebrity Net Worth- include the likes of NBA legend Micheal Jordan and comedians Eddie Murphy & Damon Wayans.
Talking about her children, she has two sons; her first son Michael Givens was adopted in 1993, and her second son William Givens Jensen (born in 1999), with her ex-boyfriend, tennis player Murphy Jensen.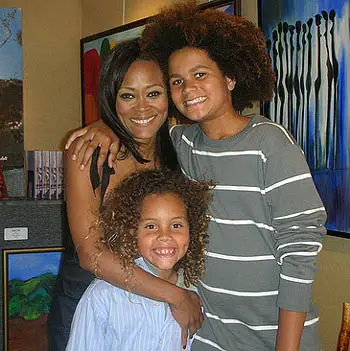 Robin Givens and her sons; Michael and William (source: hamptons.com)
Even though Givens and Murphy are not together, they co-parent their son, William. According to Murphy, his children are his biggest achievement, and he loves to spend time with his boys.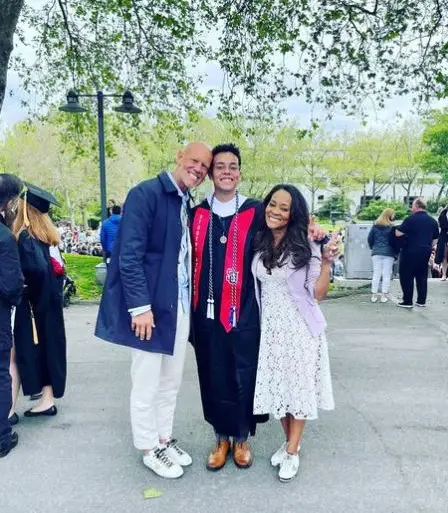 Robin and her ex-boyfriend attend William's graduation. (Photo: Instagram)
Both of her sons are grown up and are focusing on their dreams.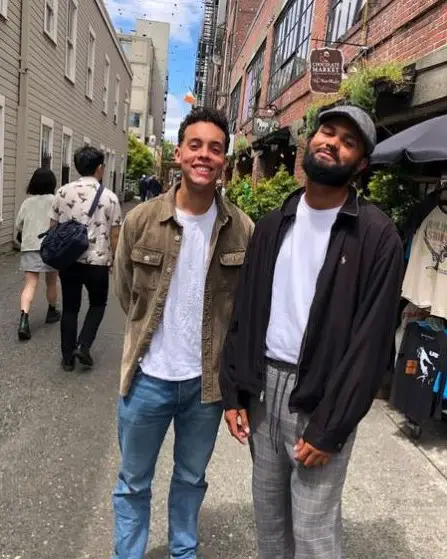 Robin's boys look handsome as ever. (Photo: Instagram)
Robin Givens, who was described as the 'most hated woman in America' after her separation from boxing champion Mike, is no longer in any relationship.
She is now helping families, especially women and children facing domestic violence. She has been working on behalf of victims of domestic violence for more than twenty years.
Interesting: What Is Margaret Josephs Net Worth? Her Bio Adds Kids & Loving Husband
Even at age 57, Robin continues to lead acting gigs. In November 2018, she was cast in the recurring role of Julianne Johnsons' ABC drama series 'The Fix' alongside Robin Tunney and Adewale Akinnuoye-Agbaje.
The New York native will also lead the cast of Will Packer-produced family drama titled 'Ambitions.' The soap drama also features Essence Atkins, Brian White, Kendrick Cross, Brely Evans, and Erica Page as its regular cast.
Stay with us for more updates.