Entertainment
Antonietta Collins Forgetting To Have A Husband Or A Boyfriend Because Of Furious Career? Her Bio To Know It All
Antonietta Collins, the famous bilingual sports reporter who is best known for her work at ESPN, is as beautiful as one can be. She has won over many hearts in her life, and that has also enabled her to acquire many fans around the world.
But her fans mostly wonder if this lady has anyone in her life. So the question remains, does she have a boyfriend? Or is she married?
Married Or Dating? Husband Or Boyfriend?
Someone as beautiful as Antonietta is sure to have attracted a lot of hearts in her life. However, if fans are wondering if she is romantically involved with a boyfriend, the answer might be a "NO" as she has neither been vocal about her love relationships nor revealed anything regarding marriage.
She has always been someone who has kept personal stuff far from the eyes of the media and fans, and that is why she still zips up when it comes to answering questions regarding her dating and romantic life.
Her not opening up about her love life in front of the people and the media indicates two things. First, she is not willing to open up about her personal life and let people peek inside her life, or second, Antonietta might be too focused on her career, thereby finds no time for dating.
Equally Reclusive Journo:- Ariel Helwani Wife, Net Worth, Family
If fans stalk her Instagram, they shall be able to see her occupied in her professional obligations and enjoying her time with her close ones.
Besides loved ones, she also enjoys being part of awareness campaigns. The gorgeous sportscaster remains dedicated to strengthening her career; thereby, the possibility arises that she has no thoughts about relationships till now.
Although she has not revealed anything regarding her past dating or her plans about getting married, she might be searching for a perfect husband. Who knows?
Short Bio Of Antonietta Collins
Born on 22nd November 1985, in Mexico City, Mexico, Antonietta "Toni" Collins is a famous bilingual sports reporter who is best known for her work at ESPN.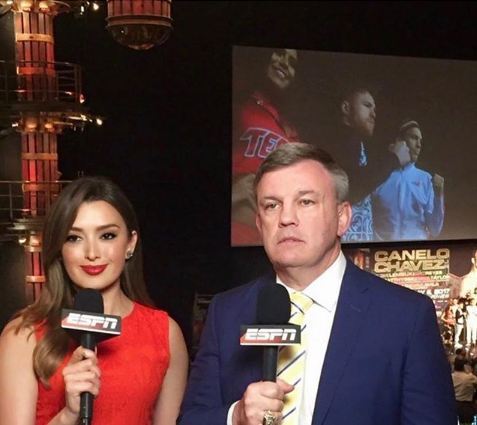 Antonietta Collins in her element while hosting an ESPN show with co-worker Teddy ( Photo: Antonietta Collins's Instagram)
She had previously spent her professional time with Univision covering the likes of Dallas Cowboys, Dallas Stars, FC Dallas Stars, as well as the NBA and Major League Baseball playoffs.
Antonietta joined the ESPN team back in 2013 as a part of the Digital Media team formed to anchor news and analysis video segments in every sports division for ESPN.com. And surprisingly, not many people might know that she was once a part of the Mexican U-19 football team and she spent two years there, all thanks to her dual citizenship.
The beautiful sportscaster is a graduate of Mount Union College based in Alliance, Ohio, with a Bachelor of Science in Communications, emphasizing in Sports Management which shows that she has got the tricks to the trade. She is no doubt very talented at what she does and is busy pursuing her career with ESPN.
Antonietta's Family
The talented journalist was born as the daughter of María Antonieta Collins.
Not many know but, Antonietta is not the first journalist from her family. Her mother is a powerhouse journalist in her own right with decades of experience under her belt.
Besides her mother, another important woman in the ESPN anchor's life is her older sister. Antonietta's parents divorced while she was quite young.
Her mother went on to get married to Fabio Fajardo. Unfortunately, her naval architect stepdad died in 2006 battling kidney cancer.
Don't Miss:- ESPN Amin Elhassan Bio, Age, Wife, Family
Even though the sportscaster's parents separated when she was young, she remained close to her father. On 2nd May 2014, she wished her hero dad on his birthday.
Besides her immediate family, the ESPN anchor shares a special relationship with someone. Well, the person in question is none other than her university professor Mark Bergmann. It was the passion and dedication of the great man who inspired a young Antonietta to dedicate her life to journalism.