Entertainment
Asha Rangappa Married Status At Age 42; Who Is Her Husband? Explicit Bio
Asha Rangappa is a former FBI agent and a senior lecturer at...With a strong professional career, Asha's personal life has been...A proud mother and a daughter, she currently lives in...Asha...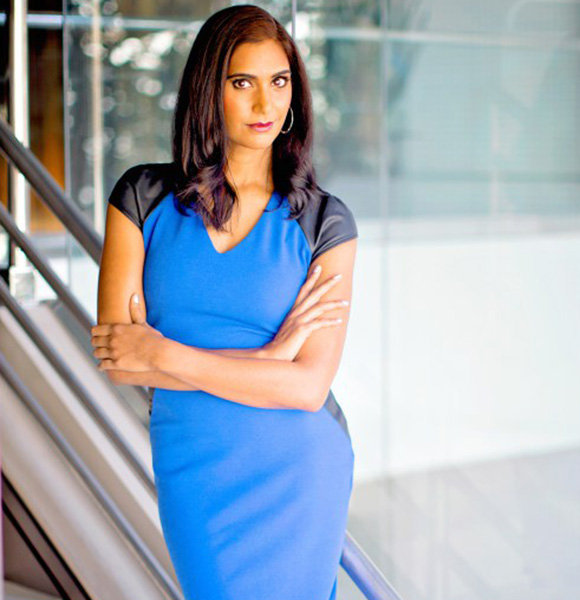 For the former FBI agent, Asha Rangappa courage is something that has in abundance. With a determined personality and her innocent looks, Asha is all about being "bold and beautiful."
Coming from an Indian background, Asha held a career position only a few of her ethnicity had achieved before. With a strong resume, backed up by her extraordinary talents, Asha's bio is as interesting as her own self. However, with a low key personal life, much has been speculated about the lecturer's personal life.
Asha, in spite of her tremendous career landmarks, has stayed true to her humble family backgrounds. The former FBI Special Agent still remembers her family roots as she remains to successfully carry on every added family responsibility in her shoulders.
Bio Reveals Career Path, Age and Nationality; Married With Husband?
Currently a senior lecturer at Yale University and a former Associate Dean at Yale Law School, Asha Rangappa has put her name on a very short list of Indian Americans to perform the duties of an FBI special agent.
Similar: Retired FBI Philip Mudd Bio Unfolds: Age, Married Status, Wife & Family Details
Specializing in Counterintelligence in New York City, Asha successfully performed her FBI duties from 2002 to 2005.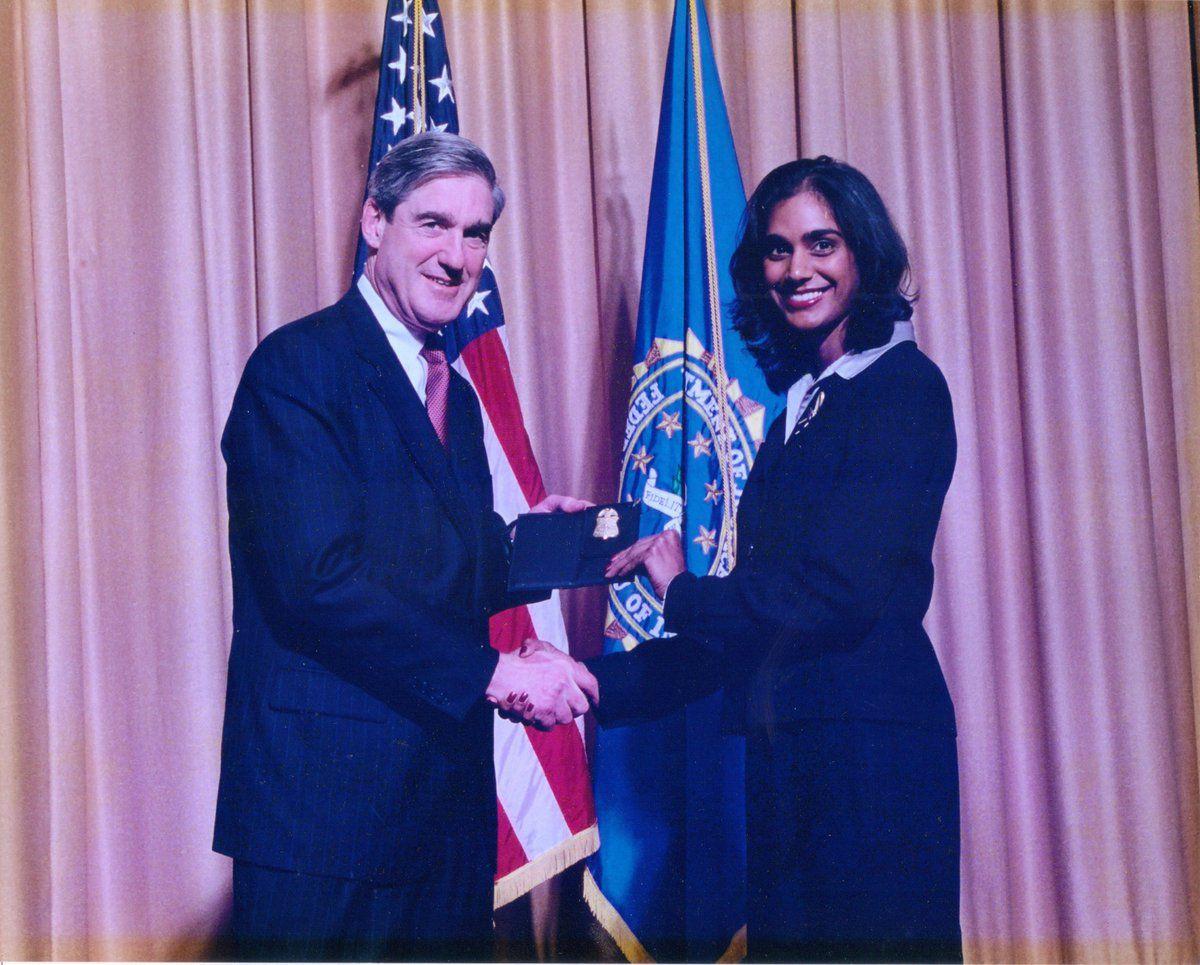 Asha Rangappa with FBI director Robert Mueller at her passing out ceremony held in 2002 at Quantico. (Photo: indiaabroad.com)
Born on November 1975, Asha, at age 42, proudly refers to herself belonging to an American nationality, who has lived her version of 'The American Dream.' Talking about her family, Asha mentioned her family history in America in a tweet on 28 November 2017,
"My grandparents watched India become independent and my parents came here in 1970 under the INA of 1965. #AmericanDream."
Despite her tremendous achievements in her professional endeavors, Asha remains extremely secretive about her personal life. With a personal preference to stay low-key, much has been speculated about the former FBI agent's relationship status.
However, despite all the efforts to maintain her privacy, she hasn't completely been able to hide her relationship history. Her 225k followers on Twitter has been able to somewhat dig into her relationship history and find out that she was once married and had a husband.
However, the lecturer has been divorced with her husband for seven years and is currently single, residing in Connecticut.  
You May Also Like: Candice DeLong, 67, Married And Separated! Personal Life Status Now
Surprised about her revealed past, Asha took to Twitter to voice her astonishment on 27 May 2018,
"Thank you. So far that Koo-Koo-for-Coco-Puffs thread has generated tweets from unhinged followers digging up info on my ex-husband, my father, and my kids. It's amazing that @Twitter allows this kind of crap."
Apart from her married stint, the former law clerk hasn't made any sort of headlines concerning her dating life. However, with such an attractive personality and a beautiful face, it's hard to believe she has been single for an extended period of time.
'Tigerish Mom's Love For Parents
Rangappa ever-so-proud about her accomplishments has mentioned her achievements throughout the years on her Twitter bio which includes former 'FBI Special Agent', 'Lawyer', 'Faculty at Jackson Yale', and a 'CNN Analyst', just to name a few.
However, alongside these professional accomplishments, she has used one distinct adjective in her Twitter bio to define herself, a 'Tiger(ish) Mom.'
Asha has also been able to stand up to her own definition of a Tigerish mom. Living alongside her two children, an 11-year-old son and an 8-year-old daughter, the single mom raises her children in the bravest way possible.
With her witty personality, Asha has mentioned her children on Twitter on several occasion. She was found joking about the influence of her profession on her children in a tweet on 7 December 2017,  
"My kids decided two years ago that Jackie Dancer (? I didn't choose the name) was a Communist spy because (s)he wore red and traveled to undisclosed locations during the day. Jackie was put on trial, found guilty, and exiled. I guess my past life has impacted my children."
One can imagine where Asha gets all the values of parenthood from after taking a look at her parents. Her Indian origin parents, with father a former Lieutenant Colonel in the U.S Army and mother a TS clearance in the FBI, Asha has carried down the family norms of love and respect towards her children as well.
Don't Miss: Archie Panjabi On Wedding She Didn't Ask For Husband She Loves; Family Details
The lecturer has taken to Twitter to express love for her family on several occasions. She was seen posting a picture of her mother and her daughter on Mother's Day on 13 May 2018.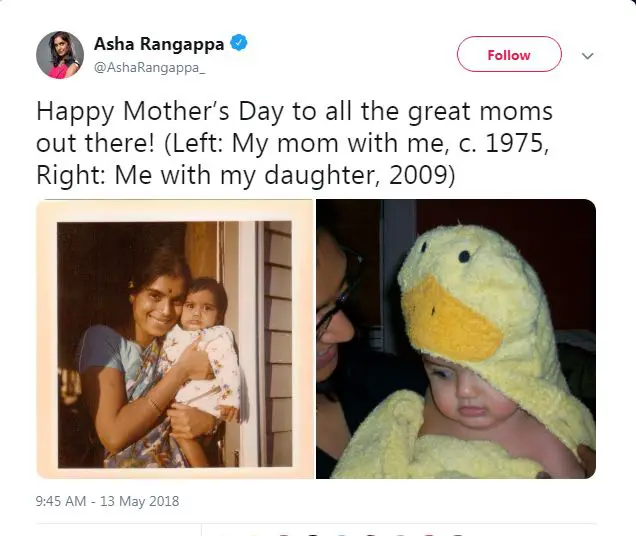 Asha Rangappa tweeting on the occasion of Mother's Day. (Photo: Asha Rangapa's Twitter)
Thus, alongside a successful professional career, Asha continues to thrive in fulfilling her responsibilities as a daughter to her parents and a mother to her children as well.