Entertainment
Ashley Martson Divorce From Jay Smith Halts; Affair, Kids, Family
In an abrupt turn of events, less than two weeks after filing for divorce from her husband, reality star Ashley Martson has decided to withdraw the paperwork as revealed by a Pennsylvania court.
Fueled by a cheating scandal, the 90 Days Fiancé star initially sparked split rumors towards the end of 2018 after cutting ties with Jay Smith, her husband of more than eight months. What could've possibly prompted Ashley, age 33, to change her mind and take back her man?
Divorce With Husband Halts After Hospital Visit
For starters, Jay, real name Conroy Smith, has showcased qualities of a loving husband.
Similar:- Jenelle Evans Is Hospitalized, What Happened & What's Her Health Status? 
On 13 January 2019 - two days after filing the divorce paper - Ashley Instagrammed a photo of herself from the hospital. As per the post, she was getting treated for kidney failure after suffering complications from lupus.
Ashley Martson gets hospitalized on 13 January 2019, two days after filing divorce papers (Photo:- Ashley Martson's Instagram)
Following the hospitalization - her second in as many weeks - her husband, Jay quickly rushed by her "bedside."
In the since-deleted Instagram post, prefacing the tumultuous aspect of their relationship, he claimed to have jumped on a plane the minute he learned about her state without thinking twice. Continuing on his rhetorics, Jay, age 21, asserted his undying love for her by writing:-
"We have our differences but as long as I have life I will never let you sit alone and suffer. I love you and nothing will ever change that. Thank you for having me here to support you."
The difference mentioned above was an apparent reference to the cheating scandal that rocked the pair's marriage.
Affair Shakes The Relationship; Trusted Husband With Kids
Married in May of 2018 in Las Vegas in front of their family, Ashley - who stands beyond the five feet and five inches height stature - and her husband's wedding ceremony got shown on the reality show 90 Day Fiancé in December 2018.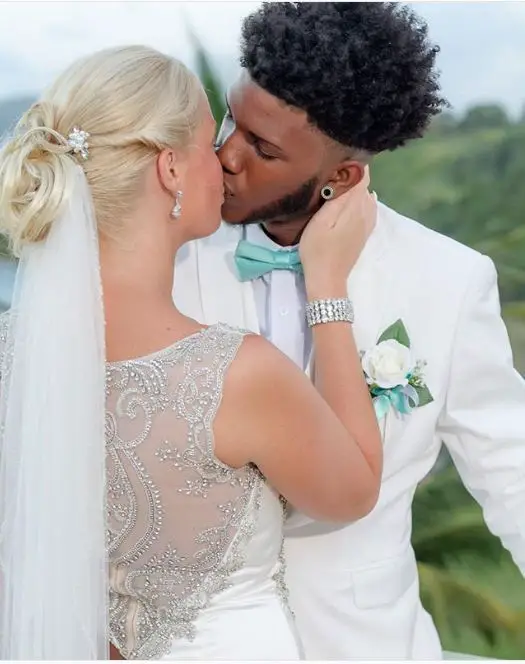 Ashley Martson kisses her husband Jay Smith at their wedding in May 2018 (Photo:- starcasm.net)
But by the time the show hit the TV screens, the pair's relationship had already hit the troubled waters. In the reunion show that followed, Ashley accused Jay - who is of Jamaican nationality - of marrying her for the green card. Even though she caught her husband using a dating app three days after their wedding, the 32-year-old claimed to still love him to death.
In retaliation, Jay responded by uploading a post on Instagram which implied that Ashley - whose reported net worth easily surpasses the six-figure threshold - had an extra-marital affair as well.
Another Televised Wedding:- Inside Lauren Burnham Age 27 & Arie Luyendyk Jr. Fairy-Tale Wedding
The exchange, as ugly as it was, did come as a surprise to many. Because not that long ago, the mother of two kids - a son & a daughter - called her then-boyfriend, Jay "extremely mature" and even trusted him to become a great stepfather.
Later, it was come to be known that Jay was cheating with Ashley with another unknown woman while working in a barbershop.
According to the unknown women, as she was getting ready to get a tattoo in the shop, Jay touched her and in somewhat manner seduced her. As things got heated between the two they eventually made love in the bathroom of the shop.
Following the statement, the relationship between the two further degraded to a point in which it looked liked it could never come back. Surprisingly, after all that, Ashley wished on Jay's birthday and confirmed talking to Jay for a brief period of time.
However, she labeled the conversation between the two a talk to resolve their divorce and immigration. Saying that a piece of news that came out on 19 October  2019, left everyone shell shocked. Ashley claimed that she was officially done with Jay as he got another woman pregnant.
Nevertheless, the married couple looked all set to part ways for good when they both deleted each other's photos from their respective Instagram.