Limiting Astrid Menks' role as the second wife of billionaire Warren Buffet would tantamount to a crime... read along to get to know her more including her net worth...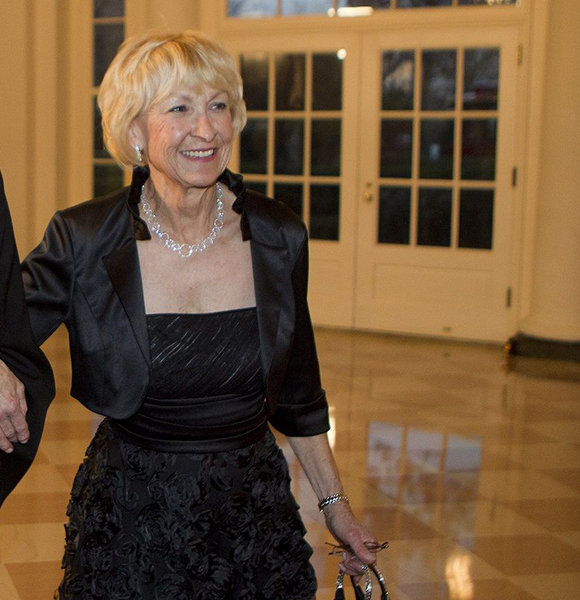 Limiting Astrid Menks' role as the second wife of billionaire Warren Buffet would tantamount to a crime. Beyond the association with her husband, she is a respected philanthropist as well as a caring step-mother.
Above all, Astrid embodies the American Dream to its core. From her humble upbringing to becoming one of the most influential women, she indeed makes up a fascinating study. Well, delve into her biography to learn more including her net worth!
Bio - Age, Family, Nationality & Birthday
Born in 1946, Astrid - now age 73 - holds American nationality despite being a native of Latvia. Very little information is available on her biological parents and family background. Same is true of her birthday and early upbringing.
Latvia Native:- Lost Girl's Star Ksenia Solo: Wondering Who is She Dating With? Boyfriend Rumors
The chances are that Astrid immigrated to the United States somewhere in the '70s. She chose Omaha, Nebraska as her place of residence. Upon her arrival in America, she landed a job as a waitress at a local French cafe/cocktail bar.
Met Husband Warren Buffet At Job
Around the same time, her future husband Warren Buffet was as an investor with the Midas' Touch. Bored with all success around them, his then-wife Susan Thompson returned to her former career as a nightclub singer and began working at the same cocktail bar as Astrid.
And in 1977, Susan left Warren on Astrid and "the girls" care to pursue her musical career and moved to San Francisco. By then, the duo was in a 25-year-long marriage.
Eventually, Astrid and Warren forged a romance and even started to live together. Despite everything, her husband Warren never divorced Susan and also didn't put cease to their collaborations.
Affair With Billionaire:- Lauren Sanchez Is Dating Jeff Bezos For Months, Facts About Relationship
To the outside world, the trio seemed like an odd pairing, but in truth, they were a well-oiled machine. While Astrid looked after the household affairs, Susan dealt with Warren's philanthropic endeavors.
Wedding Details - Children & Married Life
In 2004, Susan passed away. And two years later, Astrid and her husband Warren got married in an intimate wedding ceremony at the Ohama residence of Susie, the billionaire's daughter.
All of the married duo close friends and family attended the private event. On the big day, the bride wore a black top and pants of the same color while her groom looked dapper in a black business suit.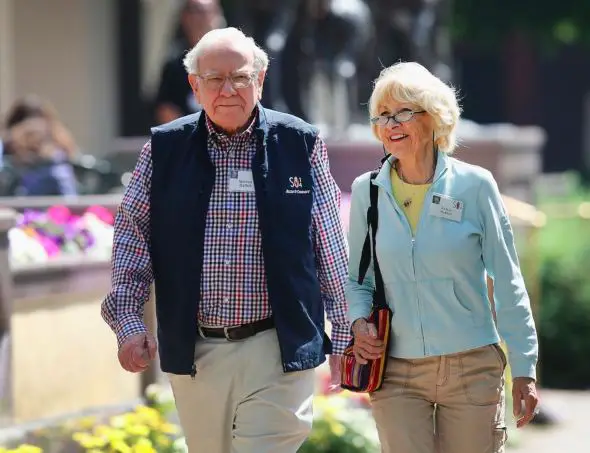 Astrid Menks and her husband, Warren Buffet stepping outside circa 2017 (Photo:- businessinsider.com) 
The wedding, in many ways, wouldn't be possible without the blessing of Astrid's step-children: Susie, Howard, and Peter. To this day, all three speak highly of her.
Sadly, Astrid and her husband Warren's marriage didn't bear any children.
About Her Net Worth
Common law dictates that a wife gets entitled to half of her husband's fortune upon the divorce. By that logic, Astrid owns half of Warren's $86 billion net worth.
Married To Billionaire:- Justine Musk After Divorce From Multi-Billionaire Husband, Where Is She Now?
Dubbed the Oracle of Ohama, her legendary investor husband is the CEO of Berkshire Hathaway - one of the wealthiest entity in the history of humankind. Besides being the world's third richest billionaire, Warren is also history's most giving philanthropist; he has promised to let go 99% of his net worth to charity.
Perhaps, Astrid shares a similar stance as her husband. Nevertheless, together with him, she has set up an unbeatable standard for any aspiring couple.