Atticus has kept his dating life...is known about his girlfriend...are gay rumors floating around...born to religious parents...inherited a disability from his...suffered from health problems like...take his religion seriously because...has a height of...he now lives at...
Atticus Shaffer is a television actor best known for his role as Brick Heck in the ABC's family comedy series, The Middle. The 21-year-old actor has also worked in other productions such as The Unborn, Hancock, and The Lion Guard.
A resourceful actor, devoutly religious person, and an inspiration to many people - read about Atticus's life and his struggle with disabilities.
Dating Girlfriend Or Gay?
Atticus is somewhat of an expert when it comes to hiding information about his love life. The actor has not revealed anything about his dating affair and girlfriend.
The Santa Clarita, California native, might not be interested in dating for now as he describes himself as a nerd and likes to stay at home. He is also a passionate gamer and loves sharing updates on his hobby via Twitter.
Read About:- On-Screen Gay Brock Ciarlelli Age 25 Has Partner In Real Life? | Bio
Perhaps, preferring to be inside the house most of the time is the reason for his single status.
Moving on from his real-life relationships, let's talk about his on-screen partners. Atticus had a wife on The Middle named Cindy Heck (played by Casey Burke).
The couple broke up once in the show but got back together soon after.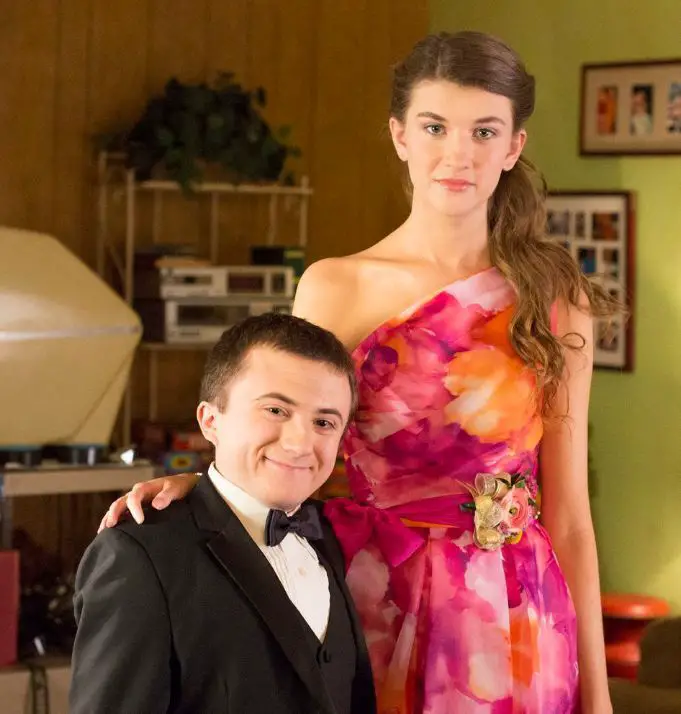 Atticus Shaffer and Casey Burke on The Middle as Brick and Cindy Heck (Photo: The Middle's Official Twitter)
Despite his heterosexual on-screen relations, gay rumors were surrounding the young actor. However, the speculations proved to be false as Atticus is not gay. In fact, he even confessed in an interview that his family was vital to him. He also expressed his wish to get married and have kids someday. 
Atticus wants to share his life with a lovely wife and adorable children, but it may take a few years before he succeeds in doing so.
Parents, Ethnicity, Religion
Born on 19 June 1998, Atticus is the son of Ron Shaffer and Debbie Shaffer.
He was raised into a religious family, which is why the actor takes his religion very seriously. He has daily Bible study with his mother, alternating between the Old and the New Testaments.
A devout Christian, Atticus has often turned to God for comfort during hard times. However, he also revealed that his religious views have resulted in him being treated differently in Hollywood.
Another TV Actress:- Who Is Brianne Howey Husband? 'The Passage' Star's Bio
Atticus (full name - Atticus Ronald Shaffer) was named after the character of Atticus Finch from the famous book, To Kill a Mockingbird. He is of white ethnicity and has Italian & Polish roots. He is also of German, Swiff-French, French-Canadian, and English descent.
As his acting career started at a very young age, Atticus decided to go for homeschooling. He now resides in Acton, California.
Health And Disability
Atticus has walked a steep road to get where he is right now, mainly because of his health problems. The unborn star of height 4 feet 7 inches (1.42 m) was diagnosed with type IV osteogenesis imperfecta, more commonly known as Brittle-Bone Disease.
The disability causes bone fragility and short stature among many effects. Atticus inherited the disability from his mother, who has a type I variant of the same disease.
But, he has not let his disability take over his life. He is still very active on social media and does various activities despite the restrictions put on him by his condition. He has embraced his condition and has become an inspiration to many people.