Entertainment
On-Screen Gay Brock Ciarlelli Age 25 Has Partner In Real Life? | Bio
Best known for playing a gay guy on TV, Brock Ciarlelli was one of the most adorable characters on the popular TV show, The Middle.
The American actor's realistic portrayal of a gay guy has left many fans wondering about his sexuality off the screen. Further, his dating life has also been a topic of curiosity to his viewers, who doubt if the actor has a girlfriend or a gay partner.
Just like his onscreen character, Brock's double life has been confusing to watch as he sometimes portrays himself as gay while he comes out as straight on other occasions.
So, what is the real sexuality of Brock Ciarlelli? Is he gay or straight and has been dating anyone lately?
Onscreen Gay Man Talks About Girlfriend And Relationship; Dating Partner Or Single?
Brock first revealed of dating a girlfriend back in 2012. He shared an Instagram post mentioning his lover as a girl named Soni Lazor and even uploaded a picture of the two sharing a kiss.
Recommended For You:- Cara Maria Sorbello Age 32 Bio Uncovers Family Identity & Dating Status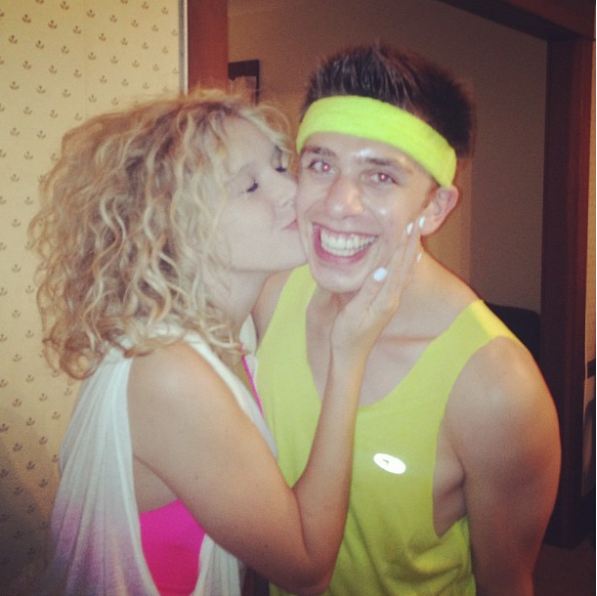 Brock Ciarlelli with then-girlfriend Soni Lazor in 2012 (Photo: Brock Ciarlelli's Instagram)
However, after his revelation, Brock went silent for nearly two years and gave no update on his dating life. Later on, Brock came forward to talk about his relationship, but with a new partner.
On 20 March 2014, he revealed his girlfriend to be actress Mindy Kaling via a tweet. He wrote,
"I'm dating Mindy Kaling. @ The Cheesecake Factory http://instagram.com/p/lydhSkrN9G/"
Brock, who played Brad Bottig on the show The Middle, took seven seasons to come out as a gay man in the series and he chose his ex-girlfriend, played by Eden Sher, to reveal his identity.
Corbin Bleu was cast as his boyfriend on the show, and Corbin even featured on Brock's show Fully Committed in 2018. Ciarlelli even shared a tweet to thank his onscreen boyfriend.
"My tv boyfriend came to my show"
Talking about real life, Brock revealed in an interview that he wanted his partner to be a person who didn't wait for good things to happen but instead make it happen with one's effort. However, the actor didn't reveal any names of a possible partner.
Don't Miss:- Randy Rainbow, Out Gay Man's Partner & Dating Status - Finally Discussed
Although Brock has never come out as gay, he is a vocal supporter of gay rights and wants people to take pride in their sexuality. He even attended the Gay Pride Parade in 2018 along with his friends.
Further, he also shared a tweet on National Coming Out Day 2018 in which he urged gay people to take their time while coming out of the closet.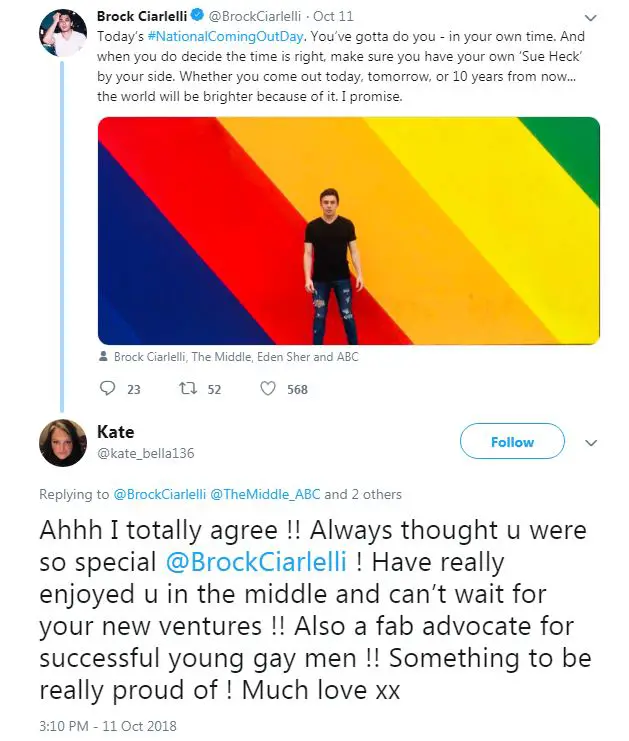 Brock Ciarlelli urges fans to take their time while coming out (Photo: Brock Ciarlelli's Twitter)
To this day, Brock hasn't revealed whether he is gay or straight and has never talked about having a gay partner other than his onscreen boyfriend. But, just as he said, maybe the actor is waiting for the right time to disclose his true sexuality.
Brock Ciarlelli's Bio: Family, Height, And Age
Raised by his family alongside an elder brother, Brock is extremely close to his parents and loves spending time with them.
More From LiveRamp Up:- Audra Martin Bio Reveals Everything From Husband, Salary To Family Info
His bio suggests that the actor completed his education with a degree in Mathematics from Chapman University located in Orange, California. Brock, who stands at the height of 5' 6" (1.68 m).
Brock, aged 25, is famous for his roles in TV shows like The Middle, Home Entertainment, and Valet. Further, he recently released his show named Fully Committed, where he performs more than 35 characters.