Re-writing history with his hockey stick, Auston Matthews announced his entry in the NHL scoring four goals in his first outing for the Toronto Maple Leafs.
During the same match, he became the first player in NHL to achieve the feat in his first career game.
A living specimen of hard work, Auston has battled many tough situations and weathered many storms to get to the position, he now resides.
Dating Girlfriend?
While there are a lot of chatters of Auston Matthews dating model Jordyn Johnson, there is no telling if the details are correct.
Neither Auston nor Jordyn have spoken on the topic, which makes the situation a bit tricky. Both the youngsters are in their prime and are looking at a bright future ahead. 
Known As The Beast:- Marshawn Lynch Girlfriend, Family, Net Worth
However, a little love in their life would not cause a big disaster as the two look like a capable girlfriend and boyfriend prospect. And, with rumors swirling around the two dating each other, their fans are excited about the couple's endeavors.
Parents, Age, Tattoo
Auston Matthews was born in San Ramon, California on 17 September 1997. 
Growing up, he was raised alongside two sisters Alexandria and Breyana as a middle born child. The hockey star's parents: Brian and Ema Matthews eventually moved to Scottsdale and looked after his upbringing in Arizona.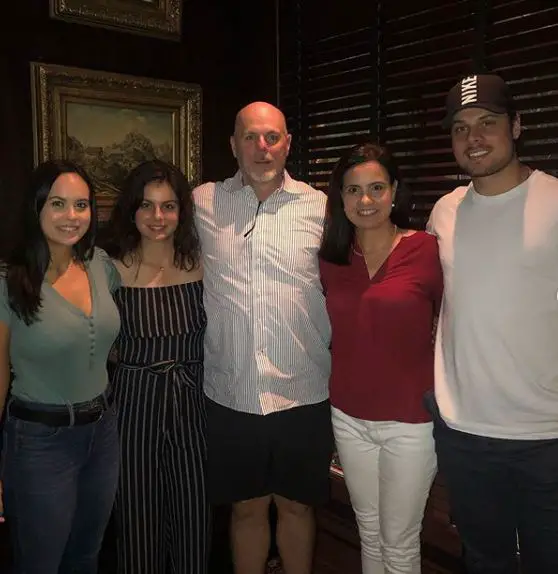 Auston Matthews (left) with his family during Father's Day in June 2019 (Photo: Auston Matthews' Instagram)
At the tender age of five, Auston was already into ice skating. Though he was not from a hockey-playing locality, his interest in the sport led him to pursue a career in the game. He missed a major high school championship including the NCAA but played for the US National Development Team in 2013-14.
During his tenure with USNDT, Auston scored 116 points, breaking the previous record of 102 set by Patrick Kane. Auston later joined the NHL after he was drafted in 2016.
NFL Star Kid:- Dwayne Haskins Girlfriend, Family, Net Worth
With a bodyweight of 97 kgs and height of 6 feet 2 inches (1.83m), the aggressive center forward was also physically capable of handling the big league.
As of now, he is the brightest light of Maple Leaf's roster going into the new season. The 21-year-old is ready to roar in the playing arena like his lion king's tattoo in the right arm. 
Salary & Net Worth
Toronto Maple Leaf's most significant prospect heading into the 2019-20 season is Auston Matthews. The former teenage sensation has backed his role in the Leaf's center with consistent performances one game after another.
After getting drafted in the NHL in 2016, there was no stopping the power center. In his very first season, he bagged the 2017 Calendar Trophy as the league's best rookie. Soon, he converted his break into regular starts. 
However, his notable performance with the Maple Leaf led him to sign a career-defining five-year contract with the team. Not only that, his five-year contract will see him earn $11.6 million every season, which is way more than his previous salary of $3,197,500.
Considering his contract, the hockey star is sure to accumulate an enormous net worth for himself, shortly.