Singer and songwriter of popular song, Sweet But Psycho, Ava Max, is a renowned name in the music industry.
Ava made her start in the music industry in the year 2008. With a total of five songs only available on MySpace, she featured her song under the title Amanda Kay EP.
In subsequent years, she released several songs under the name AVA in platforms like YouTube and SoundCloud.
Over time she started receiving the credit she deserved. By 2016, Ava released the song Anyone But You on SoundCloud, which launched her into a record deal with the Atlantic Records.
After her signing with the renowned company, it was only hit after hits for the rising star, as of 2019 she is a world-renowned pop singer for multiple singles and albums.
Is Ava Gay?
Ava has never come out as gay, but that doesn't mean she is secretive about her sexuality. During an interview with attitude.co.uk, Ava opened about her sexual identity.
Revealing Sexuality:- Kristen Stewart Gay, Lesbian, Dating- Everything You Need to Know
During the reveal, she claimed that she prefers to keep her private life private but did admit that she had a few crushes on the same gender in the past. In particular, she doesn't believe in putting labels as of yet.
As of 2019, her status remains single and unmarried. Any news of a romantic partner, boyfriend, or girlfriend remains out of the question.
Her Bio
Albanian-American pop singer/songwriter Ava Max was born in Wisconsin, United States.
She was, however, raised in Virginia by her Albanian immigrant parents. Her parents are father Pavllo Koci and mother Andromaqi.
Ava had a talent for singing since her early years and started at a very young age. By the time she was in high school, Ava was already engrossed in singing competitions.
She sang and wrote plenty of songs before fame, but it was not until her big move to move to Los Angeles that she secured her music career.
Net Worth Info
As a popular singer compared to wonders like Sia and Lady Gaga, Ava Max has delivered in the music industry like no other.
More From Liverampup:- Rag'n'Bone Man Split With Wife | Divorce, Wedding, Family
With off the charts hit like, Sweet But Psycho, So Am I, Not Your Barbie Girl, Freaking Me Out, she is one of the rising stars in the music world. To number her amount of success, Ava boasts a sum of $3 million in net worth alone.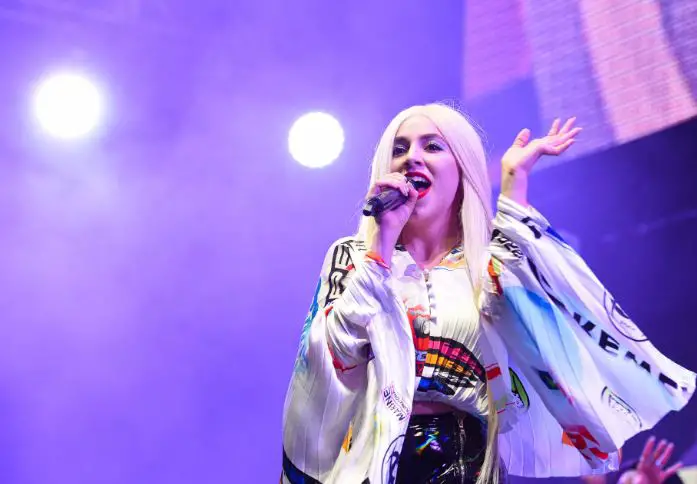 Ava Max at the Kiss Concert in 2019 (Photo: kiss108.iheart.com)
Her popularity is on such a peak; Ava is even set on tours in 2019.
Some Interesting Facts About Ava
Ava Max is a stage name her real name is Amanda Ava Koci.
Her hair is a little unconventional, one side is of shoulder length, and the other side is a bit longer.
Ava's parents also worked in the music industry. Her dad played the piano while her mom was an opera singer.
She is influenced by pop icons like Lady Gaga, Britney Spears, and Madonna.
Ava's height is 5 feet 3 inches (1.6 m).