An avid student of classical and choir music, Avi Kaplan gained worldwide attention as the bass vocalist of the a capella collective, Pentatonix.
Together with fellow Pentatonix members, the Visalia, California-native won the 2011 edition of the NBC show, The Sing-Off. For the title-winning performance, the group sang a beautifully arranged Survivor's Eye of the Tiger.
From 2011 until Avi's departure in 2017, Pentatonix released five studio albums under Sony Music Entertainment. The 6-year-long journey also saw the group win three Grammys.
Going solo, the Fields and Pier singer changed his stage name to Avril & the Sequoias. Then in June 2017, he dropped an EP titled Sage and Stone.
Married With Wife? Girlfriends & Partners Discussed
His exit from Pentatonix created mayhem. Rumors began to circulate that the split had something to do with his relationship with fellow member Kirstie Maldonado.
For years, the fans prayed for Avi and Kirstie's bond to take a romantic angle. To their dismay, it never did.
Entangled In Intra-Band Romance:- Is Zac Farro Dating Anyone? Wife, Married, & Partner Details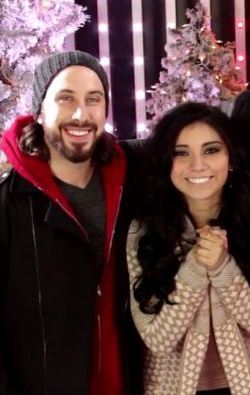 Avi Kaplan with his alleged girlfriend & fellow Pentatonix member Kirstie Maldonado circa pre-2017 (Photo:- wattpad.com)
Breaking all hearts, Kirstie then got engaged to partner Jeremy Michael Lewis in May 2016. The duo, however, didn't get married. A year and a half following the engagement, they parted ways.
But by then, Avi had already left the group. Fans couldn't help but find the timing of it all more suspicious.
To clear the air, the Change on the Rise vocalist released a statement and cited "personal reasons" behind his decision to leave Pentatonix.
Interestingly, to this day, Kirstie - albeit rumored - remains Avi's only public girlfriend/wife prospect.
Bio - Religion, Age & Family
30-year-old Avi was born in the year 1989 in California. Son of Michael and Shelly Kaplan, he is siblings with Joshua and Esther.
Same Religion As Avi:- Why MSNBC's Chuck Todd is Raising His Children Jewish, Meet His Non-Jewish Wife, Family With Diverse Background
The entire Kaplan family practices the Jewish religion. Because of his Jewish roots, the accomplished a capella artist got bullied in school. With encouragement from biological parents, he found reprieve through music.
As a teenager, he mastered the guitar and sang in the choir throughout high school. Pursuing artistic dreams, Avi attended Mt. San Antonio College.
Alleged Gay Musician's Height & Net Worth
At Mt San Antonio, Avi's discovered a capella. In doing so, he abandoned his passion for American Folk and classical music.
As a college student, he formed a group called Fermata Nowhere and won Best Rhythm Section at International Championship of Collegiate A Cappella. During his senior year, renowned collective "Sincopation" recruited him.
In 2011, Avi joined Pentatonix as its bass singer. The rest - as they say - is history.
Fellow Musical Genius:- Playboi Carti Girlfriend, Gay, Real Name
Through his singing talents, the Mt. Whitney High School Alum has accumulated over $8 million in net worth. As far as drawback goes, people mistake him for a gay man.
In terms of height, Avi stands tall at five feet and eleven inches (1.8 m).