Entertainment
Avid Triathlon Lover, ESPN's Shannon Spake is Blessed With School Age Twins And CEO Husband
They say that multi-tasking is an indication of the characteristics of a mother. For the ESPN host and correspondent, Shannon Spake, this is appearing to be true. For the people who don't know much about her let me start with the news that she has recently had the chance to become a mother of not one but twin babies.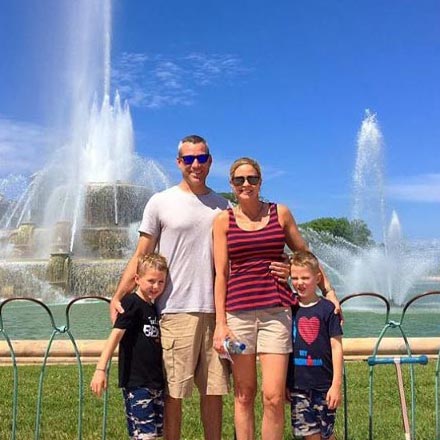 They say that multi-tasking is an indication of the characteristics of a mother. For the ESPN host and correspondent, Shannon Spake, this appears to be true. For the people who don't know much about her, let's start with the news that she is a mother of not one but twin babies.
Shannon Spake is an underdog in sports broadcasting. She has been provided with relatively less on-screen time, especially on National TV. But when it comes to community programs, she has been the face of the sports, hosting most of the college football and basketball matches.
For Fox, Spake's assignments not only include interviewing and reporting on NASCAR but also questioning the famous personalities from American basketball. Besides being an experienced reporter and correspondent, she has also worked in different markets such as Nickelodeon and MTV. 
Married Life With Husband
She is married to the love of her life, Jerry Mcsorley. The news anchor and her husband had quite a cliched love story.
The pair met for the first time on the day of "love," Valentines Day in 2004. Well, the meet-cute worked in their favor as After being in a relationship for four years, Jerry decided to get upgraded from a boyfriend to husband. Soon, they got married on 14 April 2008 in the luxuriant Adare Manor.
The couple decided to tie their wedding knot in Augustinian Priority of Ireland. It had hardly been two years when another beautiful thing occurred in Shannon's life; she became pregnant with twins.
On 1st January 2010, she gave birth to her beautiful children. Her twin sons were named Brady and Liam.
TV Anchor's Twin Connection:- Yolanda Harris Twin Sister, Husband, Salary
Not much is known about Shannon's husband except for the fact that he is the CEO of the company, Eye Tax Inc, that specializes in the wireless camera system. He previously worked for another company called Red Clay Developments. He has been indulged in his current profession for several years.
The loving husband and wife have been trying their best to raise the twins. Despite their respective busy schedules, the husband and wife are doing their best to spend some quality time with their kids.
Kids Growing Up
Time is flying by for Shannon as her two munchkins are growing rapidly.
Well, the twin boys celebrated their 9th birthday on 1st January 2019. The two guys were a premature delivery; they were born seven weeks early and had to be kept in the hospital for a few weeks before discharging the mother and children. After the initial hiccup, the health of the twin boys improved subsequently.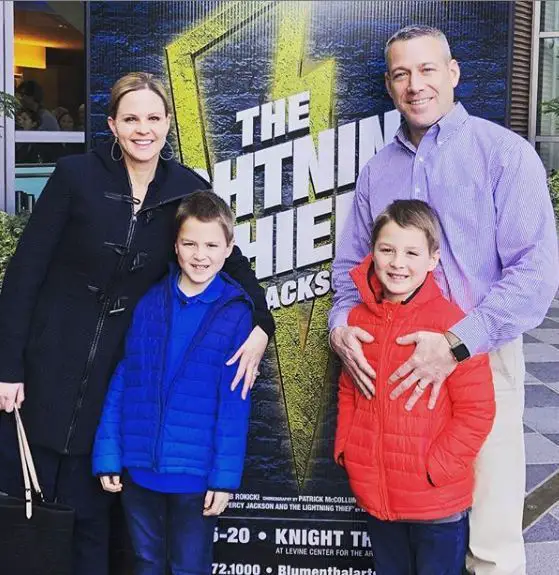 Shannon Spake poses with husband Jerry Mcsorley and twin sons on 21st January 2019 at Knight Theater at Levine Center for the Art (Photo: Shannon Spake's Instagram)
Now in their pre-teen years, Shannon's sons are seen accompanying their mother to her day jobs. The sports anchor keeps sharing her adorable family picture on her Instagram. Fans go aww at her lovely brood's picture. Her long marriage and delightful children are goals for people.
Relationship with Sports and Triathlon
Shannon is also an avid sports lover. She mentioned that she has always loved sports since she was a child. Her father, Southwest Captain Don Speacht, was a pilot for Air Florida.
The father-daughter duo shared a powerful bond through the medium of sports. She remembers that they caught up on a lot of Football games.
The reporter also likes to swim and is a competitive swimmer. Speaking of which, she has also been interested in running a Triathlon for a long time. To excel in it, she trained hard for it, about 2 hours a day for 6 to 7 weeks. She finally ran her first Triathlon and finished it in her targeted time of 1 hour 38 minutes and 7 seconds.
Since then she has run a lot of triathlons and hopes to run an international standard triathlon someday.
Return To FOX
Shanon Spake returned to the Fox network for the broadcasting of the 2016 college football season. She has re-entered the network after years of working for ESPN. The veteran journalist not only took the role of a sideline reporter for college football but also for college basketball, and a pit reporter for the NASCAR Race Hub studio. 
Shannon Spake: Co-Host Of NASCAR Race Hub
The former NFL Sideline reporter Shannon Spake was also dubbed the Co-host of NASCAR Race Hub. She was appointed in the position after former host Danielle Trotta announced her leave from Fox Sports in 2017.
Danielle had announced on Twitter stating that she was pursuing new opportunities and that she was 'ready to grow and tackle new challenges.
Explore:- Katie Fehlinger Biography, Age, Husband
Shannon, who has been sparkling brightly at Fox News over the past years, co-hosted the show alongside Adam Alexander. The reason for her recent promotion was cited to be her previous experience working as a host and reporter for ESPN's 'Nascar Now.'
While she took the mantle of her role proudly, she still plans to still work as a sideline reporter for FOX Sports and even host the 'NASCAR RaceDay' program in the Nascar Xfinity Series as well.
Shannon's Short Bio
Shanon Spake was born in 1976 and raised in Florida. She later graduated from Florida Atlantic University and initiated her career by interning on a Miami-based Radio show which was hosted by Neil Rogers. It was announced that Spake had been hired by FOX News to work as a sideline reporter for college-level football and basketball games and also as a reporter for its NASCAR coverage.