Entertainment
Babita Sharma Age, Married Life, Partner/Husband | Explicitly Revealed
BBC reporter, Babita Sharma has been a role model to many women who support women empowerment...Babita, who stands at the height of...Babita's parents are now settled in...She earns a maximum salary of... Is Babita married and if yes, who is her husband?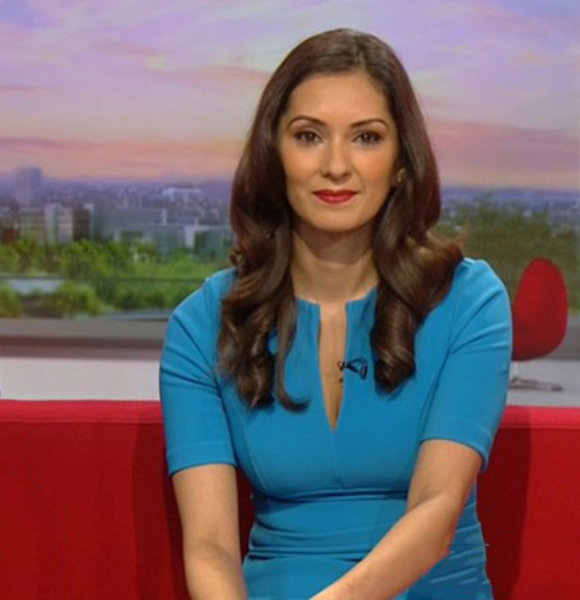 BBC reporter Babita Sharma has been a role model to many women who support women empowerment. But, even a daring journalist like Babita had to maintain secrets regarding her personal life. 
However, in 2017, she chose to come forward and answer the question which her fans had been asking for a long time.
Is Babita married and if yes, who is her husband?
Hints On Being Married; Husband's Identity A Secret?
Babita has often left her fans wondering about her dating life and marital status. The United Kingdom native, who stands at the height of 5 feet 6 inches, has not much about her love life but insists that she is a married woman.
BBC News Correspondent:- Is Kate Adie Married? Family Details & Personal Life Status Finally Revealed!
In August 2017, when asked about her upcoming projects, Babita had mentioned via a tweet that she would be covering her wedding.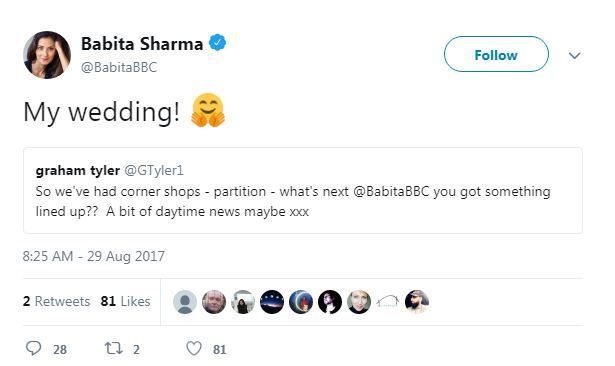 Babita Sharma expresses her will to cover her wedding on 29 Aug 2017 (Photo: Babita Sharma's Instagram)
Later, on 17 January 2018, Babita posted another tweet in which she mentioned that she was a married woman committed to her Irish husband. She wrote on Twitter,
"Thank you so much and now more so seeing as I'm married to an Irish man!"
However, she had not disclosed any more information of her secret partner, which has left many suspecting if Babita is even married.
Immigrant Father; Parents' Details
The daughter of Indian parents, Babita was born in 1977 in Reading, Berkshire. Babita, who ages 41, has not disclosed her exact birthday.
Her father was born in a place called Sialkot which is now located in Pakistan and was forced to move to Delhi along with his parents at the age of four when the India-Pakistan partition took place in 1947.
See Also:- Archie Panjabi On Wedding She Didn't Ask For Husband She Loves; Family Details
Babita, who traveled to Pakistan before hosting the 2017 BBC series Dangerous Borders: A Journey across Indian & Pakistan, talked about the stories of violence she had earlier heard from her father.
In an interview with History Extra, Babita mentioned that although her father's family had thought the violence would end once they reached Delhi, more conflicts soon followed in Delhi as the war between the Hindu and Muslim continued even in India's capital.
Babita's parents are now settled in England and run a retail shop for a living. On 18 December 2016, she shared a picture along with her father and mother at their corner shop.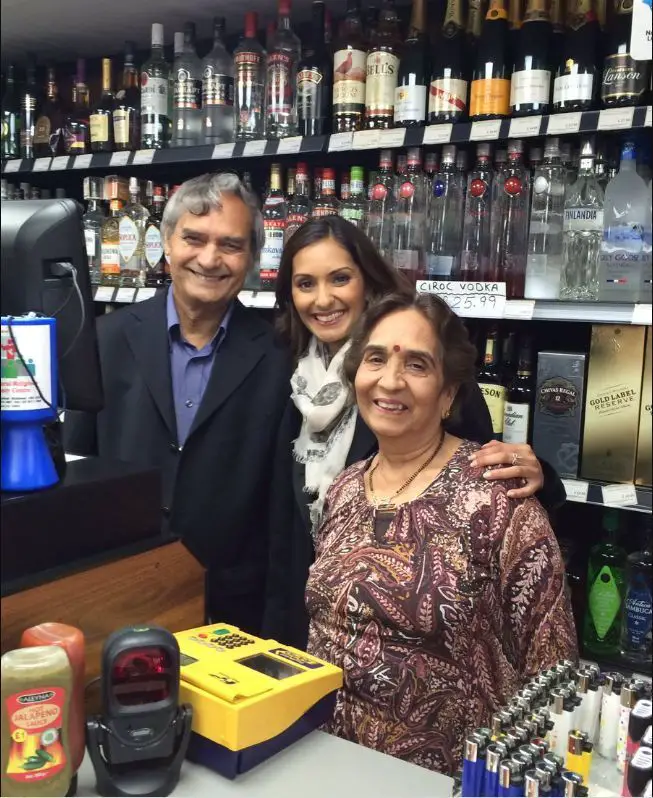 Babita Sharma along with her parents on their retail shop (Photo: Babita Sharma's Twitter)
Babita, who possesses an Indian ethnicity like her parents, has not talked about the background of her mother. Further, she has a close bonding with her parents and takes pride in her Indian ethnicity.
Career At BBC; Salary And Earnings
Babita commenced her career while pursuing her education at the University of Wales majoring in journalism, broadcasting, and filmmaking. She was still a student when she started working at BBC Radio Wales.
Her profession as a full-time journalist began in 2003 when she joined the BBC Radio Berkshire as a travel reporter and later shifted to BBC South Today. 
Don't Miss:- CNN Anchor Ana Cabrera Flaunts Perfect Husband & Family! Age, Salary, Height
Babita was promoted to BBC News Channel in 2008 where she worked as a presenter on a programme called Your Money.
During her career as a presenter, the Indian-native has covered some breaking news stories including the killing of Osama bin Laden, the death of Kim Jong II, the attacks in Paris, the Royal Wedding of Prince Harry and Meghan Markle, and more.
Since June 2017, she along with Gregg Wallace have also been hosting a show called Supermarket Shopping Secrets. 
For her contribution to the BBC, Babita might earn a maximum salary of £320,000 ($416,667) in 2018 as the news network has proposed an upper limit on the salary of news presenters, editors, and correspondents. However, due to her long experience, Babita could be eligible for several bonuses and benefits in addition to earning a basic salary.