Entertainment
Barry Weiss Leaving Married Life And Time With Storage Wars - Both In Dust!
Even though many celebrities have already garnered success in their professional life, they wish to accomplish more achievements in the coming days. However, here's a personality who chose to step back from a favorite show on his own will!
Well, he is none other than Barry Weiss, who is famous for starring in A&E's popular reality TV series 'Storage Wars' as 'The Collector.' In addition to bidding goodbye to the show, he is also no longer together with his former partner.
So, let's get to the core of everything about Barry Weiss along with the details of his bio! 
Married Life With Ex-Wife; Tackling Gay Rumors
Although Barry hasn't shared many details on his past married life, he divorced his ex-wife more than thirty years ago. He also has a daughter, Julie and a son named Jack. 
Dad Of 2 Kids:- Andy Richter Gay, Net Worth, Salary, Wife, Children
But, despite his divorce - as per sources - he doesn't feel lonely and even said in an interview that he has many friends, a girlfriend along with many wedding proposals from his loyal fans on Facebook.
To the former reality star, loneliness isn't something that he needs to entertain. In his own words, 
 "I have plenty of stuff to keep me busy." 
Meanwhile, back in 2012, a source close to Barry shared to Hollywood Life that women of all ages wish to be with him. He explained,
"Wherever Barry goes, women flock to him. When the show is filming, beauties of all ages give their phone numbers to fellow cast member Dave Hester to pass on to Barry."
Additionally, Barry also shared that he was single and ready to mingle. The father of two children announced,
"I've actually been single for probably the last 28 years."
Well, on the other hand, it also proves that he is not gay! 
Departure From Storage Wars
Although Barry gets widely recognized for starring in the popular reality series, 'Storage Wars" as 'the collector,' he left the show after the fourth season when he was at the peak of popularity.
From The Same Show:- "Storage Wars" Rene Nezhoda Age 41: Bio Reveals Origin, Wife, Family & Essential Details
It was evident that he never took the competition seriously. Barry gave his reasons for leaving the series and shared that although the show was fun, he had enough.
"I had a blast. It was fun, but I had enough and I kind of wanted to leave while it was still popular."
In the year 2014, Barry started his private spin-off show, 'Barry'd Treasure.' However, the show got canceled within the same year, and Barry began to remain low-key ever since. He has also bid goodbye to social media and new TV projects.
Bio Reveals Net Worth & Cars
Well, despite not being involved in any projects, Barry is financially stable as he enjoys a net worth of $10 million and has a collection of his favorite prized selection of cars, trucks, and bikes which are worth $500,000.
His collection includes a Beatnik Glass Top Car, 1932 Ford, 1940 Ford COE Truck, Ducati Diavel and a customized Harley Davidson to name a few. 
However, his most loved and favorite possession is the 'Cowboy Cadillac.' It is known to be worth from $10,000 to $50,000 and built by the legendary car maker, Frank DeRosa.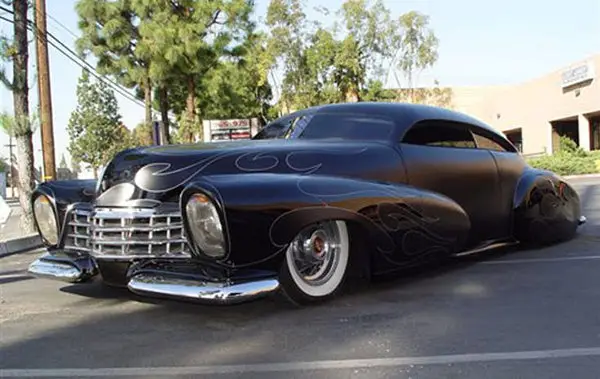 One of Barry Weiss's cars called, Cowboy Cadillac (Photo:- TheRichest.com)
Barry purchased Cowboy Cadillac after he sold his purple Frank DeRosa custom 1951 "King of Mercs."
Bio of Fellow Storage Wars Star:- How Much Is Jarrod Schulz Age 41 Net Worth? Loving Family & Wife | Bio
With his cars on the garage, the father of two resides in a four-bedroom mansion in the affluent gated LA neighborhood of Laughlin Park. Actress Natalie Portman is his next door neighbor.
Before earning his stripes as a reality star, Barry made a fortune by running a company called Northern Produce with his brother Joey. Joey is now the CEO of the said business.
Barry and Joey's biological father, Hy Weiss was a revered music executive, who passed away in March 2007.
Hospitalized After Motorcycle Accident
In late-April 2019, Barry hit the headlines after a motorcycle carrying him collided with a car which was pulling out of a parking space in California.
Following the accident, paramedics rushed to the scene and admitted the former Storage Wars star to the ICU at the local hospital. Per reports, he suffered broken bones and internal injuries.
Posting from the hospital, Barry's friend - who was riding the motorbike - confirmed the news and added that he had severe chest and leg trauma.