Entertainment
Beautiful Actress Trina Braxton: Divorced Her Husband in 2015, What About Children? Boyfriend?
The Braxton is one of the members of a well-to-do family in the field of music. The family consists of Toni Braxton and her sisters which include Traci Braxton, Towanda Braxton, Trina Braxton, and Tamar Braxton. The Braxton also possess a junior brother, Michael Conrad Braxton who is overshadowed by his sisters.
Apart from star filled family, Trina Braxton had ups and downs in her life resulting to divorce her husband. Why did it happen? The real cause behind it? We'll reveal it all!
Divorce with her husband What's The Reason:
Trina Braxton is off the relationship again. TheJasmineBRAND.com reported that Gabe Solis has officially divorced with Trina Braxton following their estranged marriage life which was signed off by a Georgia judge. The relationship had lots of marital problems over the years although Trina had been working to fix it out.
Trina Braxton and Gabe Solis married in 2003. After 10 years of their long relationship, both of them had their ways apart and called it a quit in 2013. The main reason behind the divorce is that Trina revealed Gabe had a cyber-sex with a stranger lady whom he met online. Trina also said that Gabe had an extra affair with a member of Trina's band.
Enough was enough! Trina filed divorce against her unfaithful husband. More drama was to be followed as both called their divorce off as both of them vowed to repair their marriage for the shake off their children.
Well, it didn't work out, and Trina refiled a case for their divorce in October of 2015 followed by their divorce on April of 2015. Trina said in an episode of Braxton Family Values on 2015 crying to her sister Towanda Braxton, she said;
"I don't understand what I'm supposed to be doing, am I supposed to fight, and am I supposed to not fight?"
She added:
"I feel so stupid, I feel so dumb"
In her past interview, Trina said that her family had an enormous impact on her decision to get a divorce, she tried to focus on her children and save their marriage as well.
The reality star and singer during an interview to C.Nikky said that;
"It's more than just myself; it's more than just me and Gabe. It's me and it's Gabe and it's our family. We have two children who we both love,"

"So, right now we're concentrating on being good parents. My oldest son is in college and my youngest is in 10th grade so, it's a long haul."
Trina was also seen breaking down completely on some of the clips of reality show 'Braxton family values' after she revealed that Gabe had been cheating on her and had got someone pregnant.
Caption: Trina was talking about her divorce in November 2013.
Is That Her New Boyfriend?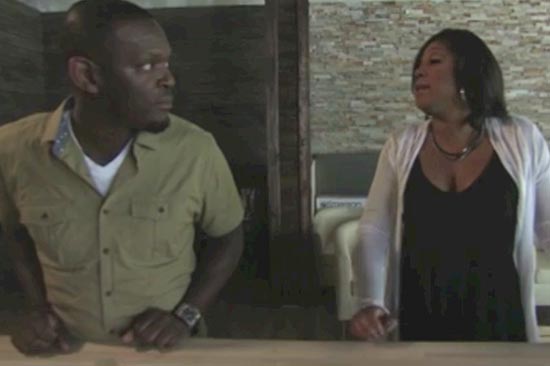 Caption: Trina Braxton and her new boyfriend, Jacent in 2015.
Source: lalate.com
After few months of Trina's divorce, it looks like she has found a new boyfriend. Pop icon introduced her new boyfriend, Jacent to her sisters. The meeting held at a restaurant where Jacent met Trina's four sisters and mother. Trina said:
"I feel like Jacent and I are walking into a lion's den,"
Moreover, she added:
"I know there's going to be a million and one questions and comments, and it's making me so nervous. I just hope Jacent can handle it because this is my family and like it or not, they're not going anywhere."
Her Children: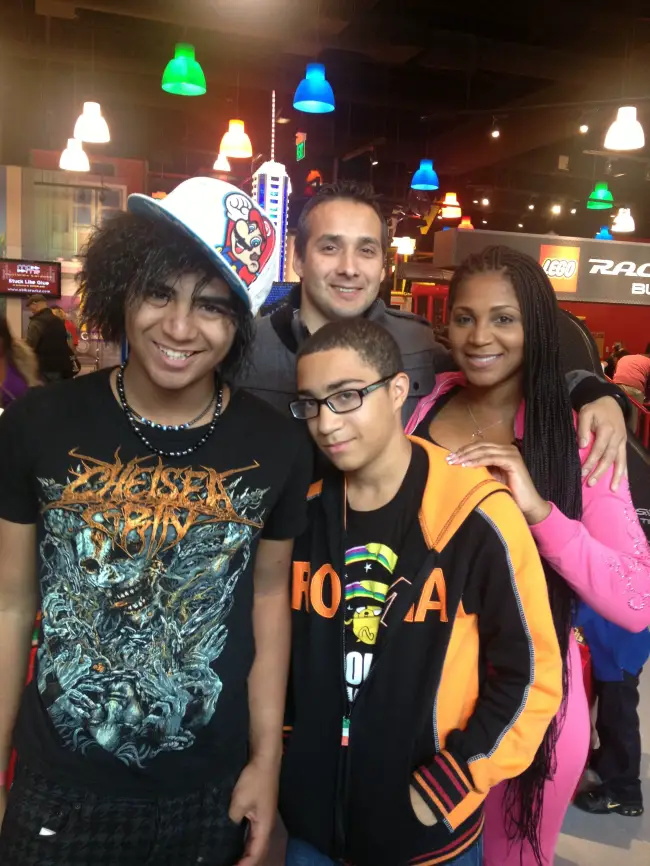 Caption: Trina Braxton and Gabe along with their children Eric and Caleb.
Source: rollingout.com
Trina and her ex-husband Gabe Solis have two children: Eric, who was born on April 30, 1995, and Caleb, who was born on March 30, 1998.
Trina Braxton's Short Bio:
Trina is a sister of Toni Braxton who gained reality fame for the series Braxton Family Values. Along with that, she had an acting role in the 2004 straight-to-video film Meet the Browns. In 2013, she also released her debut single, "Party or Go Home." Trina's net worth is that of $1 million dollars.