Ben Lyons is a well known American TV and radio host...is happily married to his wife Maria K Lyons...Ben Lyons exact net worth is still not verified...
Ben Lyons is a well known American TV and radio host. He has co-hosted several award shows, events and sports coverage for popular networks like Disney, Nickelodeon, and ESPN.
Apart from working as a host, he is a producer of his own production company called Ruff Sketch. He has also worked as a film critic for E! Network, and Yahoo.com. In 2014, he co-hosted a LIVE coverage of Academy Awards.
As a media personality, Ben Lyons actively supports the legalization of gay marriage in every state across America.
Ben Lyons Ethnicity, Age & Parents
Ben, who is American by birth, was born on 8 October 1981 in New York City.
His parents are well-known figures of the media industry; his father, Jeffery Lyons is a film critic whereas his grandfather Leonard Lyons was a famous New York Post Columnist.
Groewing up in The Big Apple, he completed his college education from the University of Michigan.
Ex-Girlfriend & Wife
In 2014, Ben Lyons dated Bee Shafer, daughter of Vogue's editor-in-chief, Anna Wintour. Their relationship started in 2014 and lasted for about a year. Afterward, Bee got engaged to Francesco Carrozzini.
On Bee Shafer's Wedding:- Marriage Anna Wintour's Daughter Bee Shaffer Wedding! Husband In Long Island - Magistic Moment
Similarly, Ben also moved on; he married his wife Maria K Lyons. She is a herbalist by profession, who runs a footwear brand named Astara.
The duo first met one another in France and married in 2016 after an engagement the same year.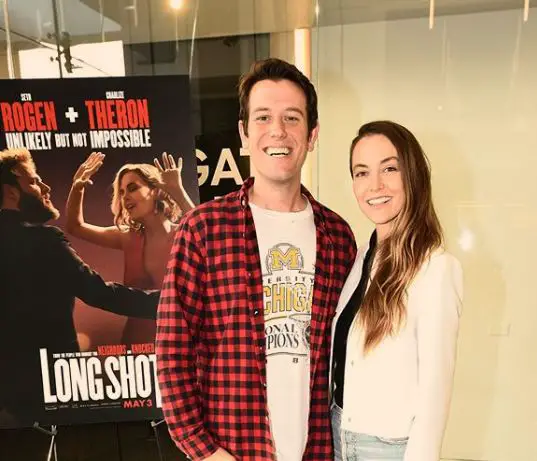 Ben Lyons attends the special screening of movie Long Shot(2019) with wife, Maria K Lyons (Photo: Ben Lyons' Instagram)
Since then, the pair have managed to spend their times together in several formal and informal occasions; from anniversary to special screenings of films, where Ben gets invited as a film critic.
Salary
 

& Height

Ben Lyons' exact net worth is still not verified. However, his current involvement at ESPN LA as a sports announcer and entertainment reporter at various A-list network like ABC, NBA-TV certainly offers him a handsome salary.

His other sources of income include live coverage for high profile events and as a producer for several shows and films.
See Also:- ESPN Host Rece Davis Net Worth,wife & Family
Ben stands 6 feet and 3 inches (1.91 meters) in terms of height.
Ben Lyons Is A Cinephile!
Well-regarded film critic Roger Ebert once criticized Ben Lyons for his film reviews, but it didn't discourage him from continuing his work as a critic. Ben's favorite movies include Apocalypse Now(1979), Goodfellas(1997) and he considers I am Legend(2007) to be the best film ever made.
He went onto host Yahoos live movie premiere, worked as a film correspondent for E!News and even produced a music documentary in 2012 that premiered at reputed Tribeca Film festival, where many all-time classic movies made their first premiere.
Moreover, Ben co-hosted backstage Oscars in 2014.