Entertainment
Ben Stiller Facts On Wife, Children, Net Worth & Parents
Ben Stiller is one of the most recognizable faces in Hollywood...is separated from his wife Christine Taylor...has two kids with Christine...married his then-girlfriend on...has a huge net worth of around $200 million...his age and parents details are given below...
American star Ben Stiller is one of the most famous faces in the entertainment industry. He is an actor, director, writer, and producer known for productions such as Arrested Development (actor - 2005-2019), Saturday Night Live (actor - 1987-2019), various productions of Zoolander in which he was involved in acting, directing, producing, and writing.
Ben began his career in acting from the theatre. He had a decent career in Broadway before he made the switch to cinematic acting. He made his onscreen debut from the TV series Kate & Allie in 1986 and has since gone on to amass 128 credits as an actor, 48 as a producer, 19 as a director, and 13 as a writer.
Ben Stiller; Marriage And Children
Ben was in a long-time relationship with Christine Taylor. Their relationship began in 1999 when they met for the first time while filming an unaired pilot of a TV series named Heat Vision and Jack. Following their first meeting, their relationship flourished, leading to their marriage in 2000.
Another Zoolander Actor:- Kristen Wiig Husband, Boyfriend, Family
Ben and his then-girlfriend said their vows in a wedding ceremony held at Kauai, Hawaii, on the 13th of May 2000.
Since their wedding, the couple has not only been together in real life but also reel life. They starred side-by-side in various projects such as DodgeBall: A True Underdog Story (2004), Zoolander (2001), Tropic Thunder (2008), etc.
Two years after the actor duo tied the knot, their first kid came into the earth. His daughter, Ella, was born on the 9th of April 2002. And Ella's younger brother, Quinn, followed her on the 10th of July 2005.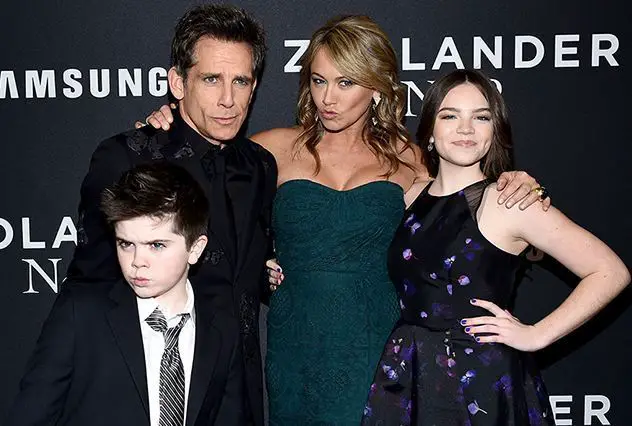 Ben Stiller with Christine Taylor and kids Ella and Quinn (Photo: Hello Magazine)
Ben, along with his wife and kids, led a stable family for a long time after the arrival of their second kid. However, their companionship took an unexpected turn in 2017.
On the 26th of May 2017, Ben and Christine announced their split. But, their split is a little more unusual than regular separations.
Despite announcing that they were moving away from their 17-year marriage, Ben and Christine were still spotted together. Further, they have vowed to remain friends. They appear on various programs, award ceremonies together, and also have been seen going on dinner.
Net Worth And Properties
Ben is one of the best actors in Hollywood right now, and his success is also reflected in his net worth. The Zoolander actor has an estimated net worth of around $200 million, according to Celebrity Net Worth.
Most of his earnings are the result of his works in the show business. However, some of it is from his real estate transactions.
Ben sold an estate he owned in the Hollywood Hills to Jason Statham in August 2011. The estate fetched him a massive $11.5 million.
Related to Jason Statham:- Rosie Huntington-Whiteley Husband, Baby, Net Worth
He also bought a full-floor apartment in New York's West Village neighborhood in June 2016. The actor paid a massive $15 million for this property.
Interesting Facts: Age, Height, Parents
Ben was born on the 30th of November 1965 in New York City, New York, USA.
His full name is Benjamin Edward Meara Stiller.
His parents are legendary comedians Jerry Stiller and Anne Meara. Anne Meara died on the 23rd of May 2015 due to natural causes.
Ben is of European ethnicity as his father is of Austrian Jewish and Polish Jewish descent, and his mother was Irish Catholic.
He has a sister named Amy Stiller, who is an actress.
He stands at the height of 5 feet 7 inches or 1.7 meters.