Entertainment
Benevolent Hannah Storm's Married Life With Journalist Husband of 22 Years: Unlikely for Divorce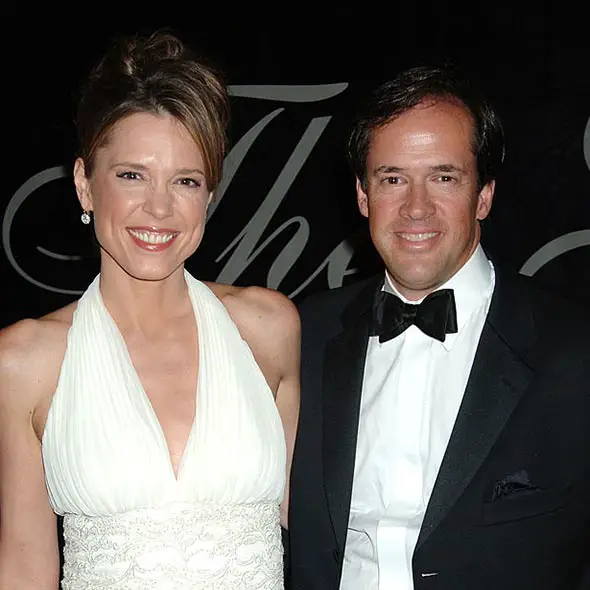 If you are a sport's fan, you have watched ESPN's SportsCenter. And if you have watched SportsCenter recently, you know Hannah Storm. She's the woman who is co-host of ESPN's SportsCenter.
Many have seen Hannah as host of NBA Countdown Pregame Show on ABC Network. She's been in the limelight for a few years now, and the reason is she's been with a guy who is broadcaster and anchor same as Hannah Storm, herself. What's the fuzz? We'll cover it up!
Hannah Storm's Marriage and Children:
This beautiful and gorgeous diva, Hannah Storm has already tied a knot. She's been married to Dan Hicks, a television broadcaster with NBC Sports since last 22 years. Talking about their relation, Mr. Hicks, and Ms. Storm met a long time back before their marriage. Since both are broadcasters and broadcasting was the main reason they met.
Storm worked for CNN from 1988 to 1992, and that was the time when Hicks met Storm. They met when both were neophyte anchors at CNN in Atlanta. These two were assigned adjacent desks in the office, and both fell in love with each other while working 12 hour- days together. The couple also shared an appreciation for the romanticism of athletics.
"Ask any big sports fan what their biggest moment was and they won't talk about how much money a certain player makes," Mr. Hicks said to NY times. "They'll talk about Joe Montana throwing the final touchdown pass to Jerry Rice in the end zone. That's the poetry of sports. That's why we get into the business: to be on the field when poetry or magic happens."
 After few years of relationship, the couple decided to get married on January 8, 1994, at St. Vincent Ferrer Roman Catholic Church on the Upper East Side. The reception that was held afterward in the Pegasus Suite on the 64th floor of 30 Rockefeller Center, United States of America.
"She was the sexiest bride I've ever seen," said Willow Bay, a guest who is a host of the show "N.B.A. Inside Stuff" on NBC.
"It was like a massive male-bonding scene," Mr. Hicks said to NY times. "Hannah thought she was a lady first and foremost, and I liked that about her. She always wore skirts. She dressed like a woman. She was determined not to be dragged into the macho environment."
For the matter of fact, Hicks was nostalgic in few days before the wedding for he had been reporting several great sporting moments both on and off the field. "I wish there were some way you could bottle it all up and keep it going," he said.
Hannah Storm and Dan Hicks are happy couples as they have been together for 22 years and are still growing strong.There are no rumors of divorce or extramarital affairs; Storm has time and again admitted that relationship which lies between her and Dan is basics of every aspect of family.
With her husband being busy, both of them give equal time and emphasis to their family. Family goals, right? I guess that's the reason of their strong bonding. Storm and Hicks have three daughters: Ellery, Riley, and Hannah. Storm considers her children as her greatest accomplishment.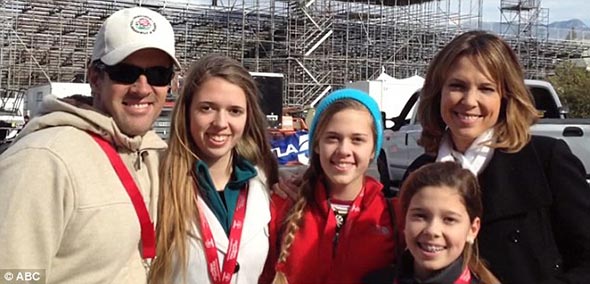 Caption: Hannah Storms along with her husband Dan Hicks and three daughters
Source: Dailymail.co.uk
Horrible Accident:
In 2013, America's host of ESPN's SportsCenter was admitted to the hospital for she had an accident in home leading to severe burns to her chest, face, and hand. That accident led to damage her hair as well as eyebrows.
Storm and her family stood strong and recovered soon enough to host the annual Rose Bowl Parade coverage on January 1, 2013. Such a horrible incident that I am pretty sure her family is happy to pass them, especially Storm's husband, Dan Hicks.
Caption: Hannah Storm On Exploding Grill Accident: ESPN 
Storm joins Sports and Entertainment Agency Octagon!
ESPN's Hannah Storm has signed with Octagon which is a global leader in sports as well as the entertainment industry. She was previously engaged with Creative Artists Agency (CAA).
In 2016, Storm, who serves as host of Sports Center's Face to Face interview program and also covered President Barack Obama as well as the MLB's visit to Cuba, Kobe Bryant's retirement, Muhammad Ali's funeral, the Rio Olympics as well as the live coverage of the untimely death of Cuban-born American professional baseball pitcher Jose Fernandez.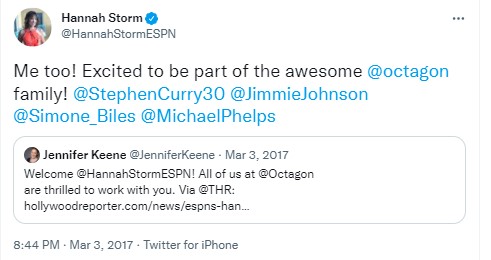 In 2016, Ad week named Storm as one of its 30 most powerful women in sports. She has received overall three Emmy nominations for sports host, including one in 2016. She received two Gracie Awards, which honors women in media.
Octagon founder and the President Phil de Picciotto will represent Hannah Storm. Octagon represents many of the biggest athletes worldwide, including veterans such as Michael Phelps, Simone Biles, Stephen Curry as well as seven-time NASCAR Cup series champion Jimmie Johnson.
Hannah Storm is one of the distinguished and well respected Sportsperson in the industry. Award winning journalist is a writer, producer as well as director. Storm Joined ESPN in 2008, and she is also co-host of SportsCenter. Along with that, she is also the host of SportsCenter Sunday Morning during NFL season.
Before joining ESPN, Storm hosted 'The Early Show' on CBS network from 2002-2007. She had also covered global events, 2004 U.S. presidential election, the war in Iraq, super bowl events along with London terror bombings.