Entertainment
Bernie Ecclestone Net Worth & Salary | Updated & Exclusive Facts
On a shocking note, former Formula One boss Bernie Ecclestone commented on the theft that happened on his daughter Tamara Ecclestone's home in London on 13th December 2019.
With confidence, the billionaire businessman said that he believed the theft worth $50 million in jewelry was an inside job.
His daughter had left the country to celebrate the Christmas holidays when the incident occurred. Having had all the security at the house, Bernie - though doesn't have all the facts - concluded that the heist happened from the inside.
Who Is Bernie Ecclestone?; His Net Worth
Apart from the fact that he is the former CEO of the Formula One Group, Bernie Ecclestone is a reputed businessman.
Married To A Billionare:- Justine Musk After Divorce From Multi-Billionaire Husband, Where Is She Now?
Bernie was born and raised in South Elmham, near Bungay, Suffolk, in an average British family. His first salary job started at the young age of 16 when he left school to work at a chemical laboratory.
He later switched career path, trading spare parts for motorcycle. With his love for the racing world, at one point, he also tried his shot at being a racer but was not that successful in the field.
Bernie slowly shifted his focus to real estate, garnering sum after sum of money. Soon after, he planned to take a step into the racing business.
He returned to the racing world but as a manager for drivers this time. The billionaire slowly went on to gather success in the racing industry as well, and even owned a team, Brabham, in 1971.
Interestingly, Bernie went on to be appointed the CEO of FOCA ( Formula One Constructors Association ). Though it was a tough position to work, it was through the position of CEO that he amassed his fortune.
The FOCA was an association that shared a rivalry with the Fédération Internationale du Sport Automobile. Their dispute was simple; the two organizations battled mostly over TV rights.
For You:- Mike Sherm Wiki: Everything From Age, Girlfriend To Parents, Net Worth
With the intent to end the dispute, he established Formula One Promotions and Administration (FOPA). The founding of the association adjusted the distribution of TV rights revenue. 47% would go to the teams while 30% and 23% would be distributed to the FIA (Fédération Internationale de l'Automobile) and the FOPA, respectively.
Bernie Ecclestone soon became the man who took Formula One from a regular racing competition to a global phenomenon.
He left his position as the CEO of the Formula One association in January 2017. Dubbed as "F1 Supremo," Bernie boasts a net worth of 3.1 billion today.
About Wives And Daughters
At present, Bernie is married to the Vice-President of Marketing for the Brazilian Grand Prix, Fabiana Flosi. Bernie and his wife got married in August 2012 and remain married to date. Interestingly, Fabiana is Bernie's third wife.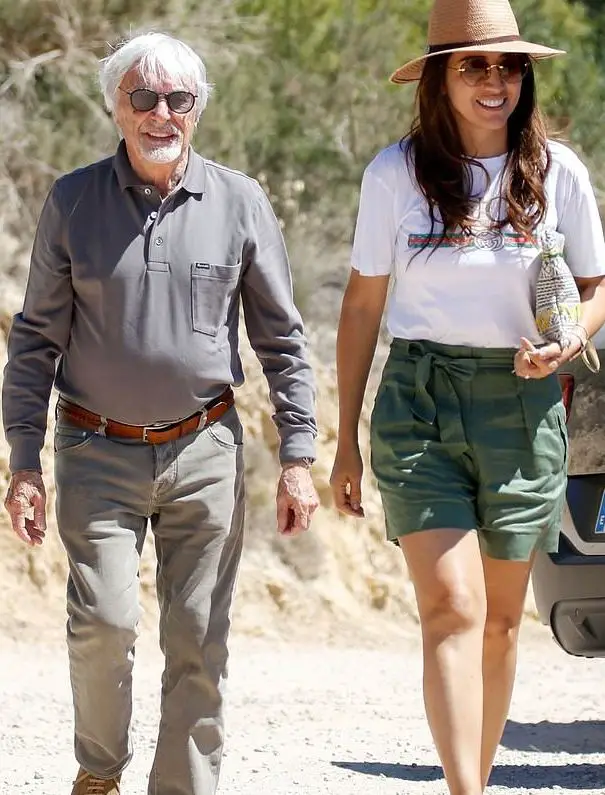 Bernie Ecclestone with wife Fabiana Flosi in June 2019 (Photo: dailymail.co.uk)
His ex and second wife is Slavica Ecclestone. He was married to the former Croatian model between 17 July 1984 and 11 March 2009. The pair welcomed two children: both daughters named Tamara Ecclestone and Petra Ecclestone.
Before marrying Slavica, Bernie was married to Ivy Bramford - with whom he has another daughter, Deborah Ecclestone.