Entertainment
Beth Leonard Age 40 Bio Reveals Enduring Married Life With Husband Darius
Expecting a blissful marriage with a musician - no less, a touring one - is asking a lot.
Beth Leonard, who's best known for being married to a country musician Darius Rucker, could teach the world a thing or two about how to meet the stated expectations of keeping family life with husband and kids afloat despite the fact.
A middle-aged woman by definition, Beth is her husband's backbone. It's this unbridled devotion that has spawned countless records from her husband that were inspired by her.
Delve into Beth's biography to learn about her enduring married life with her musician husband and more!
Bio Unveils Blissful Married Life With Husband Darius Rucker & Kids
A native of New Jersey, Beth bio suggests that she had worked for VH1 in New York City.
Don't Miss:- How Much Is Jarrod Schulz Age 41 Net Worth? Loving Family & Wife | Bio
It was during her stint at the stated network; she first got introduced to then Hootie & the Blowfish frontman Darius. After rejecting the Wagon Wheel singer's advances, she finally invited him on a date to see a Broadway.
Darius later revealed that it was love at first sight for him. He told Beth that he would marry her on their first ever date!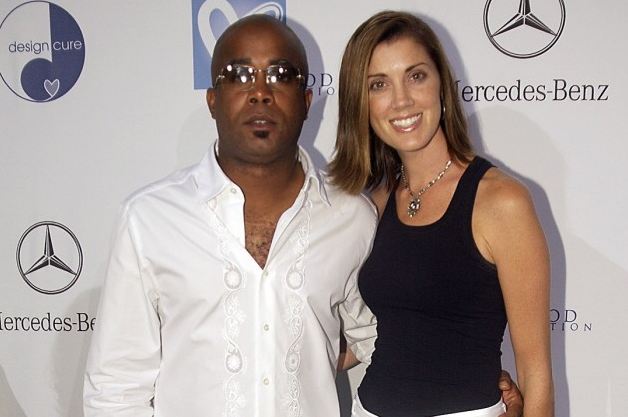 Beth and her husband Darius Rucker attend an industry event (Photo: Countryfancast.com)
Now, married for nearly 20 years, Beth, age 41, and her musician husband are way past their courting phase. However, it hasn't stopped Darius from getting inspired by his life partner. In his 2008 record titled Alright, he sings:-
"Cause I've got a roof over my head

The woman I love laying in my bed/And it's alright, alright

I've got shoes under my feet

Forever in her eyes staring back at me…"
A year later, Beth and the kids - Danielle Rose, age 17, & Jack, age 14 - made a cameo in the heartwarming video for the Country singer's music video for It Won't Be Like This For Long. Darius' oldest, a daughter named Carolyn from his earlier relationship, was the only family member missing from the video.
Nevertheless, Carolyn is close to her half-siblings Danielle and Jack. Darius shared a proud moment of his eldest daughter graduating where his other two children were also in attendance on 13th May 2018.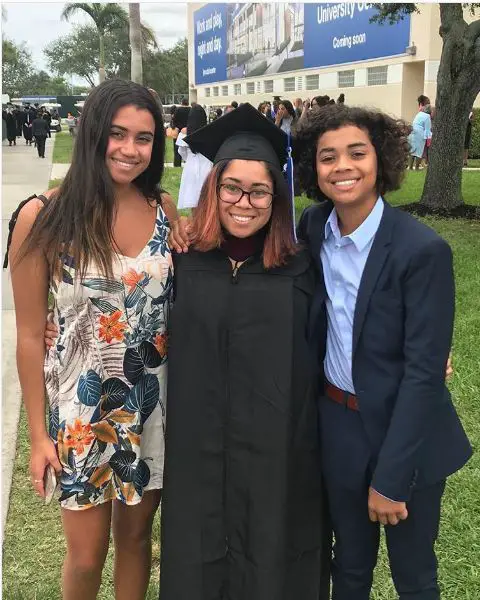 Darius Rucker's children-Danielle(left) - Jack(right) pose during his eldest daughter Carolyn's (middle) graduation on 13th May 2018 (Photo: Darius's Instagram)
Interesting:- Frank Caprio Dead Or Alive? Status & Family Details With Wife Of Court Hero
Beth Keeping Family Intact - Darius Rucker: "It's hard to be married to me... "
Outside looking in, the Leonard-Rucker household appears a formidable unit as both Beth and her husband have strayed away from creating a scene publically.
Like many other marriages, their relationship too needed some behind the scene "repairing." By Darius admission, it's not easy marrying a traveling musician. In 2017 Country Fan Cast interview, he revealed:-
"I work hard to let my wife know how much I love her. I just want her to be happy. She's a strong woman. It's hard to be married to me, and it was a lot harder when I was younger!"
The "If I Told You" crooner opened up about his party-ladened past and how if it weren't for Beth, their marriage would've ended in divorce many moons ago. Darius quipped:-
"It takes a strong woman to be married to a musician, especially a musician who was drinking and partying as hard as I was. And I thank her every day for staying with me and being the strong woman she is... "
Beth's husband concluded his interview by claiming that she and the country music had saved his life.
Read Also:- Troy Aikman Age 52 Married Twice, Meet His Second Wife Capa Aikman
Although there's some credence to Darius' claim, it is a fact that the mother of two insisted that he would pursue a career in the genre of country music following the disbandment of Hootie & the Blowfish.
Nearly 15 years after announcing hiatus, Darius and her former bandmates are set to embark on a tour of 44 North American cities in 2019. Dubbed the Group Therapy Tour, the long-awaited trek will kick off in Virginia on 30 May 2019 and will wrap up in South Carolina on 13th September later that year.
The former bandmates are also planning to release a new album with Universal Music Group Nashville. Fans are excited about their favorite band's upcoming events.
Along with being a gifted musician and a family man, Darius is a great human being. He helped raise millions of dollars for St. Jude Children's Research Hospital in Memphis annual Darius & Friends concert and golf tournament.
Thus, for his philanthropic work For the First Time singer will be awarded the Harry Chapin Memorial Humanitarian Award. The award will be given during the Music Biz 2019 Awards and Hall of Fame Dinner on 7th May 2019.