Entertainment
Beth Stern [Howard Stern's Wife]: Wedding To Relationship Details
Beth Stern is a model, actress, and animal rescue advocate. She has played in movies like Flirting with Disaster (1996), Whipped (2000), and Saturday Morning (2007).
An avid animal lover, she had fostered close to 900 cats by the start of 2019. She even got her foster kittens on the cover of Rolling Stone with her husband.
Beth Stern's Husband
The Flirting with Disaster actress is married to Howard Stern, the renowned television and radio personality. The two got engaged on Valentine's Day of 2007 and tied the knot on 3rd October 2008.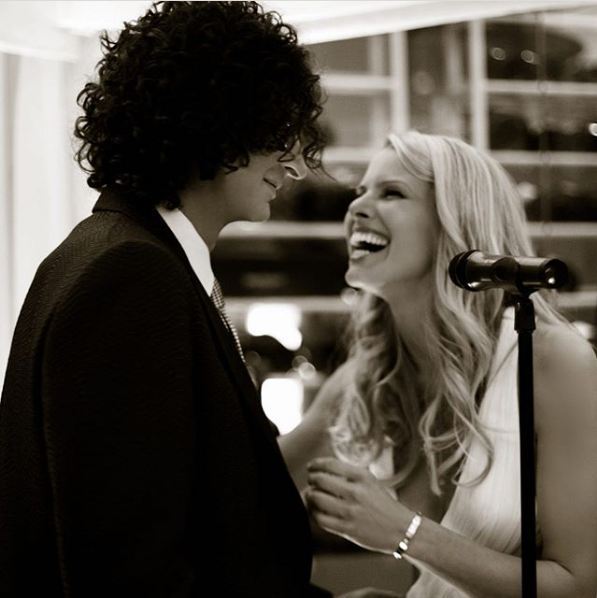 Beth Stern with husband Howard Stern during their wedding (Photo: Beth Stern's Instagram)
The couple remarried in October of 2019 after 11 years as a married couple. The ceremony took place in Los Angeles at the Ellen DeGeneres Show.
The matter of remarriage initially started as a joke Howard made at Jimmy Kimmel Live just a week prior. The radio host started by saying that he had been wanting to remarry his wife. He continued saying that Beth, on the other hand, kept on avoiding his proposal attempts because she thought it would be jinxed if they married again. 
Jimmy Kimmel:- Jimmy Kimmel For Oscars 2018; Glances At 2017 Blunder
Howard then tried to demonstrate his point to Jimmy. He turned to the audience and called his wife upon the stage. The audience cheered as Beth headed for the stage.
The radio host then got down on one knee and said,
Darling, you know you have given me the best years of my life. I love you so much. You do so much for animal rescue. You know how I feel about you. I'm gonna say to you now in front of all of my best friends, my sweet love, will you marry me again?
The Whipped actress said yes and shared a kiss with her husband. Just a few days later, Ellen got former Bachelor star Colton Underwood to officiate the surprise wedding ceremony. 
Later on, Howard said that his proposal was just to illustrate the point that Beth would reject him. He further added that Beth threw him for a loop by agreeing to it.
Split? 
There were rumors of Beth and Howard's split going around in January of 2020. It started when the two had a disagreement, and she told her husband he was being grumpy and a Debbie Downer. Howard then shared about their problem on his SiriusXM show.
Howard Stern's Ex-Wife:- Alison Berns' Ex-Husband Howard Stern Reflects On Married Life That Ended In An Unexpected Divorce; Dating Someone Now?
The animal rescue advocate cleared things up when she appeared in the Ellen DeGeneres Show on 24th January 2020. In her own words, "Twenty years of marital bliss. I'm setting the record straight right here. I love my Howard."
Net Worth
According to celebritynetworth.com, Beth Stern has a net worth of $20 million.
Interesting Facts