Entertainment
Alison Berns' Ex-Husband Howard Stern Reflects On Married Life That Ended In An Unexpected Divorce; Dating Someone Now?
When you spend several years with a person and share a bond and make memories which you can cherish for a lifetime, but despite all these, you end up choosing separate ways. That is quite sad to know, and now you will get a detail view of the similar story.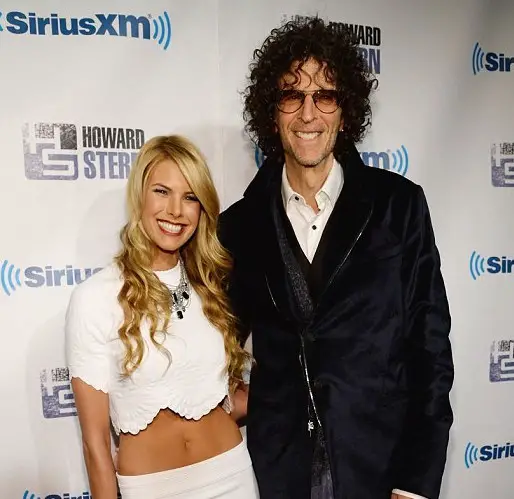 Quick Information
Date of Birth May 26, 1954
Nationality

American

Profession

Actress

Birth Name

Alison Berns

Ethnicity/Race

White

Daughter/s

Emily Beth, Debra Jenifer, Ashley Jade

Relationship Status

Married

Husband/Spouse

David Scott Simon

Divorce/Split

Yes (Once)

Wedding Date

23rd November 2001

Ex-Husband

Howard Stern(m.1978–2001)

Net Worth

Not Disclosed

Height/ How Tall? 5 Feet 6 Inches (1.68 Meters)
Weight

N/A

Hair

Long

Lesbian

No
The American actress, Alison Berns who is widely known as the ex-wife of radio host Howard Stern were once an ideal couple. But the two ended up choosing separate ways.
Let's shade a light to the story of the couple where Howard Stern shares some of his post-divorce and also uncover the after-divorce life of Alison Bern.
Married Life - Children With Howard Stern
The 64-year-old actress Alison Berns used to be a television and a radio host. Alongside the fame of her ex-husband, she has been able to make a name for herself as an actress appearing in several movies with Howard Stern.
Moreover, getting back to the former couple's before marriage life, the duo first met during college at Boston University where Alison was pursuing her degree in social work. And on the other hand, Howard was preparing to get his degree in Communications.
Similar Unsuccessful Marriage:- Larry Caputo Dating Again After Divorce, Who Is New Girlfriend?
After a date, the pair immediately fell for each other and later got married on 4th June 1978. The wedding ceremony took place at Temple Ohabei Shalom in Brookline, Massachusetts, and got witnessed by the families and close friends.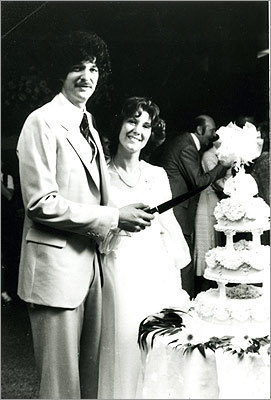 Alison Berns marrying her ex-husband Howard Stern on 4th June 1978 (Photo: reddit.com)
The Massachusettes native started her career as an actress and host while she was married to Howard Sterns.
She is known for her work in Private Parts (1997) and U.S. Open Sores (1989). Alison shares three children with her ex-husband, Emily Beth (1983), Debra Jenifer (1986) and Ashley Jade (1993).
Like them, Emily is also pursuing a career in entertainment.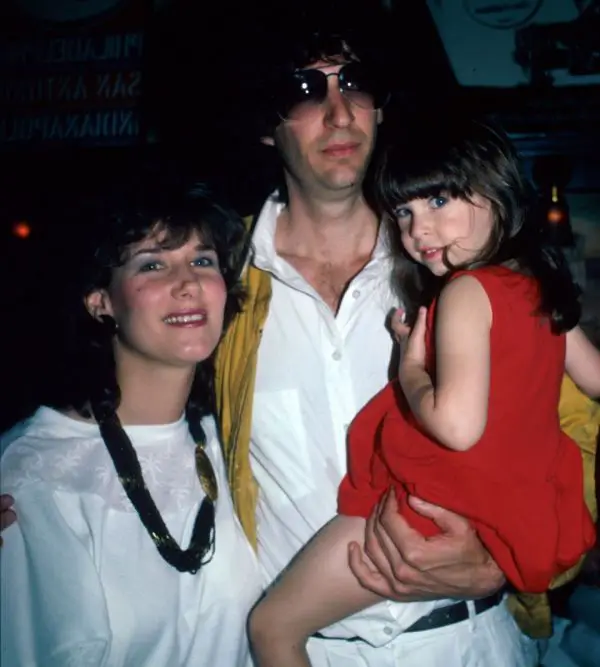 Howard Stern next to his daughter Emily Stern & ex-wife Alison Berns (Photo:- newyorkpost.com)
The former pair shared a blissful marriage of more than two decades, but sadly out of nowhere; they decided to go separate ways.
Divorce Details; Ex-Husband's Net Worth
In 1999, Alison and her ex-husband Howard started living separately, and their relationship was legally called off in 2001.
On the other side, Howard then took a little time to move on from his divorce with wife of more than 20 years. In 2011 in an interview with Rolling Stones Magazine, he divulged,
"My marriage ending blew my mind. I was upset that I failed, let down my family, my kids, my ex-wife; it all was very painful,"
He continued,
"[Getting a divorce] felt like such a failure, It's so complicated, and it's hard for me even to figure out at this point what went wrong and how things that were so good could go so bad. It's tough. I think I'll spend the rest of my life trying to analyze that."
Howard also mentioned his neurotic and workaholic nature is the reason behind their split.
Discover:- Ve Neill Married, Husband, Net Worth, Family
As of now, the former couple shares a healthy relationship with their partners. Interestingly, both of them are married. Following the divorce in 2001, Alison swiftly moved with another man and got married the same year with David Simon.
She also appeared regularly on her then-husband Howard Stern's show, "The Howard Stern Show" and also he has appeared on various talk shows. Now, she has given up her career as an actress and is bind with her household life, and she has a net worth of $20 million.
While Howard, on the other hand, fell for actress-model Beth Ostrosky, after dating several women and tied the knot on 2008.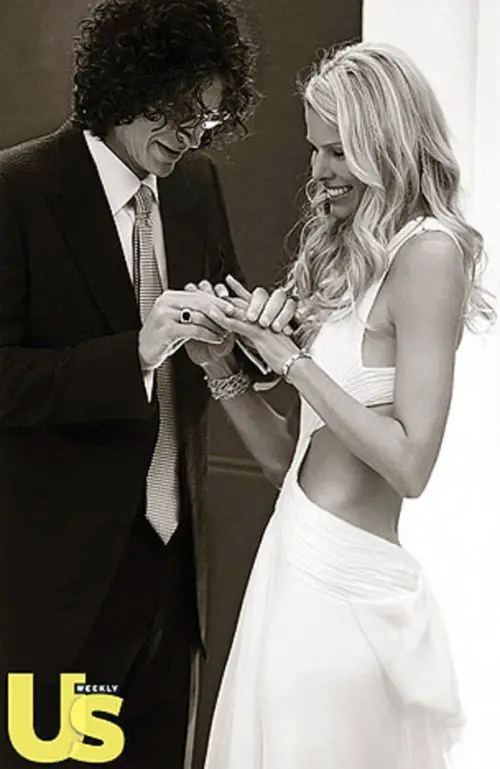 Howard Stern gets married to actress-model Beth Ostrosky in 2008 (Photo:- usweekly.com)
Her husband smites the actress, and she shared her thoughts on that matter in an interview with the 'Closer':
Everything Howard does is romantic.In the mornings, we have our coffee and he gives each cat attention — and to me that is romance, just loving our rescues."
She further raved about her husband:
"I am so lucky. He is perfect for me. He is into watercolor.The last one he did was a watercolor of a very special spot in the Hamptons, so he wrote this really romantic thing in pencil and I cherish it."
Howard Stern is no less when it comes to parading their loved one. The actor went behind the lens to take pictures of his beautiful wife, and she did full justice to the swimsuits that she flaunted.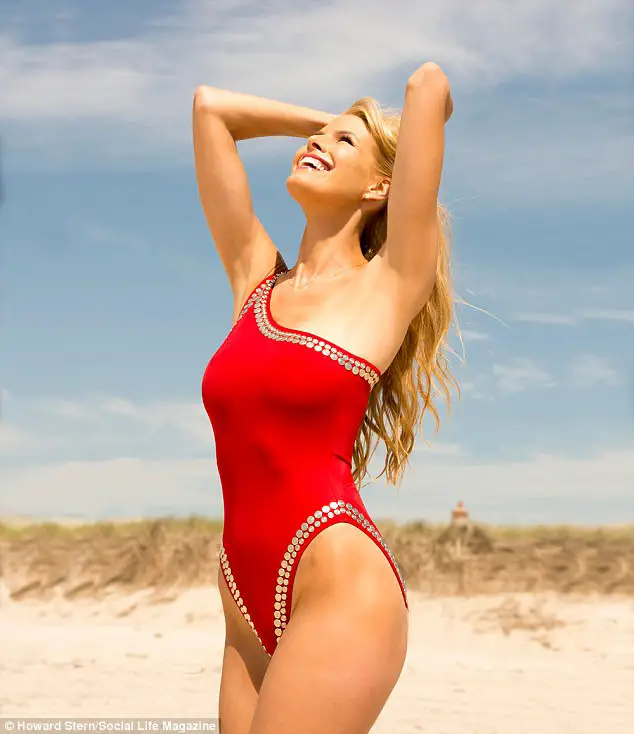 Beth Ostrosky looks sexy in the red swimsuit photographed by her husband Howard Stren (Photo:- Dailymail.co.uk).
The couple is very much in love with each other.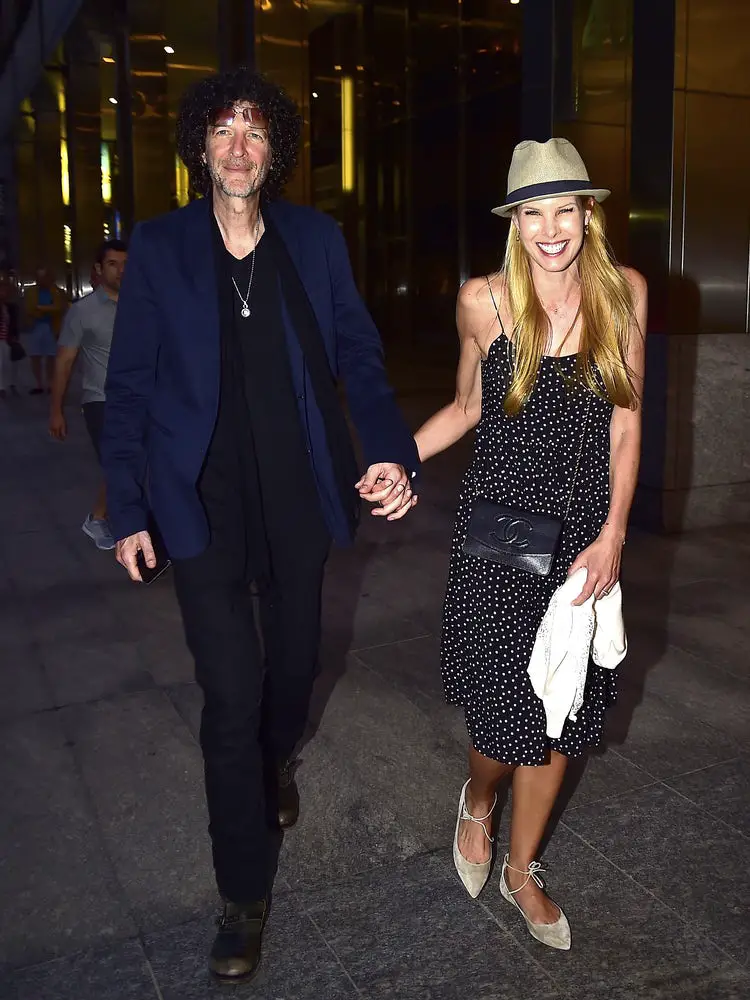 Beth Ostrosky and Howard Stern caught by paparazzi holding hand's in 2017 (Photo:- Dailymail.co.uk).
Howard Stren is one of the judges of the top-rated reality show "America's Got Talent' since 2012 and enjoys the splendid net worth of $95 million.
Former Husband's Other Talent
Besides being the world famous host, Howard's talents don't end there. He is also the best selling author. His memoirs, namely Private Parts or Miss America, Stern advises and Burn them got people's attention and became best sellers.
Brewing Romance From Howard's Show:- AGT's Hunter Price Age 25 & Kathryn Dennis Are Officially Dating
Continuing his author career, he released a new book titled, Howard Stern, Comes Again in 2019. While promoting his new book, he talked at length about his long career to Pagesix.com. He revealed that he could not listen to his past interviews without cringing and reflected on his style of hosting.
Howard went on to mention the biggest regrets of his career. He talked about asking inappropriate questions to Gilda Radner. On the top of his most regrettable moment was berating Robin Willaims for leaving his wife for actor's son's ex-nanny. When America's Got Talent host took care of his mental health and wanted to apologize to the Jumanji actor, it was too late. Robin died the day after Howard found his number.