Entertainment
Bianca Santos: Is a Wedding on The Way For Her or Still Dating?
Bianca Santos: Is a Wedding on The Way For Her or Still Dating? The American Actress, Bianca Santos, is the star from the TV series, The Fosters. In the very first scene in the series, she was seen kissing her co-star, Jake Austin.Their chemistry was built on the set and they were able to attract the audience with their on-screen romance. Moreover, they were even rumored to be a real couple.
Learning about celebrities' involvement in controversies is common. But what's important is whether the controversies are real or just made-up.
Biana Santos, a proud Latina, is the sensational actress of the Hollywood industry. It looks like only a few years back that she had her big break in the TV series, The Fosters. But is the wedding bell about to chime or is she still dating?
Excited to know more about her? Well then, scroll down!
Dating Affairs Never Led To Wedding Wish 
The American actress, Bianca Santos is the star from the TV series, The Fosters. Her excitement for the first prominent role on television was limitless. She shared her enthusiasm during an interview back in 2013.
"Everything has exploded for me! I just remember getting the part on The Fosters and then freaking out! Then it was kinda like normal because we just started shooting. But then the show aired and I was like, 'whoa my Instagram and my Twitter are blowing up.' All the feedback has been so positive. The fans and everyone have been like 'you're a great actress and we love you on the show'. They don't understand how, ugh I might cry. They don't understand how great that is!"
In the very first scene in the series, she was seen kissing her co-star, Jake Austin, who earned fame with the TV Series, Wizards of Waverly Place. 
See Also:- Alex Saxon Dating At 30? His Obscure Personal Life Reflects
Their chemistry, which built on the set, was able to attract the audience with their on-screen romance; they were even rumored to be a real couple. Moreover, Bianca confessed to having a crush on her co-star Jake during his time in TV series- Wizard of Waverly Place.
But when Bianca was asked about her kissing Jake, she reacted as,
"Oh my goodness! I get asked that a lot. It's one thing if you're kissing your crush... It's totally different when you're working with someone and it's professional. Jake is such a sweetheart. We work so well together, but I don't kiss and tell!"
Bianca is not the only one, who got involved in the controversy with Jake Austin. Austin's co-stars Bella Throne, McKaley Millar, and Maia Mitchell were also included made the list of the relationship rumors.
Besides the rumors, Bianca and Jake haven't confirmed their relationship yet. But we can establish that they shared a close relationship looking at the picture Santos shared on Instagram.
Don't Miss:-  Jake T. Austin With Fangirl Turned Girlfriend – Real Life Fairy Tale
The buzz about their affairs ended when Austin left the show, back in 2013. However, Bianca and Austin celebrated the 'Thanksgiving' together and even shared the glimpse on Instagram.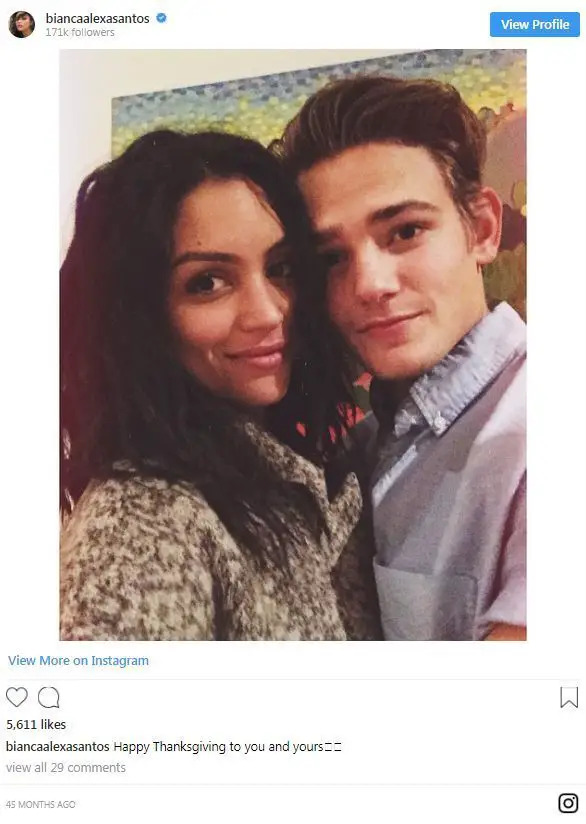 Bianca Santos with co-star Jake Austin (Photo: Bianca Santos' Instagram)
Everybody guessed them to be a couple, but as the time passed, the rumor has almost been wiped out.  And until now, she hasn't talked about her boyfriend or her possible husband-to-be out to the media.
Family Moment, "Brother Graduation"; Talks About Equality
Bianca Alexa Santos, a Cuban and Brazilian Descent, was born in Santa Monica on 26 July 1990 and was raised along with the younger brother named Tiago.  The actress, who holds a mixed ethnicity, could not resist herself to share the special family moment when her brother graduated in May 2018.
She took to Instagram on May 2018 sharing the picture with her mother and brother on the day of her brother Tiago's graduation. The proud sister captioned the picture:
"Brothers graduation today. Proud of ya, Love ya T."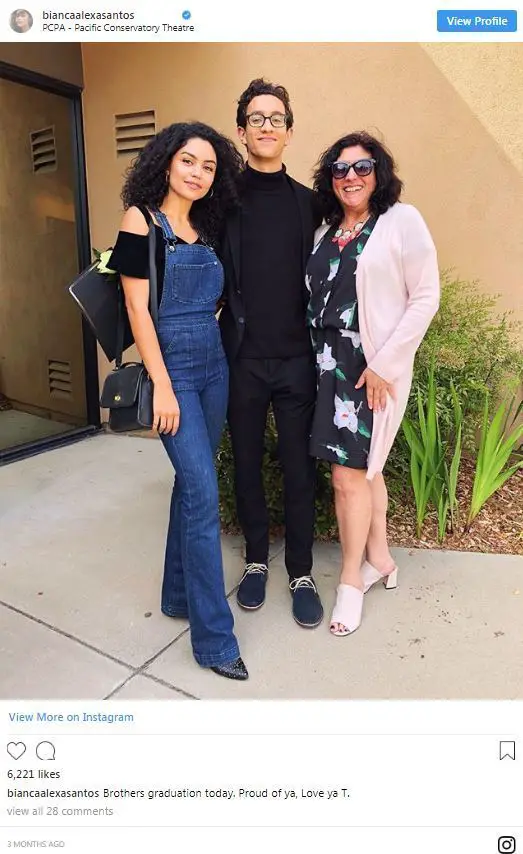 Bianca Santos with mother and brother on brother's graduation (Photo: Bianca Santos' Instagram)
She is an American actress, fluent in Spanish and Portuguese, who hiked to the top of her career with the recurring role of Lexi Rivera on The Fosters. Bianca shared her pathway to the acting career as,
"I met with a manager and at meeting him, I was so nervous, but someone else in the office saw me and was like, "Bring that girl back. I think she's special." And then it took four months and I was on 'The Forster'."
Growing up, she had a misconception about the meaning of beauty and thought herself less attractive. But today, she has become the perfect definition of beauty to her fans.
"I grew up watching TV and everyone who was considered beautiful was blond-haired. And I thought that's what beauty was. I thought I had to have blond hair and blue eyes to be beautiful. I really did! I honestly did not think that I was attractive for years because that wasn't what was presented to me as beautiful."
Bianca, a first-generation American, credits her multi-cultural family background for her successful career. She advocates diversity on television so that viewers feel included. Also, she advocates about the equal human rights for everyone. On the earlier month of 2018, she shared the picture of herself holding the play-card written: "Equal Rights for others does not mean fewer rights for you..It's not Pie" on Instagram captioning: 
"I March for Humanity, I March for Equality | Yeah...#itsthatsimple#womensmarch2018"
Before being on the top of her career, she appeared on two television films, Channing and Brodowski & Company. Besides, her major film credits include Ouija, The Duff, and Priceless.
Read Also:- Wizards of Waverly Place' Star David Henrie is Married with His Girlfriend Maria Cahill at Wedding Ceremony in LA
She believes her Latina icon to be Jennifer Lopez and Eva Longoria. Her achievement in her career is overwhelming, and she is offered an average annual salary of $50,529, however, with her attractive salary, she has kept her net worth confined to herself. 
Following her highly grossed career, she also appeared on A24's Hot Summer Nights screening at Pacific Theatres, The Grove on 11 July 2018 in Los Angeles.