Entertainment
Billy Dee Williams Married Life With Wife | Children & Net Worth Details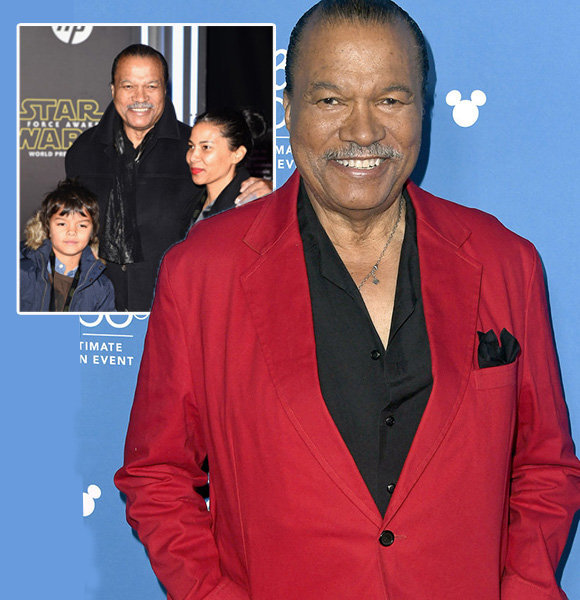 Billy Dee Williams is one of the longest-working Hollywood actors at present. Beginning his acting career on Broadway with a role in the play The Firebrand of Florence in 1945, he has worked extensively in theatre acting and cinematic acting. 
Despite his hectic schedule, Boris has managed to strike the right balance between his career and personal life. After two failed marriages, he eventually discovered his perfect wife, with whom he has been happily married for nearly five decades.
Keep scrolling to find out more about his personal life. 
Billy Dee Williams's Married Life
Billy is a married person. In fact, he has married three times during his life, and two of those marriages ended up in divorce, with the third almost reaching the same fate if it wasn't for some reconciliatory actions.
So, let's start with Billy's first marriage. The Star Wars actor married Audrey Sellers in 1960. Not much is known about the relationship except for the fact that they had a son together. Corey Dee Williams, Billy's first-born, came into the earth in 1960.
However, their relationship came to an end shortly after their marriage, although the exact date of their divorce is not known.
Read More:- Film Director Gareth Edwards Details On Wife Like Girlfriend Who Cares So Much
After his split with his first wife, Audrey, Billy tied the knot for the second time, this time to Marlene Clark. But, his relationship with his second wife wasn't meant to last for long, either. Subsequently, the couple divorced each other in 1971, just three years into their marital life. The ex-couple never had any children.
Later, Billy met his third and current wife, Teruko Nakagami. Billy and his wife, Teruko, have in common that they had been married before they met each other. His wife, Teruko, was married to jazz legend Wayne Shorter. She even had a daughter with Wayne named Miyaki.
Billy and his current wife, Teruko, got married on 27th December 1972 and have a daughter together. Hanako Williams, Billy's second-born child and third, including step-daughter Miyaki took birth in 1973. Hanako is now married, has children, and works as the manager for an art gallery in Los Angeles.
Looking at Billy's past marriage records, it wouldn't be surprising to say that he also faced some problems during his third marriage. Billy and his wife, Teruko, filed for divorce in 1993. But, the couple eventually decided to sort things out between themselves and reconciled their differences in 1997.
Billy and his wife are still together to this date.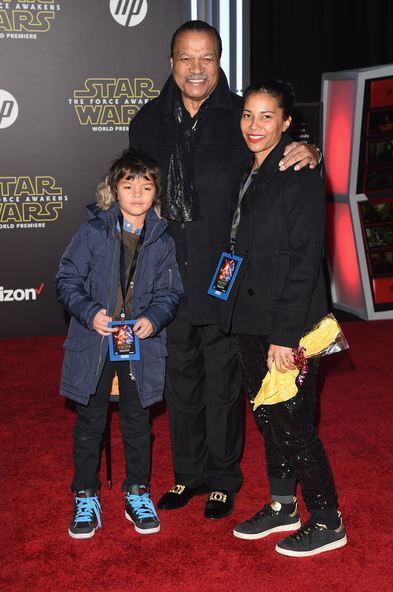 Billy Dee Williams with wife Teruko Nakagami and grandson Finnegan Ichiro at the Star Wars: The Force Awakens premiere on 14th December 2015 (Photo: Zimbio)
The actor is also a grandfather. His daughter Hanako has two children of her own - daughter Lucie Katsumi and son Finnegan Ichiro.
Apart from being a great father, he is most famous for playing and giving voice to the character of Lando Calrissian in the Star Wars and Lego Star Wars franchise. His to-be-released works include Star Wars: the Rise of Skywalker (2019) and Star Wars: Detours (TV series) - whose release date is yet to be announced.
Billy Dee Williams And The Star Wars Franchise
Billy is famous for playing the iconic character of Lando Calrissian in the Star Wars universe.
He was George Lucas' first choice to play Lando, and Billy did not disappoint as he made the character iconic. BIlly's first appearance in the Star Wars franchise came in the 1980 movie Star Wars Episode V: The Empire Strikes Back. Since then, he has played and given voice to the character of Lando Calrissian in many following Star Wars movies and video games.
Another Star Wars Actor:- Kelly Marie Tran Age 29 Bio Reveals: Parents Of Vietnamese Ethnicity Behind Success
Talking about the character, Lando Calrissian is a human male smuggler, gambler, and a card player - who became Baron Administrator of Cloud City in the movies. Further, he is the original owner of the famous Millennium Falcon, which he lost to Han Solo in a card game in the Star Wars universe.
Billy initially retired, but it seems like the pull of the character was too strong for him to resist. Thus, he has returned to the franchise and will portray Lando for one more time in the upcoming movie Star Wars Episode IX: The Rise of Skywalker.
Despite his awesome performance in The Star Wars, he has also done many other iconic movies. 
Billy Dee Williams's Career
Billy Dee Williams was born on 6th April 1937 in New York City, New York, US. He was raised alongside his twin sister Loretta by his maternal grandmother. His real name is William December Williams Junior, and the Dee in his stage name stands for December. Billy's height is 6 feet (1.83 meters).
Billy made his cinematic debut in the TV series Guiding Light (1952) and has since gone on to work in various famous movies and TV shows such as the Star Wars franchise, 18 Wheels of Justice (2000-2001), and General Hospital: Night Shift (2007-2008).
Thanks to his fantastic acting career - which has seen him achieve 146 credits as an actor - Billy has gained considerable wealth.
Explore: Marlon Wayans- A Comedic Genius! Whats His Net Worth?
But, Billy is talented not only in the acting front, but he is also a certified platinum Billboard-charting recording artist. He has sung various jazz songs over his lifetime and released a jazz album named Let's Misbehave in 1961.
According to Celebrity Net Worth, Billy has an estimated net worth of around $9 million. His wealth is the result of his works in various multi-million dollar franchises such as Batman, Lady Sings the Blues, and not to mention, Star Wars.
However, in 2019, there was speculation surrounding Billy that he was gender fluid after his interview with Esquire. However, Billy came out and clarified that he is not gender fluid.
Apart from acting, he is also very fond of paintings. Williams has created about 300 paintings that he considers his legacy.
Stay tuned to get more updates on Billy Dee Williams.