Entertainment
Kelly Marie Tran Bio: From Movies, Ethnicity To Net Worth & Parents Details
Actress Kelly Marie Tran became the first actress of Asian ethnicity to appear in a leading role in the Star Wars franchise when she played as Rose Tico in Star Wars: The Last Jedi (2017). 
Despite her recent fame, Kelly has been in the industry for a long time. 
Read on to find out more about the Star Wars actor's personal and professional life. 
Kelly Marie Tran Bio / Parents Details 
Kelly Marie Tran was born on 17th January 1989 in San Diego, California, USA. Her parents are Vietnamese immigrants who migrated to America after the end of the Vietnam War in the 1970s. 
Another Actress of Asian Ethnicity:- Awkwafina Boyfriend, Lesbian, Family
Growing up, Kelly did not have a luxurious childhood. Her mom worked at funerals, while her dad worked at Burger King.
Her parents worked very hard to provide a better life for Kelly and her sister, for which Kelly is forever grateful.
But despite their love and support, Kelly's parents were not a big fan of her dream to be an actress. They were afraid and wanted Kelly to choose a more secure profession. 
However, Kelly never let anything get to her. She continued to follow her passion. As she was struggling to be an actress, she even took up several odd jobs, like being a nanny, waitress, cleaner, and many more.
Career: Movies
Kelly initially started her career with minor roles in TV shows. One of her initial roles was in the TV show, The Indie Thing, in 2011. After appearing in minor roles, she landed herself a recurring role as Kelly on the TV show, Ladies Like Us (2013-2015). 
But even after her years-long career in the industry, Kelly was an unrecognized face. It was after she landed the role in Star Wars, she finally got the recognition.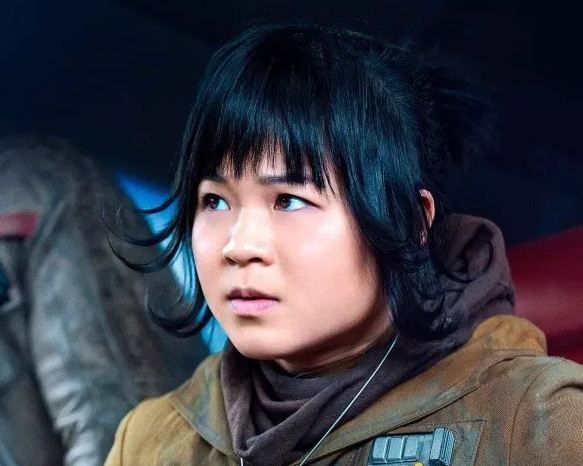 Kelly Marie Tran in a still from Star Wars: The Last Jedi in 2017 (Photo:metro.co.uk)
Later, she reprised her role as Rose Tico in other installments of the franchise- Star Wars: Forces of Destiny (2018), and Star Wars: Episode IX - The Rise of Skywalker (2019).
Kelly's Co-actor From Star Wars:- John Boyega Not Gay; Reveals Girlfriend Qualities, Getting Married On Cards?
As of now, Kelly has established herself as a talented actress in Hollywood. 
Net Worth
Further, along with such accomplishments, Kelly has amassed an estimated net worth of $3 million.
Kelly Marie Tran Harassed
After the Star Wars: Episode VIII - The Last Jedi released in December 2017, some fans of the movies criticized the casting for Rose Tico (portrayed by Kelly). She received many negative comments regarding her role. 
The situation got so worse that she deleted her Instagram account because of too much online harassment. 
Some Other Facts
Kelly Marie Tran stands at the height of 5 feet and ½ inch (1. 53 meters).
Interestingly, she had not seen Star Wars movies before she got the script for The Last Jedi.
Kelly beat Gina Rodriguez, Tatiana Maslany, and Olivia Cooke in the auditions for the role in Star Wars.