Entertainment
Brandi Redmond's Life With Husband Going Steady! Everything From Her Age To Relationship With Grandmother
Brandi Redmond's Life With Husband Going Steady! Everything From Her Age To Relationship With Grandmother The Real Housewives of Dallas alum Brandi Redmond is one of those people whose marital relationship was on the verge of divorce due to her husband's busy work schedule.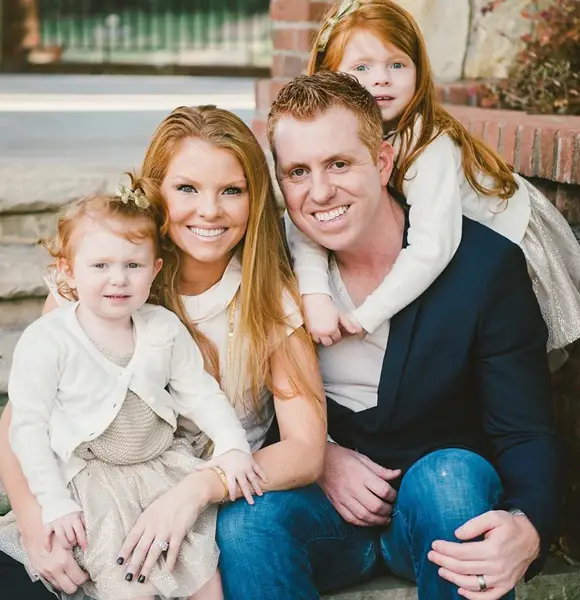 Most people might say trust issues, lack of love, insecurities, and ego are the things that affect a relationship negatively. But in some cases, a person's career or profession also hinder his relationship with their partner. The Real Housewives of Dallas alum Brandi Redmond is one of those people whose marital relationship was on the verge of divorce due to her husband's busy work schedule.
However, her relationship with her husband remained steady, but her relationship with her grandmother seemed to be kind of conflicting. Today, let's have a look at Brandi Redmond's marital life while shedding light on her relationship with her grandmother.
Brandi Redmond's Married Life With Her Husband:
A former All-Star, Pro-Bowl, and five-time Dallas Cowboys Cheerleader Brandi Redmond, who enjoys the net worth of $4 million, has been married to Bryan Redmond, her high school sweetheart.  The exact wedding date of this beauty is not available, but the pair seems to be married for a long time.
Redmond (age 41) is a proud mother of two young girls, Brooklyn and Brinkley. Being a reality star who has a large number of followers on different social networking sites, Redmond is very active in sharing the pictures of her daughter on Instagram.
Do you know that Redmond's relationship with her husband was about to end with a divorce in 2016? However, the couple started spending much more time together with their family after they made a new commitment to communicate more and in a better way.
Filed For Divorce :- Ron Perlman Wife, Divorce, Children, Relationship
Bryan's busy schedule and the show were said to be the reason behind their strained relationship. However, their relationship went steadily and slowly.
 Earlier in August 2017, Redmond opened up about her relationship with her husband, where she said,
"Bryan and I are amazing. If you go back, if you look at what we went through, I think it was a learning lesson for both of us. We learned to communicate better and just reflecting back on that, it was actually a blessing, because we were able to pull ourselves together, go through counseling, and really focus on the things that we really needed to to make our marriage better. I love that I had the opportunity to come back and show it to everybody. It makes me smile."
Likewise, in an interview with Entertainment Tonight in August 2017, Redmond said,
"Bryan and I went through a lot. With my children, we went through a lot ... I wanted to show people that you can come out on top, and you can be in a better place ... That's why I wanted to come back."
She continued,
"It definitely made my marriage stronger. We learned how to communicate, we went to counseling, we renewed our vows."
Well, it's overwhelming to see this family living happily together again after a strained relationship.
Adopted Son
While many couples are content with raising their own biological child in their arms after marriage, this wasn't the case in the power couple's family plan at all. In 2017, her friend Stephanie Hollman texted her asking her if she wanted to adopt a baby in her life, and she didn't take much time to follow her heart.
Book Club's Diane Keaton 'Never Married' Story :- Dream Husband & Adopted Children Talks!
Although the name of the baby's biological mother remains anonymous, the reality star took the opportunity to adopt and raise her Bruin and raise him as her son. She adopted him right after his premature birth and even shared the picture of her son citing,
"You never know what the new year will bring Bruin...I'm not sure how to express how much he has allowed my family to love deeper. He was meant to be with us. We are blessed and overjoyed by his love, strength and happiness. "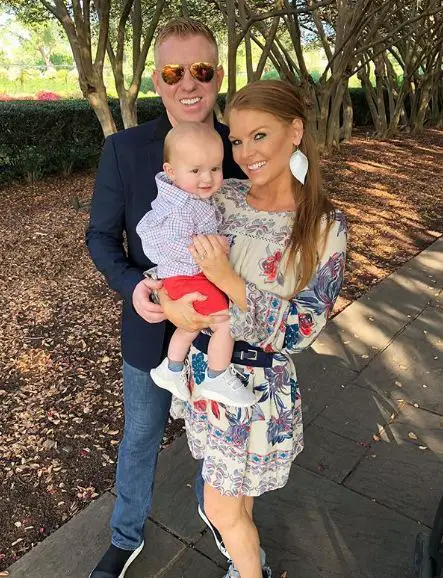 Brandi Redmon as seen with husband Bryan Redmond and son Bruin Redmond on Septemeber 2018 (Photo: Brandi Redmon's Instagram)
As of 2019, Brandi is eager to adopt another child from the same biological mother of Bruin as she is pregnant again. But it's upto the anonymous mother to decide if she wants to give her another child again for adoption.
Brandi Redmond Relationship With Her Grandmother:
In an episode of all-new Real Housewives of Dallas in 2017, Brandi Redmond revealed her pain by stating that she was not in contact with her maternal grandmother for almost a year and a half. Redmond didn't hesitate to tell that her grandmother hadn't been talking to her for a long time and how she refused to open the door when Redmond visited her home in Senatobia, Mississippi, to repair their relationship. Redmond said,
"It's just so painful coming from somebody that you knew that was by your side from the moment you were born. She named me and I feel like, how has it come to this? How is it that she can't answer her door and let me in?"
A tearful Redmond told that her relationship with her grandmother turned sour when Redmond tried to reach out to her estranged grandfather. Redmond, who called her grandmother her "favorite person" explained,
"My grandparents divorced before I was even born, and I grew up only knowing my grandmother and having a relationship with her. Last year, my mom encouraged me to reach out to my grandfather to start a relationship with him and his new wife. And It really didn't sit well with my grandmother. She hasn't spoken to me and my mom since I formed a relationship with my grandfather. That whole side of my family felt like it was almost like a betrayal."
However, fans hoped that Redmond would soon reconcile with her grandmother as soon as possible.