Brandon Blackstock is a professional...As a result of their marriage, the pair had two children before getting...During their auspicious ceremony, Brandon presented her beloved with a...Brandon had been cheating with his newly wedded wife a... Brandon is the son of music manager...Brandon enjoys a fortune worth...
Brandon Blackstock is a professional talent and music manager in the American entertainment industry. While his famous spouse and parents might overshadow his name, he has managed to hold his own in his career.
Dive into the details of his life, his wife, parents job, and total net worth down below.
Brandon's Married Life
The 42-year-old is married to his wife music star wife, Kelly Clarkson since 2013.
The pair first met during the 2006 Country Music Awards. While Brandon's client- the Rascal Flatts were rehearsing with Kelly, the couple encountered each other. While the singer was instantly attracted to Brandon, he was unavailable at the time. Well, the music manager was married to his first wife, Melissa Ashworth. 
Take Peek:- Charlize Theron Married, Kids, Lesbian, Family
His first marriage to Melissa started in 2001. As a result of their union, the pair bore two children named Savannah Blackstock and Seth Blackstock. Sadly, the couple divorced in 2012.
After the end of his marriage, love came knocking on Brandon's door. It so happened that he and Kelly reunited after six whole years in 2012 as Brandon's father was Kelly's manager.
Soon enough, the pair started dating each other. Ten months into the dating scene and the couple got married on 20 October 2013. During the auspicious ceremony, Brandon presented her beloved with a beautiful ring with a yellow canary diamond surrounded by white diamonds.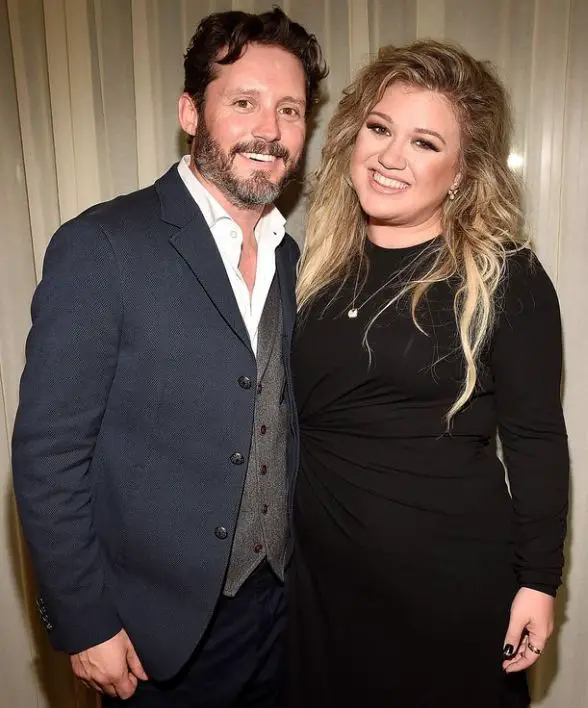 Brandon Blackstock with wife Kelly Clarkson in 2019 (Photo: oprahmag.com)
Within a year of the happy union, they welcomed baby daughter River Rose Blackstock. Likewise in 2016, the couple became parents again to a son named Remington Alexander Blackstock.
Shockingly, according to Kelly, their married life might have never started if not for her love confession. She said, 
"When I finally confessed that, 'I really dig you,' He was so shocked because he thought I hated him. I hadn't let on that I liked him. Inside I was like, 'Ask me out!' but outside I was like, 'I love being single and coming home every night alone. It's awesome.'"
But their marriage was not without issues. During Brandon's wife's first pregnancy, cheating rumors plagued the couple. Claiming that Brandon had been cheating with his newly wedded wife, a random woman spoke at the TheDirty.com in December 2013.
Another woman even claimed she was pregnant with his child. But, Kelly defended and supported her husband's faithfulness.
To date, the couple remains married. Despite a busy scheduled professional life, the two have found ways to enjoy a happy life in each others company.
Brandon's Family Background
The Blackstock family is a household name in the music industry. Linked to many talented musician and artist of the century, Brandon, who is a music manager, inherited his charming looks and profession from his father, Narvel Blackstock.
Brandon- who celebrates his birthday on 16 December- is the son of music manager Narvel and his first wife, Elisa Gayle Ritter. Since his parents separated on 31 March 1988, he became a stepson to the famous American singer Reba McEntire. Sadly, Narvel and his second wife separated in 2015. 
From the failed relationship, Brandon boasts a half-sibling named Shelby Blackstock. Also, he has two full siblings Chassidy Celeste Blackstock, and Shawna Rene Blackstock
Job & Net Worth In 2019
As of 2019, Brandon's life as a professional music manager remains. He has also worked in some TV shows, including Blake Shelton Live: It's All About Tonight and The Kelly Clarkson Show.
You Might Be Interested In:- Jared Leto Wife, Girlfriend, Gay, Married
Together with his wife Brandon enjoys a fortune worth $50 million in total ($45 million from Kelly & $5 Million from Brandon). The pair even purchased a farmhouse at San Fernando Valley worth $8.5 million in 2018.