Entertainment
Brandon Victor Dixon On Dating, The Right Girlfriend & Gay Label
There's a strong stigma attached to being a male Broadway star -- just a mere act of belting out a musical number on the whistle register and dressing flamboyantly during stage performances is enough for you to labeled gay.
For someone like Brandon Victor, a Tony Award winner and a celebrated Broadway star, the stereotype placed on his sexuality is a given norm. Nothing could be further from the truth though.
Brandon, age 36, who had enough of all the questioning regarding his life, bore it all; including marriage, allegations of being a closeted gay and his most recent relationship.
Brandon Dixon On Gay Rumors: "It's absolutely very flattering for me"
The American actor has always seemed to have hugged the limelight, whether that be due to his brilliant acting skills, or just his personal life with speculations regarding his sexuality. 
The actor, however, seemed to have enough of the questions and decided to front up the media providing answers. 
The 36-year-old Broadway star's profile in the Daily Beast featured by Tim Teeman published on 11 April 2018, saw Brandon tackle a glut of subjects ranging from police brutality and racism to being single and gay fans.
Discover:- Jean Currivan Trebek Wiki: Age, Net Worth To Alex Trebek & Family Bliss
On the latter topic, he insisted that he was enjoying his singlehood. The Color Purple star claimed that he had not got a girlfriend at this moment and was not looking to get into relationships:
I'm not looking for anything right now, which is probably why that part of my life is not as fully formed as some of the other things I'm doing.
When quizzed if he could ever see himself back into the dating scene again, Brandon reminisced about a relationship that he had come across two and a half years ago. Though the relationship has been done and dusted a long ago, the ripple effect of the failed union seemed to weigh heavy on his mind as he posted a successive plethora of rhetorical questions:
Was it your immaturity, or your selfishness, or your lack of self-worth? Have you grown since then? If you get the shot again, will you get it right? Is there something wrong with you? Just don't say I'm damned for all time.
Contrary to gossips online, Brandon responded that the person he was referring to was a woman and not a man as suggested in various quarters. To Tim's question if he's straight, the Power actor simply replied:
Yes, if you have to label me.
Labeling himself straight doesn't mean that the 36-year-old Virginia native doesn't appreciate his gay fan base. Sounding rather grateful than aggravated with the gay rumors, the Columbia University alum said:
It's absolutely very flattering for me, flattering just that my energy would be something people would want to have around.
At the height of his career, his popularity among the gay demographic saw an unprecedented rise with his flamboyant choices of clothing in Jesus Christ Superstar.
Read Also:- Travel Guide Writer Rick Steves Ended The Relationship With His Wife, Anne Steves in 2010. The Reason Behind the Divorce?
Is Tanairi Sade Vazquez Brandon Dixon's Girlfriend?
Brandon's parents, who are of Jamaican descent, have been married as long as his time on Earth.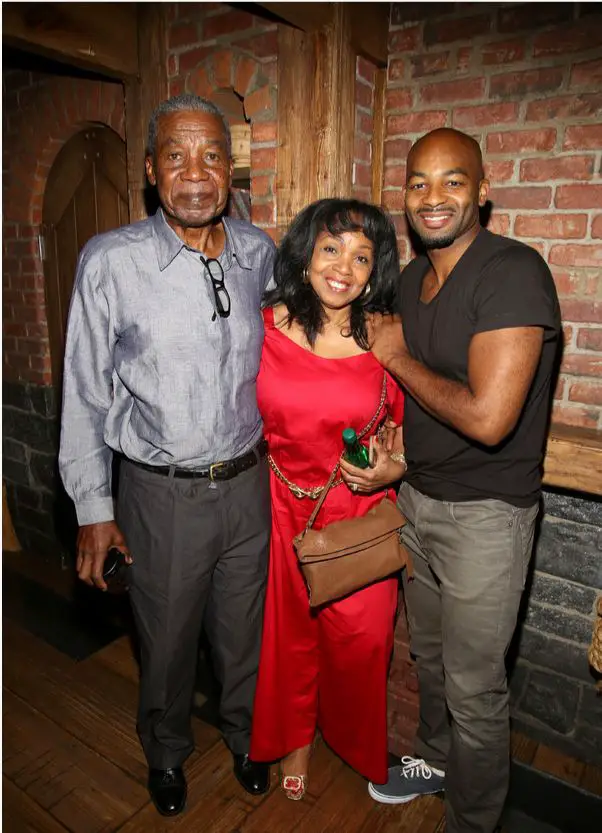 Broadway star Brandon Dixon pose alongside his parents for a snap (Photo:- hollywoodlife.com)
As for a married life with wife and kids of his own, The Color Purple star was adamant that he would be capable of sustaining one. The actor told that despite his initial skepticism about himself doubting on him, he could really succeed on another chance:
I'm also afraid of pursuing it and ruining the person I care about the most. I don't quite trust myself emotionally in that respect. I'm really working on that, so if I get another opportunity I really maximize it.
Despite his reluctance to admit that he's a marriage material, Brandon asserted that he wants a family. He might have to wait a little longer for that to come to fruition as his most recent relationship with an unnamed girlfriend saw an abrupt end. Sounding defiant, the Power star claimed:
But I'm not giving up. I'm just being patient with my human growth right now.
Brandon unnamed ex-girlfriend is rumored to have been actress Tanairi Sade Vazquez. The rumors of them dating had spiraled uncontrollably once Brandon put up an Instagram post of the two with the caption that insinuated that the pair might be dating.
Interesting:- Pete Nelson From Treehouse Master Wiki: Age, Net Worth, Family, & Facts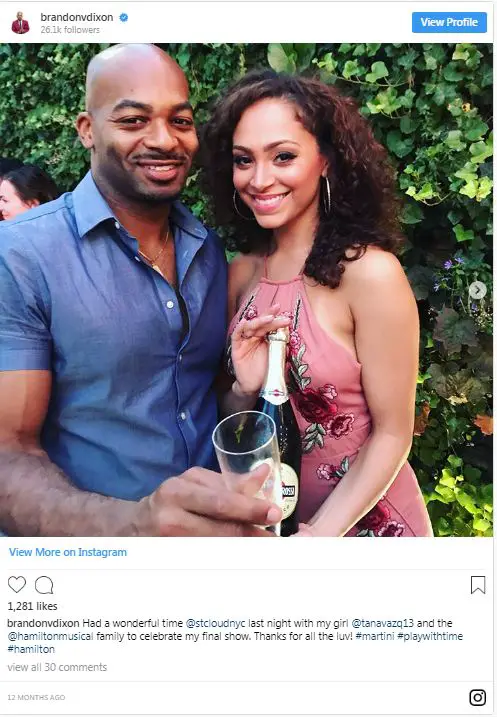 Brandon and his rumored girlfriend, Tanairi Sade Vazquez share a cozy moment at an industry (Photo:- Brandon Dixon's Instagram)
No further development has taken place with regards to their relationship since then. With Brandon declaring that he's single in the most recent interview, one can't help but wonder if his fans might have gone for "a reach" by overthinking this "my girl."