Entertainment
Golf Hero Brian Harman Married Life With Wife - Rocky Or Rock Solid?
Professional athletes contribute their best to their respective sports. But, there have been many examples where they don't have a clean social image as they often get involved in different scandals. Money, fame, and lust appear to divert them out of their paths and focus.
For instance, renowned players like Tiger Woods, Michael Jordan, and Kobe Bryant were caught cheating on their partners and were shamed for their actions in public.
However, PGA golfer Brian Harman is an exception to the cheating husbands. He has shielded himself from such desires and has been a loyal partner since the day he got married to his wife. Further, the couple maintains a happy family.
Brian Harman Parents Two Children With Wife
Brian, a married man, has always been fascinated by his beautiful wife, Kelly Van Slyke.
Kelly is a former radiation therapist, who worked for the UC San Diego Radiation Oncology Center. Although it's not disclosed how their love commenced, the couple got engaged while hunting for turkey together, eights month before their wedding. 
Discover:- Tony Stewart, Girlfriend Escalate! Engaged & Getting Married Now
Brian and his fiancee had planned for a November wedding, but they had to cancel the ceremony at the first place as their marriage day conflicted with the Georgia-Auburn football match and the golfer was positive that most guests wouldn't attend the ceremony due to the game.
So, postponing the marriage for three months, the couple married on 13 December 2014 via a low-key ceremony held near their house in St. Simons Island, Georgia.
They welcomed their family bliss, a daughter named Cooper Marie Harman on 8 June 2016. And, then they also gave birth to a second child. But, the married duo has not spilled any information on their second baby.
The information of them being parents to two children only surfaced out when the official Twitter account of Gerogia Golf posted a family picture of Brian and cited that they were holding their own trophies.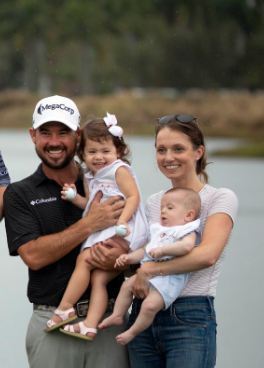 Brian Harman and wife Kelly Van Slyke with their two children in December 2018 (Photo: Georgia Golf's Twitter)
Despite been married for four years, Brian and Kelly's love for each other shows no sign of decline. The pair currently takes pride in their family and are happy to be blessed with two children.
You Might Also Like:- What Is Jhene Aiko Ethnicity & Who Are Parents? Family, Age, Height, Facts
Apart from his wife and children, Brian is also close to his parents: Eric and Nancy Harman, and often take them to watch his games. His father, a dentist, is not a fan of golf but loves attending his son's sporting events. 
Brian Harman's Age, Height & Net Worth
Brian Harman is a professional golfer and one of the few left-handed players involved in the sport. Brian, who ages 31 as of January 2019, has two career PGA wins to his name with one second-place and five third-place finishes. 
Standing at the average height of 5 feet and 7 inches, Brian is not a remarkably tall golfer but he has certainly succeeded in heightening his career via golf. He is one of the highest paid players of the PGA. Though his net worth remains under the shade, his career earnings mount to be the whopping $14,600,744.