Entertainment
Brian Posehn Tour Reflect Career Height | Wife & Baby To Thank For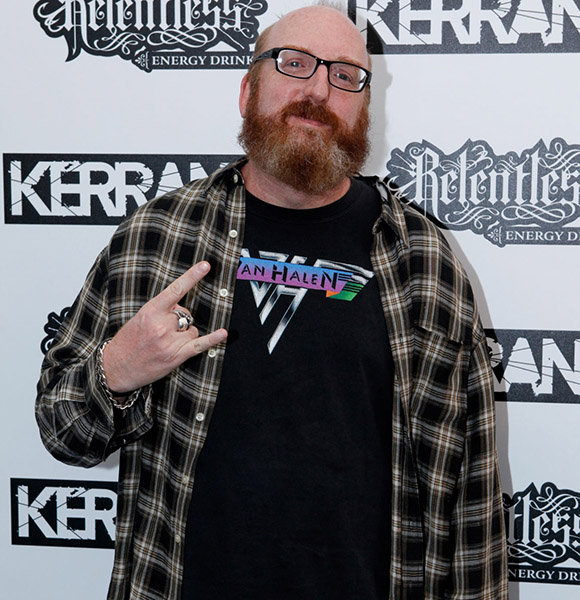 While one specializes in a thing or two at most, Brian Posehn (pronounced as "Puh-Sain"), age 52, has been proving he is a man of many of many trades!
The multifaceted personality excels in writing, acting, music, voice over art and comedic performances, among other things. The success of all of his artistic excursions is reflected in his net worth, which shows zero sign of waning as he looks forward to "bank-in" the big bucks from his upcoming tour.
For someone like Brian, its imperative that he surrounds himself with someone, who is acquainted with the inner-workings of the industry. That's where the Just Shoot Me star's wife comes in!
Wife Personifies Support; Considerable Height Difference
Besides being an industry insider, Brian's wife Melanie Truhett - who has productions credits on a handful of movies including 2012 flick We Think Nate Torrence Is Dead - is very supportive of his habits (good or bad).
Similar:- Does Comedian Dan Soder Have Girlfriend Amid Stormy Tour Dates?
Speaking to late night show host, Conan in 2012, he revealed that he had quit smoking marijuana despite his wife's leniency. He then credited the birth of his son as an eye-opening moment behind giving up weed.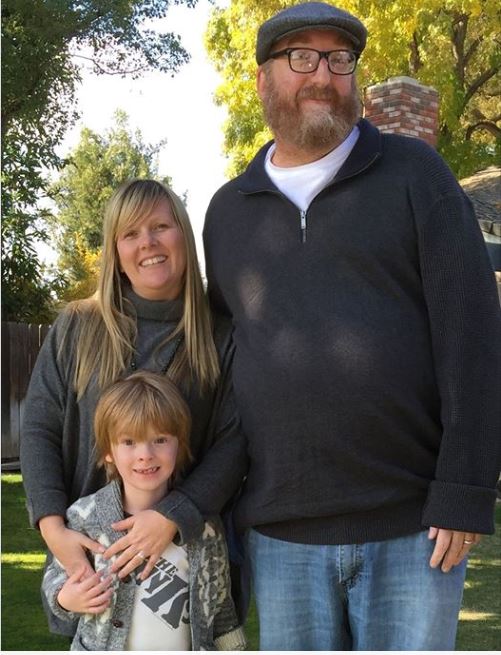 Brain along with his wife and son pose for a family portrait (Photo:- Brian Posehn's Facebook)
The Devil's Rejects actor and Melanie are parents to a boy, who - if were to go by the facebook picture - is under 10 years old. One other discernable trait that can be picked from the photo above is the considerable height difference between Brain and Melanie.
Interesting:- Danielle Busby, Age 34 Bio Reveals Father, Job, Net Worth & Quintuplets Story
Standing at 6 feet 6 inches (200 cm) in height, the Big Bang Theory star clearly towers over his wife, who couldn't be any taller than 5 foot 6 inches in height. 
That said, Melanie has a lot in common with him. Like Brian, she is a big Heavy Metal fan as well. The Mr. Show with Bob and David star revealed this peculiar trivia about his wife in the 2011 interview with Sun-Sentinel. He said:
"My wife loves metal as I do, but she's not a fat nut about it like I am."
In hindsight, the fat nut joke would prove prophetic. Less than two years after the Sun-Sentinel interview, he would release his magnum opus, a standup special titled The Fartist.
Behind Brian's Net Worth: Tour & Acting Gigs
Brian has enjoyed a fruitful career from his debut days!
Since getting his big break in HBO hit comedy Mr. Show with Bob and David, he has starred in numerous films and TV shows including Newsradio, Seinfeld, Thank God You're Here, Californication, The Sarah Silverman Program, The Devil's Rejects, The Fantastic Four: Rise of the Silver Surfer, and Sarah Silverman: Jesus is Magic.
Also, he's credited for his writing in shows such as Friends, Human Giant, and Metalocalypse. As a result of his continual dedication to his craft, the 52-year-old has been able to amass an impressive net worth which is estimated to be around $3 million.
Discover:- Zuzka Light Amazing Body At Age 36! Workout & Diet Advice From Fitness Guru
Of all his craft, Brain appears the most joyous when he's touring and performing his stand-ups across the country.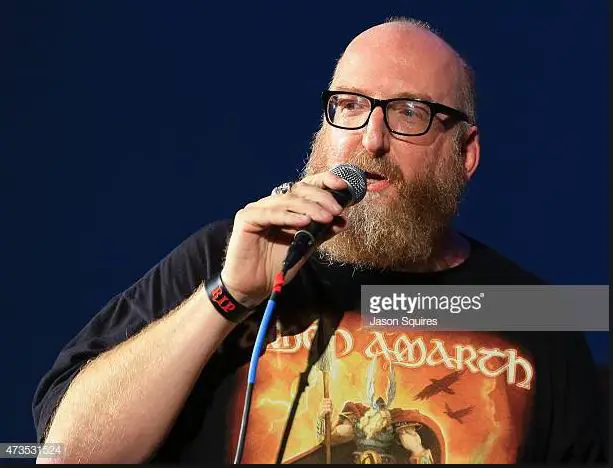 Brian performing at MAPFRE Stadium on May 15, 2015, in Columbus Ohio (Photo:- Getty Images)
His current tour which had begun on 15th September 2018 at Laughs Comedy Club in Seattle is scheduled to last for three months. The Next stop on his tour is Kick Butt Cafe situated in Austin Texas. 
According to his official website, he will hit the stages of comedic festivals and comedy clubs located in various states, namely: Texas, Michigan, California, Illinois, Oregan, and Philidelphia.