Entertainment
Zuzka Light Amazing Body At Age 36! Workout & Diet Advice From Fitness Guru
Fitness blogger and model, Zuzka Light, this isn't an issue as she has maintained a healthy body with tightly place muscles and six-pack abs even at the age of 36... Workout Plans, Believes In Home-Based Training... Follows Healthy Diet, Body Measurements...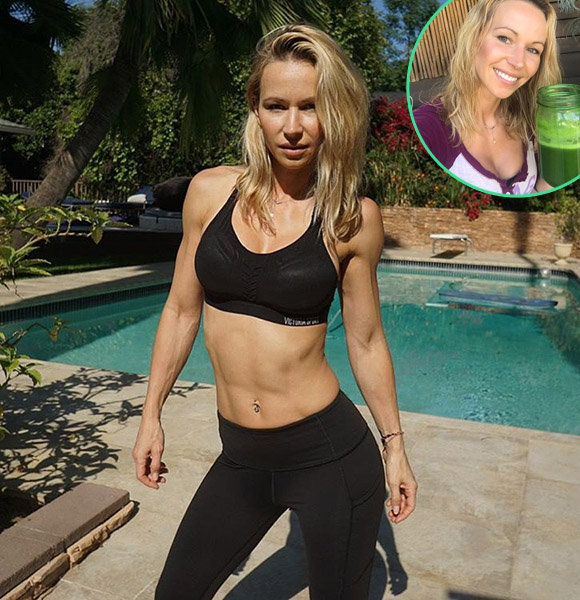 Passing the age of 30, many people undergo a massive transformation with their mental and physical body. Some individuals start growing a belly, and in the lack of healthy living, diseases soon follow. 
To fitness blogger and model, Zuzka Light, this isn't an issue as she has maintained a healthy body with tightly place muscles and six-pack abs even at the age of 36. She credits her diet and workout plans for her fantastic body.
Before finding fame in the fitness world, Zuzka faced struggles during her early years from the adult actress being married, which didn't pave an easy way to her fame.
Adult Actress To Fitness Freak
Before Zuzka became famous for her YouTube channel, Zuzka used to post fitness videos on her ex-husband's channel, BodyRock.Tv. Previously, a married woman she created her own channel on YouTube named Zuzka Light only on 16 December 2011. 
Similar Article:- Alleged Gay Richard Simmons' Massive Net Worth! Among Richest Fitness Gurus Now?
After she divorced her husband, Frederick Light in 2013, Zuzka left her former spouse's channel and started focussing on her online blogs. Talking about her past, Zuzka worked as an adult actress before she entered the fitness industry, which she is not proud of it.
In fact, Zuzka finds herself lucky to have escaped the adult industry which she believes is a nightmare for the actresses. 
In an interview with a German magazine, Zuzka mentioned that the adult movie business was a trap from which not many women could come out. Further, she also talked about the low wages which the actresses would earn and the mental pressure they would have to go through because of their infamous profession. Zuzka even explained most of the ladies working in the adult industry would end up becoming addicted to alcohol and drugs to ease the psychological trauma. 
Now, Zuzka can look back on her past days and proudly talk about her struggles which would not have been possible before. Zuzka, who has established herself as a fitness guru, has inspired thousands of people to live a healthy life.
Workout Freak; Believes In Home-Based Training
Zuzka is often considered a bad-ass due to her athletic body and tightly placed-muscles along with six-pack abs even at the age of 36.
Zuzka started her physical training at a young age, but her mother stopped her from continuing as Zuzka suffered a kidney disease during her childhood. By the time Zuzka became an adult, she had resumed her gymnastics training and even started working as a fitness counselor. 
See Also:- Katherine Schwarzenegger Is Dating! Meet Boyfriend Chris Pratt AKA 'Starlord'
She later moved to Canada and eventually to the states where she rediscovered her love for fitness and started featuring on her husband's videos. She left her former husband's channel considering it to be "too sexually oriented."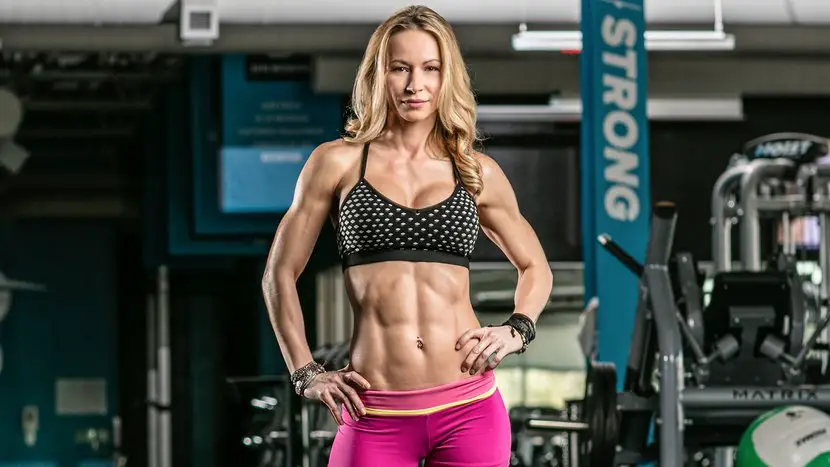 Zuzka Light flaunts her flawless body (Photo: Bodybuilding.com)
She created her online blog named ZuzkaLight.com and achieved success in a short period. The Czech Republic native made a series of videos named Zuzka Workouts Of The Week which soon became an internet sensation and helped motivate her to release more videos. 
Her videos include techniques for training various parts of the bodies including lower-body workouts, full-body workouts, abs workouts, cardio-related workouts and more. 
The effectiveness of her fitness videos was revealed when she posted about a woman who made a massive weight loss and attained a slim body by following Zuzka's training for 45 days. On 12 July 2016, Zuzka posted an Instagram photo of a woman named Kristina and her appearance of before and after following Zuzka's videos.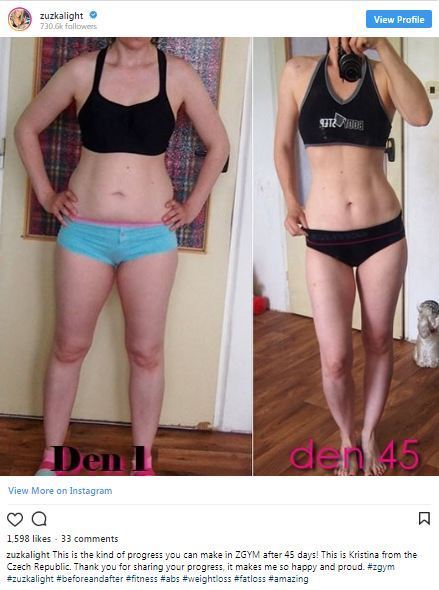 Zuzka shares the picture of a trainee who gained massive weight loss after training for 45 days (Photo: Zuzka Light's Instagram)
Further, she also published a book called 15 Minutes to Fit: The Simple 30-Day Guide to Total Fitness, 15 Minutes At A Time back in 2015.
Zuzka, who herself boasts a tightly fitted body, could not have achieved her six-packs and muscles solely based on training. Her strict and healthy diet also played an essential role in her physical strength.
Follows Healthy Diet, Body Measurements
Zuzka mostly relies on a healthy diet to maintain a healthy living. In an interview with CBS News, she mentioned that her diet mainly consisted of fruits and vegetables and that she always tried to avoid eating processed foods. 
Don't Miss:- 'To the Bone' Star Lily Collins Gain Back Both Boyfriend & Weight? Dating Status & Measurements Now
Back in April 2015, Zuzka shared her weekly diet with her fans through her blog, where she mentioned the food items such as coffee with butter and coconut milk, oatmeal, Salmon and Brussels Sprouts, eggs, strawberry salad with blue cheese and more. 
Due to her strict diet and workouts, Zuzka has achieved a terrific body with measurements that can make any woman jealous. On 21 May 2017, she posted an Instagram picture revealing her body measurements. In the post, she mentioned her body measurements of height and weight as 5'5" and 123lbs respectively. Her biceps as 9.5 inches, chest of 34", waist 26.25", hips 36.5", thighs 20.5" and calves 13.5".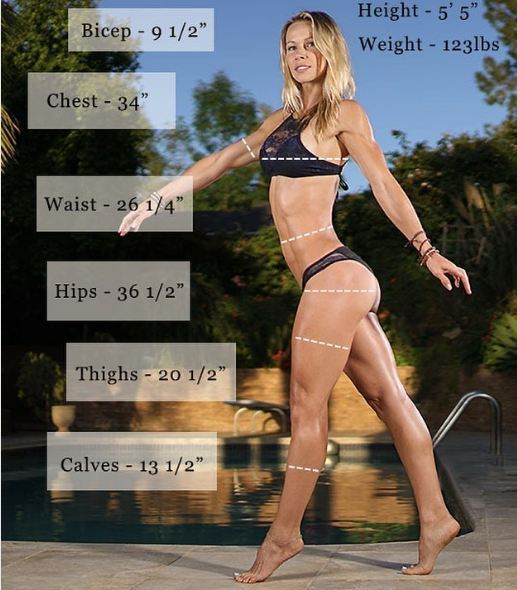 Zuzka Light reveals her body measurements on 21 May 2017 (Photo: Zuzka Light's Instagram)
Zuzka doesn't believe in going to the gym and claims that she achieved her fit body through home workouts.