Entertainment
Unravelling Brigitte Gabriel Past, And Present: Life, Career, and Marriage
Considered one of the most influential American speakers, Brigitte experienced a tragic childhood due to a civil war in her country...Losing her father at a young age, Brigitte's bio shows all the struggles she faced, which later turned her into an advocate of Trump's ban on Muslims...A married woman, Brigitte's traumatic life is behind as she leads a happy married life with her husband and also excels at her professional career…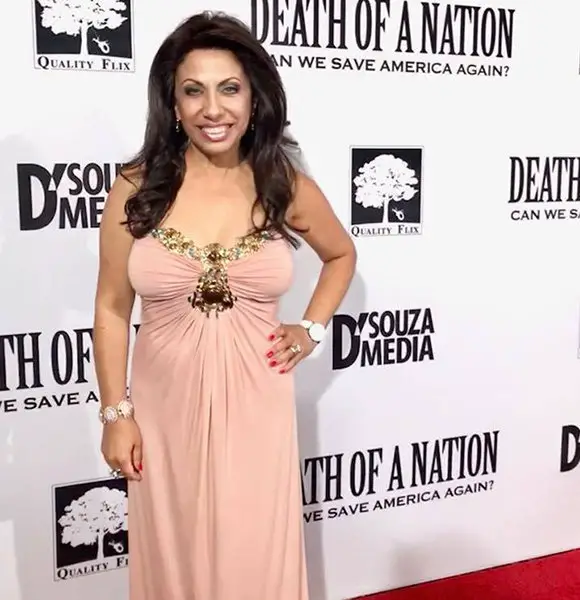 Brigitte Gabriel, one of America's most well-known speakers, came from a problematic past due to a civil war in her birthplace. Her life journey and the struggles she encountered after losing her father at a tender age influenced her commitment to back Trump's Muslim ban.
Her Reality Back In Her Home Country
The devout Lebanese-American woman was born to a Maronite Christian marriage in Lebanon's Marjeyoun District. Gabriel, who was only ten years old at the time, had to endure a series of tragedies, ranging from getting injured by shrapnel used during the attack to being confined to survive underground with fewer meals and supplies. 
The speaker says that she and her parents were trapped in the bunker for two days in the spring of 1978 due to a bomb detonation. Furthermore, she claims she will be eternally grateful for the Israeli army's invasion of Lebanon in Operation Litani, which salvaged her mother's and her own lives. She described her experience as follows:
I was amazed that the Israelis provided medical treatment to Palestinian and Muslim shooters...These Palestinians and Muslims were sworn, mortal enemies dedicated to the destruction of Israel and the slaughter of Jews. Yet, Israeli doctors and nurses worked feverishly to save their lives. Each patient was treated solely according to the nature of his or her injury. The doctor treated my mother before treating an Israeli soldier lying next to her because her injury was more severe than his. The Israelis did not see religion, political affiliation, or nationality. They saw only people in need, and they helped.
Brigitte became orphaned when she was 22 years old, and yet she still recalls her family lovingly, particularly her father.
On Father's Day, June 18, 2018, she posted an Instagram photo wishing all fathers a 'Happy Father's Day.'

Brigitte wishes a Happy Father's Day to all fathers on 18 June 2018 (Photo: Brigitte Gabriel's Instagram)
Previous Notable Events in Her Life
Brigitte is a well-known actress who has appeared in films such as Glückliche Zeiten, Cavuto on Business, and Islam Rising: A Call to One World Ummah (Domination). She is a writer, author, and lecturer on Islam and the Middle East in addition to her acting profession.
The visionary woman also established the organizations American Congress for Truth and ACT! for America, both of which she currently serves as President.
Likewise, she is a terrorism specialist who has written two New York Times best-selling books, Because They Hate: A Survivor of Islamic Terror Warns America and They Must Be Stopped: Why We Must Defeat Radical Islam and How We Can Do It. She discusses her horrific experiences as a child in Lebanon and opposes extremist Islamic manifestation in the Middle East and internationally in her debut book. 
She is regarded as one of the few persons in the world who backed Trump's Muslim ban and even went to the White House once to submit a petition supporting his verdicts.
Trump Talks:- CNN's Carl Bernstein Age 74 & Bob Woodward Duo | Trump Issues & Spouse Talks
Critics, meanwhile, have had varying opinions to her publications, which are centered on her ideas about "Muslim hatred." Some saw it as a severe critique of Islam and a caution to the American people. In contrast, others faulted the writer's demeanor and inaccurate image of Islam, as well as her portrayal of Islam as a "vile religion."
Brigitte also serves regularly as a guest commentator on numerous news networks in the United States, including CNN, Fox News, MSNBC, and several radio stations.
In an interview with Buzz Feed, she remarked about the war's calamities and how she became who she is now.
"All that came to an end when a religious war, declared by the Muslims against the Christians ... tore my country and my life apart."
Gabriel's Low-Key Marriage: Who Is She Married Too?
Besides her notable work and career, she has a successful marriage and lives a content life with her husband.
Aside from her remarkable job and profession, she enjoys a beautiful marriage and a happy life with her partner. Charles Tudor, an American national, and her long-term committed spouse initially met in Jerusalem when both worked at the Christian Broadcasting Network-owned news station Middle East Television.
See Also:- PIX11's Lisa Mateo & Husband Are Goals, Eternal Love Reflects | Plus Bio
After dating for a period, the couple married and moved to the United States, settling in Virginia Beach in 1989. According to public sources, they still do live in the region. The married couple like to keep their personal matters quiet and have never really revealed much specifics about their lifestyles.
Likewise, they have become parents throughout their more than two-decade relationship, but they haven't revealed anything about their children. They are thought to be comfortable and satisfied in their marriage.
Furthermore, the journalist and her spouse are business partners now, who operates a video production firm together.