Entertainment
Brigitte Gabriel Bio Unravels Old Love With Husband! Married To Last
Considered one of the most influential American speakers, Brigitte Gabriel experienced a tragic childhood due to a civil war in her home country. Losing her father at a young age, Brigitte's bio shows all the struggles she faced which later turned her into an advocate of Trump's ban on Muslims.
A married woman, Brigitte's traumatic life is behind as she leads a happy married life with her husband and also excels at her professional career.
Further, she has also garnered a considerable net worth which helps her in leading a comfortable life.
Low-Key Married Life, Business Partner Husband
Brigitte is a married woman, who has been longtime committed to her husband.
Brigitte and her husband Charles Tudor, an American national, first met in Jerusalem while both the couple worked at the Christian Broadcasting Network-owned news station, Middle East Television.
She worked as a news anchor whereas Charles was the camera operator.
See Also:- PIX11's Lisa Mateo & Husband Are Goals, Eternal Love Reflects | Plus Bio
The couple eventually got married after dating for a while and in 1989, the pair shifted to the states and settled down in Virginia Beach.
Public records suggest that Brigitte and her husband still reside in the area. The couple likes to keep silent about their private life and hasn't shared much of their personal details.
In their marriage of more than two decades, Brigitte and her husband have also become parents but haven't disclosed much info about their children. The couple is assumed to be happy and content with their married life.
Further, the journalist and her husband are also business partners who jointly own a video production company.
Short Bio Along With Net Worth, Books And More
Brigitte is an actress recognized for movies like Glückliche Zeiten, Cavuto on Business, and Islam Rising: A Call to One World Ummah (Domination).
Her bio suggests that apart from her acting career, Brigitte is also a journalist, author, and a speaker on Islam and the Middle East.
Additionally, she also founded the organizations American Congress for Truth and ACT! for America, both where she serves as the President.
According to her bio, Brigitte is an expert in the subject of terrorism and has even published two New York Times bestselling books namely Because They Hate: A Survivor of Islamic Terror Warns America and They Must Be Stopped: Why We Must Defeat Radical Islam and How We Can Do It.
Further, she has also lectured on national and international platforms about the current security affairs which have been taken seriously by world leaders.
Also, Brigitte regular appears as a guest analyst on various news networks around the US including CNN, Fox News, MSNBC and several more radio stations. She is considered one of the few people in the world who supported Trump's ban on Muslims.
In fact, Brigitte once even visited the White House to deliver a petition in support of Trump's decision.
Trump Talks:- CNN's Carl Bernstein Age 74 & Bob Woodward Duo | Trump Issues & Spouse Talks
Brigitte, who ages 54, was born in Lebanon as the daughter of a Christian family.
She faced some traumatic experiences during her childhood due to the 1975 civil war in her home country. Brigitte even got injured in one of the blasts and had spent several days in the hospital.
She stated about the disasters brought by the war in an interview with Buzz Feed,
"All that came to an end when a religious war, declared by the Muslims against the Christians ... tore my country and my life apart."
Brigitte's father mentioned that Lebanese Christians were considered infidels by the Muslims which was the main reason for their hatred.
Brigitte along with her father and mother had to live seven years in an underground shelter where they survived eating grasses and had to risk their lives every time bringing water from a nearby spring.
Brigitte became an orphan when she reached the age of 22 but still fondly remembers her parents especially her father.
On 18 June 2018, she shared an Instagram picture with an old man and wished all fathers on the occasion of the Father's Day.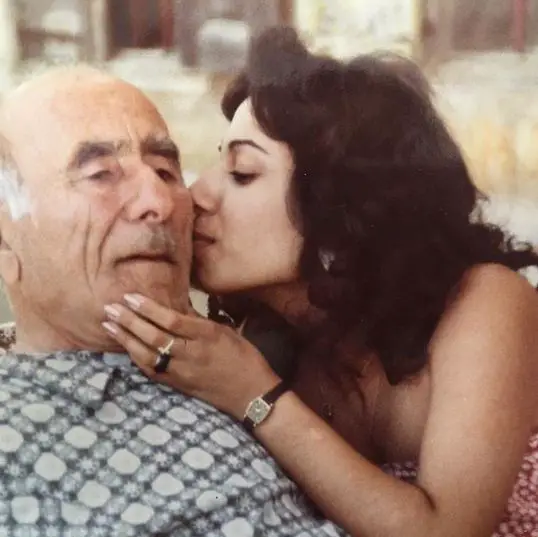 Brigitte wishes a Happy Father's Day to all fathers on 18 June 2018 (Photo: Brigitte Gabriel's Instagram)
Although Brigitte had a traumatic childhood, the tragic past is over for her. Brigitte, who is active on Twitter, is currently leading a successful career and is also doing well financially.
She hasn't disclosed her net worth, sources reveal that she charges nearly $3000 to $10,000 for one speech. Further, a report suggested that her annual income increased from $87,300 to $156,473 in just one year from 2010 to 2011.
Don't Miss:- Ariana Greenblatt Age 11 Bio: Young DWTS Star's Parents, Net Worth, Facts
Moreover, she along with her husband live in a $3 million mansion which shows Brigitte's living standard and her worth.