Entertainment
Brittney Palmer Married Life With Husband, Age, UFC, Tattoo & More
Brittney Palmer is a model who is most recognized as an Octogan Girl for the UFC...She started her career as a...The model married her husband on...The pair first met at...Brittney accused her husband of...And Aaron was arrested for...He then accused Brittney of...The model was born on...Her height extends to...She has tattoos on...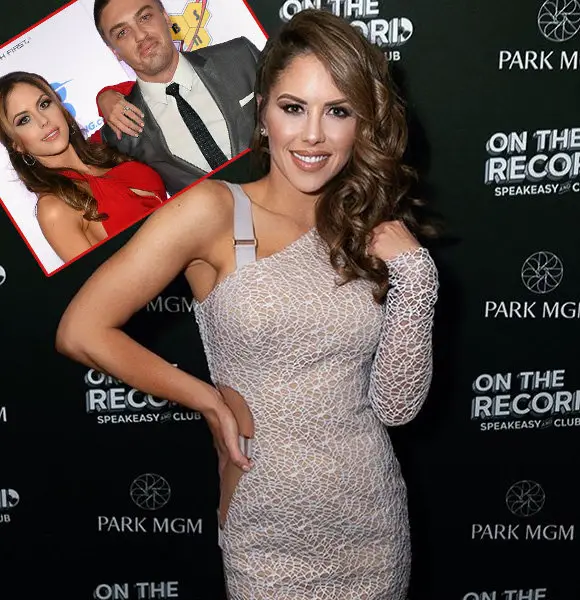 American model Brittney Palmer is popularly known as an Octagon Girl for the UFC.
But before that, the model started out as a dancer at a strip club in Vegas. Then, she went on to work for the WEC and finally came to the UFC; she has been a staple for the UFC for a number of years now.
Further in 2012, the model was awarded the ring card girl of the year.
Also, she has appeared on the front cover of Playboy and she even has her own calendar.
Is Brittney Palmer Married?
The model has been married to Aaron Zalewski since 2014.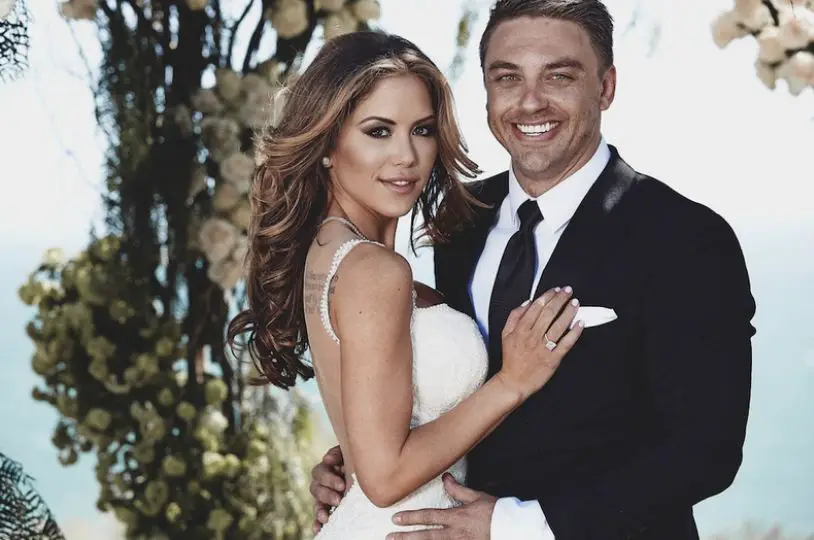 Brittney Palmer poses with husband Aaron Zalewski at their wedding day on 10 May 2014 (Photo:insideweddings.com)
The two first met at a trendy Hollywood club in 2010. The model was instantly impressed by Aaron's self-confidence and his Australian accent. 
Further, Aaron proposed to Brittney on a vacation in Melbourne, Australia. And the couple tied the knot on 10th May 2014 in Pacific Palisades, California. Their marriage was held in an oceanfront wedding ceremony. 
Murder Attempt On Brittney Palmer
Everything was going well until the news of Aaron's arrest came out in June 2015.
He was arrested under the charge of attempting the murder of Brittney. The model told police that her husband was enraged at the fact that a casting agent called Brittney, a 'babe' over a telephone conversation. 
She further added that Aaron threw her and choked her. He pinned her to the bed with his knee, at which point she struggled to breathe.
Aaron was arrested on 12th June 2015 for it and was also charged with other charges like spousal battery and criminal threats. 
Another Personality With Same First Name:- Proud Lesbian Brittney Griner: No More Relationships with Women? Boyfriend/Girlfriend Rumors After Annulled Marriage
However, he was released the next day after paying $1 million for bail. Also, after two months of the incident, Aaron was not prosecuted for the charge but was rather advised to take anger management classes in turn.
Nevertheless, Brittney filed a civil lawsuit for assault and battery against her husband Aaron in April 2016 which required $1 million to be paid by him. 
But in June 2016, Aaron cross-fired and accused Brittney of physical and verbal violence instead. 
Who Is Aaron Zalewski?
Brittney's husband, Aaron, is a Financial whizz who a native of Australia.
He previously worked as an analyst in the investment banking industry and then became a director at Compound Stock Earnings. 
He also hosts a weekly financial radio show on NewsRadio 1080 called Unconventional Wisdom.
Age & Some Interesting Facts About Brittney Palmer
The model was born on 24th June 1987 in Utah. 
Brittney stands at the height of 5 feet 5 inches (1.6 meters). 
She has three tattoos: one is a rosary tattoo on her left foot, the other one is an ample portrait tattoo on her left forearm, and finally a lettering tattoo on her shoulder blade. 
Another Personality Related To UFC:-UFC's Volkan Oezdemir Main Event, Next Fight & Personal Life Details