Entertainment
UFC's Volkan Oezdemir Main Event, Next Fight & Personal Life Details
Nicknamed "No Time", former kickboxing practitioner-turned-professional mixed martial artist, Volkan Oezdemir is a beast of the ring.
Making his first MMA debut in 2010, Volkan is a light heavyweight fighter in the Ultimate Fighting Championship arena. The fighter, who was titled the breakout fighter of the year in 2017 by MMAJunkie.com and Bloody Elbow, has also won the Performance of the Night at the UFC 214 in July 2017.
In March 2019, Volkan held the number 7 position among the overall rankings of UFC's light heavyweight fighters.
Main Event Before 2020
About to end this season of 2019 in a blast, on 21st December, Volkan Oezdemir and rising contender Aleksandar Rakic are set to be the main event on Sajik Arena in Busan, South Korea. 
You May Like :- Darren Till Girlfriend, Wife, Daughter, Net Worth
Volkan's next match became a sensational topic as it will take place only a few months after his last fight.
Coming off through a fabulous victory over Swedish fighter Ilir Latifi in August, his popularity in the world of MMA was at its peak. Ilir Latifi was considered to be a powerhouse of a fighter and having defeated him through a clean knock out, Volkan came to be a man to be watched in the UFC arena.
His main event opponent is also no pushover, Aleksandar is an Austrian striker who has already won his first four bouts in the UFC.
For both fighters, the match is an opportunity to push their career to new horizons. Should Volkan win the fight, he will gain more footing in the 205-pound division and a higher chance at his next fight being one of the top tier fights of the MMA industry.
Is He Married?
No, the mixed martial artist is certainly not married, but previously shared his life with fiancée Stephanie Aponte in Coconut Creek. She could be seen supporting him during training and other events. The pair was even romantically photographed together at one point.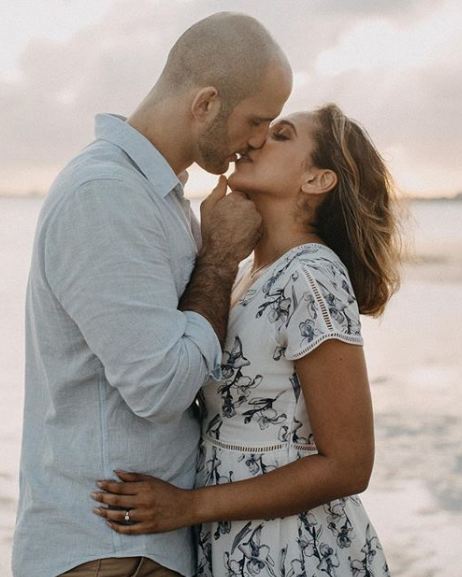 Volkan Oezdemir with fiancée Stephanie Aponte in 2017 (Photo: Troy Huynh's Instagram)
However, in the year 2019, there haven't been many talks about their love life.
The pair have yet to confirm that they are still together. Without being seen together as of late 2019, the question about their relationship status remains unanswered.
Volkan's MMA Records & Earnings 
With his entry into the UFC arena in 2010, Volkan has at least an entire decade worth of history in the fighting world. He has a total of 16-4-0 (Win-Loss-Draw) record spanning over a career length of 8 years, 11 months and counting. The longest he was away from the arena is 1 year 6 months and 20 days.
Another In The Fighting World :- Stephen Thompson, Married With Wife? Or Hiding Affair Behind Career? Status Now
Volkan as a professional in the world of pro mixed martial art, his earnings are influenced by various factors.
In particular, a fighter's earning depends upon the show, win, performance, incentive, and sponsorship. Through the numerous fighting's and events in the past decade, Volkan boasts a fortune worth $999,500.
His latest earning from the fight with Ilir Lartifi garnered a sum of $225,000; $85,000 to show, $85,000 win bonus, $50,000 performance of the night bonus, $5,000 fight week incentive pay.