Entertainment
Bruno Massel Bio: Gleeful Family With Wife, Age, Net Worth & Facts
Drag race champion cum TV personality Bruno Massel is on a quest to become one of few people who break the stigma attached to being a successful celebrity who find it hard to strike a balance between work and family.
Not only has he managed to flourish on and off the camera, he has been able to do with the help and support from his family; his dad, to be more specific.
Despite hectic TV schedule, Bruno always seems to find the time to show his appreciation towards his wife, kids, and family in general -- a look at his bio will reveal everything.
Bruno Massel's Bio Including Age & Wife
For a busy guy, Bruno sure does spend a lot of time on social media; but for the right reasons though. His wife, Dayna Massel is one of the biggest recipients of his social media celebratory posts.
You May Also Like:- Porschla Coleman Bio: Age, Ethnicity, Wedding To Jason Kidd, Kids & More
One such instance was evident on 24 May 2018 when the two-time NHRA World Champion posted a collage of pictures of them together on Instagram with a caption that read:
"Happy Birthday Baby! I've officially now spent more than half of your bdays with you, looking forward to all the rest of them. Love you xoxoxo"
About six months prior, the TruckU host and his wife had celebrated their wedding anniversary by enjoying a dinner date together at the famous eatery, Gibson Italia. Bruno later shared the photo of the two.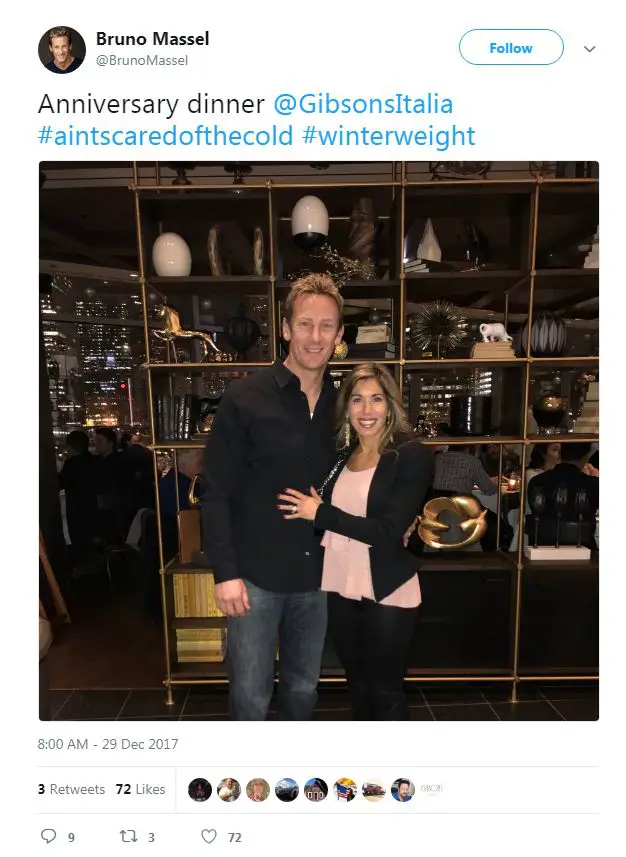 Bruno and his wife pose for pictures after anniversary dinner at Gibson Italia (Photo:- Bruno Massel's Twitter)
While Bruno and his wife aren't busy going on dates, they accompany their two teenaged sons to sporting events. Heck, Bruno even coached one of his sons' team.
Discover:- Trey Wingo's Net Worth & Salary As Huge As His ESPN Co-Host's? Bio & Facts
Born on 23 May 1974 to father, Bruno Massel Sr. and mother, Roz Massel, Bruno developed an affinity towards cars and car racing from an early age.
Like his wife, the Garage Squad host showers his parents with gratitude on social media as well. He makes a ritual to wish his parents on special occasions like birthdays and mother's day.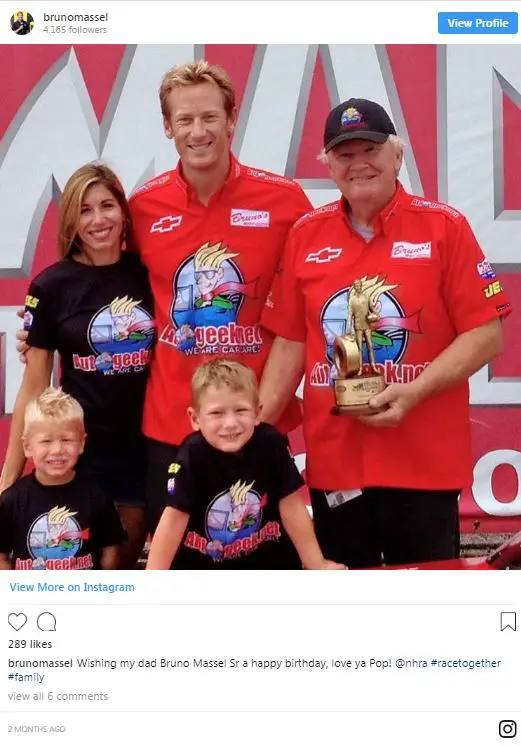 Bruno takes to Instagram to wish his father a happy birthday (Photo:- Bruno Massel's Instagram)
Bruno, age 44, is a second generation drag racer. His father, Bruno Massel is a drag racing vet, who was once labeled as "50 most innovative individuals in drag racing" by a prestigious industry publication.
Behind Net Worth: Support Of Family Business To Cars Expertise
Together with his father, the 44-year-old heads a drag racing team, which is based on Woodridge, Illinois and competes at NHRA tournaments worldwide. Their team is sponsored by Autogeek.net, Chevrolet, BigStuff3, K&N, Elite Motorsports, M/T and Kilgore Transmission.
Today, Bruno is one of the biggest names in the world of drag racing. One might even say that he's the face of drag racing. However, this wasn't always the case.
Interesting:- Alexander Calvert Age 28, Parents | Calls Girlfriend "Wife" - Married?
The TruckU host had to put a law career on hold after being discovered by a modeling agent. Many might not know but his bio reveals that Bruno has a bachelor's degree in business administration from Iowa University. His business degree would prove very useful as he began to pursue a career on TV, after his successful stint as a drag race driver.
Bruno applied his charm as well as his expertise on cars - he had learned while his time at the racing circuit - while hosting shows such as TruckU, Garage Squad and Top Gear (pilot). And as a result, he has been able to amass $6 million in net worth.
At present, he also works as an in-house automobile expert for ESPN.